IT IS IMPORTANT TO EMPHASIZE THAT WE DO NOT HAVE THE AVAILABILITY OF THE NEW ZEALAND ETA, BUT WE WILL HAVE IT VERY SOON, SO ATTENTIVE.
According to New Zealand's visa policy, the people who are not from visa waiver countries need to apply for a New Zealand ETA. This is the case with the citizens of Sri Lanka. Since you are not exempt from getting a visa, you need to apply for one.
If you want more information, keep reading this article.

Frequently Asked Questions
I'm from Sri Lanka, do I have to apply for a visa to enter New Zealand?
If you plan to visit New Zealand, you will need a visa to travel there. Unfortunately, we do not have the virtual version of this visa, so in this case, you must apply for a consular visa.
How long can I stay in New Zealand if I'm from Sri Lanka?
You can be in New Zealand for 90 days Per Entry.
What documents do I need to apply?
Before applying for New Zealand ETA, you must collect everything that we will mention below:
Passport – if you are ready to apply online, check first that your passport is valid for three more months from the date that you are in the country of New Zealand.

Digital photo – this image must have good quality.

Means of payment – to finish your application, you must make the corresponding payment and for that, you can use your credit/debit card or Paypal.

E-mail address – before writing your email, make sure it is really valid because all communication will be through this email. Rember that your need to print your visa.

Means of sustenance – you need to have a document from your bank statement to prove that you can really support yourself on your journey to New Zealand.

Return flight ticket – when you arrive at the airport, you will probably be asked for your return ticket to your country of residence (or another destination if you're in transit). On the other hand, in case you do not have these documents mentioned, you will have to demonstrate that you really have the money to buy it.
How long is this e-Visa valid for?
Your ETA will be valid for 2 years after issued.
What are the processing times and prices?
If you apply for your New Zealand ETA with iVisa, then you have to choose one of the best alternatives that we have for you:
Standard processing – It is a fairly slow process and your New Zealand ETA will be ready in 24 hours and at the same time it is chosen by our clients because the price is USD 57.00.

Rush processing – in this second alternative, you will get your visa in just 4 hours, and the amount is USD 77.00.

Super Rush processing – this option is quite beneficial for many people who need to acquire their ETA as quickly as possible. It is done in 30 minutes and all you have to pay is USD 97.00.
Payment for service is included in each of the previously mentioned prices. Remember that we do not make hidden costs.
How many times can I enter New Zealand?
With us you will receive a Multiple Entry eVisa.
How can I apply?
You have to complete the form to receive your eVisa. We made it easy so you do not waste time on something too complicated to understand. Plus, if you need any help, the 24/7 support service can be very helpful.
The form has three easy steps to complete:
The first one asks you to fill out your data, just like any form. However, iVisa asks only for the essentials. It should not take long. Also during step one, you must select a processing time. Just keep in mind that the cost of your New Zealand visa is determined by your selection.

Step two is about payment and revision. You should not underestimate this part. Any mistake, no matter how small and insignificant it may seem, can render your visa invalid. This means you must go through the process again. Just double-check everything before you move on to step three.

The last step is about any extra requirement that you need to upload. Again, do not worry about this part. iVisa lets you know precisely what you need to upload. After this step is complete, you can hit the submit button and you are done.
Obtaining a visa for New Zealand is certainly not difficult. You can apply day or night, from the comfort of your home.
Do I need a New Zealand visa if I'm in the transit lounge?
We suggest that before organizing your excursion, contact the embassy first because if you are in a transit area, you will be requested for a visa.
How does the New Zealand ETA look like?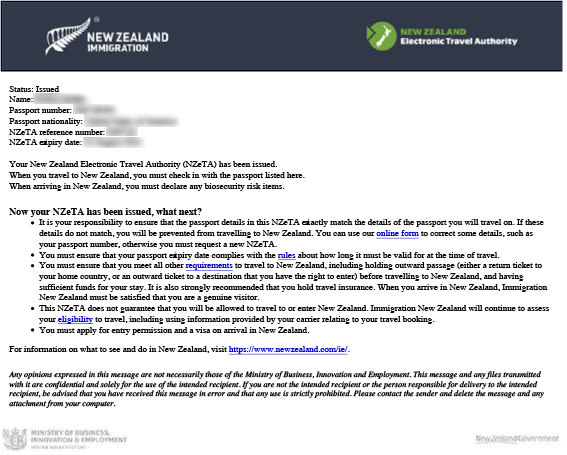 Where can I read more information?
It is common that you have queries about this New Zealand ETA. So, do not worry about it because you will be able to communicate with our customer service support.
As another alternative, you can enter here and learn more about the topic.
NOTE: WE ARE NOT PROVIDING THIS NEW ZEALAND ETA YET; HOWEVER, VERY SOON WE WILL DO IT!