IMPORTANT: in iVisa we're not allowed to offer you the e-Visa to New Zealand if you're from Thailand at the moment, but we can help you with some useful information to travel there. Thai citizens now do need a Consular Tourist Visa to travel to New Zealand.
The citizens of Thailand are required to go to an embassy when they want to travel to New Zealand. If you are a Thai citizen, you could apply online with iVisa in the future. The application process is entirely online, and iVisa makes things very easy for you. All you need is a few documents and 20 minutes of your time. iVisa will handle the rest.
Aside from knowing how to apply for your visa to New Zealand, you also need to know how to plan the rest of your trip, including the hotel registration or accommodation in this country. That's why we recommend to sign up with Bidroom to simplify this part of your travel plan. Bidroom is a membership-based hotel booking platform that gives you valuable discounts in your favorite hotels. And if you apply for your electronic visa with iVisa, you can use the iVisaFree coupon code, which will offer you an annual free membership if you register before the 1st of March 2020.
Frequently Asked Questions (FAQs)
I'm from Thailand, do I need a visa to enter New Zealand?
Yes, you do. Unfortunately, iVisa doesn't offer the online version of this visa, but we're working hard to give you this option in the future. By now, you can apply for a consular visa.
How long can I stay in New Zealand if I'm from Thailand?
If you're from Thailand, you can stay in New Zealand for 90 days Per Entry
What are the requirements?
The requirements for Thai citizens are the same as for every other nationality. iVisa does most of the hard work for you, but you still have to provide some documents and some information so that iVisa will have everything it needs to expedite the process. Here is the complete list:
Passport – Thai people who apply online need to have a valid passport. Also, you need to make sure that the document is valid for at least another 3 months from your date of departure from New Zealand.

Digital photo – the picture needs to be as recent as possible and meet all the proper guidelines for a passport photo.

Means of payment – iVisa requires that you make the payment before completing the online form. You can do that using a credit/debit card, but you can also pay with PayPal.

Email address – iVisa will send you the visa via email in PDF format. Print at least two copies of it.

Means of financial self-support – once you arrive in New Zealand, you need to prove that you can sustain yourself financially during your trip.

Return flight ticket – You may be asked to show a return flight ticket once you arrive. If you do not have this ticket, you need to prove that you have the money to buy one.
How long is this e-Visa valid for?
If you're from Thailand, your ETA expires 2 years after issued
What are the processing times and prices for this document?
Keep in mind that you're able to select one of the following options with iVisa:
Standard processing – You will receive your New Zealand ETA in

24 hours

, as long as you pay

USD 57.00

Rush processing – your ETA will be sucessfully processed in

4 hours

, but the total price you have to pay is more expensive. It is

USD 77.00

Super Rush processing – with this alternative you have to wait

30 minutes

for your application to be ready. As you can guess, this is the most expensive alternative. The total price is

USD 97.00

.
All the service fees charged by iVisa are included in the options above. You should keep in mind that iVisa does not practice hidden charges or surcharges
How much time do I need to apply?
You'll probably need no more than 20 minutes.
How to apply?
While most people hate application forms, you will enjoy this one. That's because the application form created by iVisa is short and simple. Furthermore, if you need some help completing it, iVisa provides excellent customer support. The service is available 24/7 and is free of charge.
There are three steps you need to complete:
The first one is about your personal information and processing time. You need to fill in your name, address, and so on. As for processing time, it determines the cost of your New Zealand visa, so make sure that you take a look at the fees for each one.

Step two is based on payment and revision. The revision is often underestimated, but you need to make sure that all the information you provide is 100% accurate and correct. Otherwise, your visa could be invalidated. Even a single small mistake can make you repeat the process.

Lastly, during step three you need to upload the documents iVisa asks of you. That should not be difficult since you get a list of everything you need to provide. Once step three is complete, you can submit your application and then wait.
The bottom line is that the New Zealand visa for the citizens of Thailand is easy to obtain. When you apply online, the process quick and easy. iVisa makes sure of that. Your visa is valid for 18 months from the issue, and you can stay up to 9 months in New Zealand.
How many times can I enter New Zealand?
If you're from Thailand, you'll receive a Multiple Entry e-Visa.
Do I need a New Zealand visa if I'm in the transit lounge?
Yes, you'll probably need a visa even if you're in the transit area. That's why we highly recommend you contact the Embassy first in order to avoid any issue before planning your trip.
How does the New Zealand ETA look like?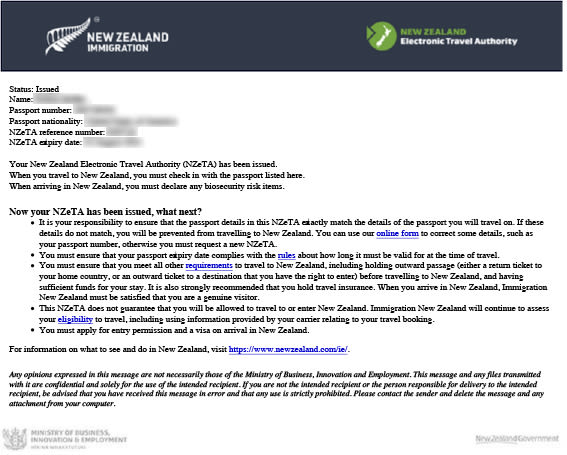 Where can I read more information about the New Zealand ETA?
It's ok if you still have doubts about the New Zealand ETA, that's why we offer you two options to solve them. First, you can contact iVisa's customer service center via online chat or phone 24/7.
And second, you can also read more about this document on this page, so don't lose the chance to get more information about this exotic country.
IMPORTANT: in iVisa we're not allowed to offer you the e-Visa to New Zealand if you're from Thailand at the moment, but we can help you with some useful information to travel there. Thai citizens now do need a Consular Tourist Visa to travel to New Zealand.