IMPORTANT NOTE: WE CURRENTLY DO NOT OFFER THIS E-VISA, BUT WE WILL OFFER IT SOON, SO STAY TUNED WITH OUR WEBSITE.
The citizens of Zimbabwe will be eligible for a New Zealand ETA soon, which means that as a Zimbabwean, you will be able to apply for your visa instead of going to the nearest embassy of New Zealand. However, for you to be able to do that, you need to meet all the requirements. Lucky for you, the list is not very long, and you should have an easy time achieving everything on it.

I'm from Zimbabwe, do I need a visa to travel to New Zealand?
Yes, you must have a visa to enter New Zealand. You currently can apply for this document in an embassy, at least for now. In iVisa we will offer you the e-Visa for this country soon.
What is a New Zealand ETA?
It is a special authorization that gives you permission to enter New Zealand for tourism purposes.
How long can I stay in New Zealand if I'm from Zimbabwe?
You can remain in New Zealand for 90 days Per Entry
What are the requirements?
One of the benefits of getting a New Zealand ETA online is that you do not have to deal with a whole bunch of other requirements imposed by an embassy. iVisa asks the minimum from you. Below you will find a list of what you need to provide so that they can get the process started. The list also includes a few things you need once you arrive in New Zealand.
Valid passport – Zimbabweans who wish to apply online need to have a passport. Moreover, you need to make sure that the passport is valid for at least another 3 months from your date of departure from New Zealand.

Digital photo – the photo needs to be as recent as possible and meet all the other guidelines for a passport photo. For example, it needs to be taken against a white background.

Means of payment – iVisa asks that you make the payment while you complete the three steps of the application form. You can do that using a credit or a debit card, but you can pay using a PayPal account too.

Email address – iVisa sends you the visa via email in PDF format. Do not forget to print a few copies so that you have a couple of spares.

Means of sustenance – once you arrive in New Zealand, you need to prove that you can provide for yourself financially during your trip. A bank account statement should be enough.

Return flight ticket – when you arrive at the airport, you may be required to show a return flight ticket to your country of origin (or another destination if you're in the international transit lounge). If you do not have one, you need to prove that you have the money to buy it.
All government sites mention something about proof of 'good behavior'. This part is tricky, but what you need to know is that you must disclose your criminal history no matter the situation. Nobody is interested in your parking tickets or other misdemeanors, but if you have ever been convicted of a felony - serving prison time or not - you need to say something about it. Otherwise, you can get deported from New Zealand, and if it is discovered while your application is processed, you will not be granted the visa.
The last New Zealand requirement for Zimbabweans, as for anyone else for that matter, involves and application form. You need to fill one. Fortunately, with iVisa, the form must be completed online. It takes about 20 minutes to finish it, and if you have trouble doing it, iVisa has a fantastic support service that is at your disposal 24/7.
The truth is that the New Zealand visa requirements for Zimbabweans are the same as for every other eligible nationality. There are no differences whatsoever. Surely you can agree that nothing on that list is difficult to achieve, and once you do it, your job in the whole application process is done.
How long is this ETA valid for?
If you're from Nigeria, your ETA is valid for 2 years after issued
What are the processing times and prices for the New Zealand ETA?
The total price will depend on the processing time you prefer. iVisa offers you three options:
Standard processing – You will receive your New Zealand ETA in

24 hours

, and the price you have to pay is

USD $94.74

Rush processing – your New Zealand ETA will be ready in

4 hours

, but the total cost you have to pay is more expensive. It is

USD $136.74

Super Rush processing – with this choice you only have to wait

30 minutes

for your application form. As you can see, this is the most expensive option. The total price is

USD $183.74

.
All the service fees are included in these options, so don't worry about hidden charges or surcharges.
How much time do I need to apply for a New Zealand ETA?
You'll need no more than 20 minutes to complete the online application form.
How can I apply?
The application form created by iVisa is precise and easy to understand. Furthermore, if you need some assistance while completing it, iVisa has an excellent customer support. The service is available 24/7 and is FREE.
There are three steps you need to follow:
In the first one you will have to offer your personal information and also select the processing time corresponding to your travel (choose wisely according to your needs). You have to fill in your name, address, and so on. As for processing time, it determines the cost of your New Zealand ETA, so make sure to choose the best one.

In step two you have to make the payment and you have to make a small revision of your personal information. The revision is often underestimated, but you need to ensure that all the information you provide is 100% accurate and correct. .

Lastly, in step three you have to upload some extra documents that iVisa asks of you. That should not be difficult since you get a list of everything you need to provide. After that, you just hit the submit button and wait for your New Zealand ETA.
How many times can I enter New Zealand?
With your Zimbabwean passport, you receive a Multiple Entry ETA.
Do I need a New Zealand visa if I'm in the transit lounge?
There's a high probability that you need a New Zealand visa even if you're in the transit area. That's why we always recommend contacting the Embassy first in order to avoid any issue.
How does the New Zealand ETA look like?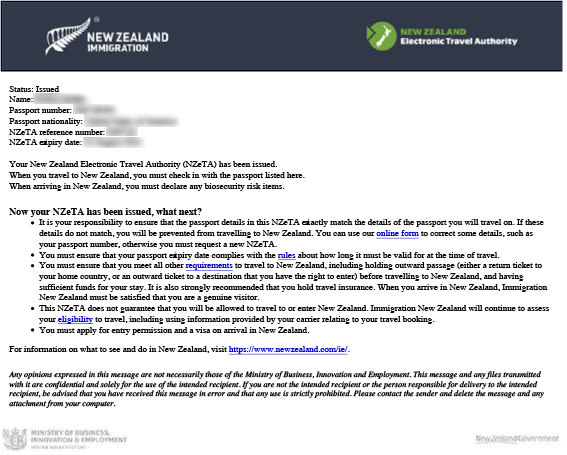 Where can I find more info?
If you still have questions related to the New Zealand ETA, then you'll be glad to know that we have two options to solve them. First, you can contact iVisa's customer service center via online chat or phone 24/7.
And secondly, you can also find more info about the ETA on this page, so don't lose the chance to get more information about this exotic country.