IMPORTANT NOTE: WE DO NOT OFFER THE NEW ZEALAND eVISA OR ETA AT THE MOMENT BUT WE WILL LAUNCH THIS PRODUCT SOON, SO STAY TUNED!
The citizens of Afghanistan will be able to apply online for a New Zealand Visitor Visa because as an Afghan, you will be eligible for this option. iVisa can help you with the online application process so that you can get your travel document fast.
To learn more about this document, we invite you to keep reading this article.

Frequently Asked Questions
I'm from Afghanistan, do I need a visa to travel to New Zealand?
Yes, Afghanistan citizens need a Consular Tourist Visa at the moment, but they'll be required to apply for a New Zealand ETA soon.
In other words,iVisa does not provide the New Zealand ETA yet, but you can check your eligibility for other e-Visas here. Just select your nationality and the country of destination and you'll know the information at once.
How long can I stay in New Zealand?
You can stay there 90 days Per Entry
What are the requirements?
A New Zealand ETA for the citizens of Afghanistan is not a very demanding document to achieve. The requirements are easy to fulfill, and you may already have some of the things you need. iVisa will ask you for the following:
Passport – every applicant must have a valid passport that remains as such for at least 3 months from the intended day of departure from New Zealand. You need to have a digital color scan of the information page that includes the signature.

Digital passport photo – Make sure that the photo was taken recently and that it follows all the passport photo guidelines.

A travel itinerary – you need to prove what your plans in New Zealand are. Also, it needs to show some of the activities you will enjoy.

Proof of accommodation in New Zealand.

List of all your periods of employment.

Documents that prove your ties to your home country – family, job, property.

Proof of sustenance – you need to bring evidence that shows you can provide for yourself while in New Zealand. A bank statement, cash, credit cards, will suffice.

E-mail address – iVisa will send you the New Zealand Visitor Visa via e-mail, so you need to have an address you have access to.

A valid method of payment – iVisa accepts credit and debit cards, but you can also use PayPal.
What are the fees and processing times?
The cost of your New Zealand Visitor Visa depends on one thing, and that is the processing time option you select during the application process. iVisa gives you three choices so that you can choose the one that best suits your needs. They are as follows:
Standard processing – When you choose this option you accept to get your New Zealand ETA in 24 hours, and you also accept to pay USD 57.00.

Rush processing – your ETA is ready within 4 hours, but the total price is higher. For this option, you have to pay USD 77.00.

Super Rush processing – With this choice you must wait only 30 minutes for your application form. As you might guess, this is the most expensive alternative. You are charged USD 97.00.
How long is the New Zealand ETA Valid for?
If you're from Afghanistan, your ETA expires 2 years after issued and it grants you Multiple Entry.
How can I apply?
Once you get all the requirements above, you can fill in the application form. iVisa's application is nothing out of the ordinary, and it is quite straightforward. Nevertheless, if you need some help along the way, you can contact iVisa's customer support 24/7. The service is free of charge.
The form we are talking about has three simple steps:
The first one requires you to insert your personal information, a few details about your trip, and passport information. You must also choose the processing time for your application.

The second step asks you to revise your form because mistakes will invalidate your New Zealand Visitor Visa. Read the form carefully and multiple times.

The last step expects you to upload the supporting documents for your application. For example, you need to upload the digital photo and your passport's scan. After the upload is finished, you are ready to submit your application. iVisa will handle things from that point on.
The bottom line is that getting a New Zealand ETA for the citizens of Afghanistan is more accessible than ever. iVisa makes sure of that.
Do I need a New Zealand visa if I'm in the International transit lounge?
There's a high chance of being asked to have the New Zealand visa even if it's only in the International Transit Lounge. That's why we suggest that you contact the embassy to receive proper information about this topic.
How does this ETA look?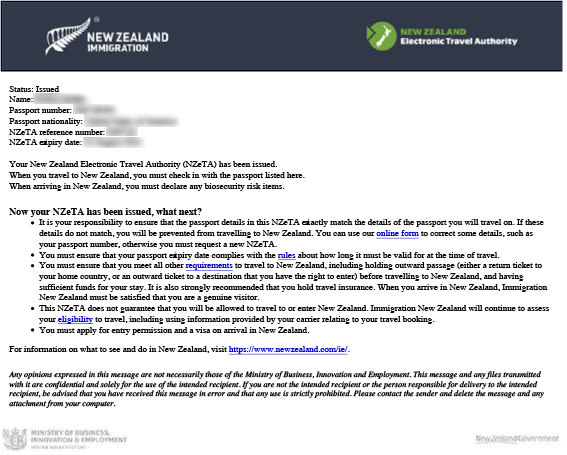 Where can I read more information about the New Zealand ETA?
If you still have some doubts about the New Zealand ETA, then we recommend you to contact iVisa's customer service center to receive personal attention. The service can be reached via online chat or phone 24/7, and it is entirely free of charge.
Another option is to read more about the New Zealand ETA here. You can choose the best option according to the help you need.
IMPORTANT NOTE: WE DO NOT OFFER THE NEW ZEALAND eVISA OR ETA AT THE MOMENT BUT WE WILL LAUNCH THIS PRODUCT SOON, SO STAY TUNED!