IMPORTANT NOTE: WE ARE NOT OFFERING THE NEW ZEALAND eVISA OR ETA AT THE MOMENT, BUT WE WILL LAUNCH THIS PRODUCT SOON, SO STAY TUNED!
If you're from Angola, then you'll get the chance to apply online for a New Zealand ETA. The best thing is that you'll be able to get this product quite easy and fast using iVisa's service.
In this article, we will give you more valuable information about it.

Frequently Asked Questions (FAQs)
I'm citizen from Angola, do I need a visa to travel to New Zealand?
Yes, if you're a citizen from Angola you must have a New Zealand Consular Tourist Visa, at least by now, but don't worry, you'll be required to apply for a New Zealand ETA quite soon.
This is only a reminder that iVisa does not offer the New Zealand ETA yet, but you can always check your eligibility for other e-Visas on this page. Just choose your nationality and the country of destination and you'll know the information at once.
How long can I stay in New Zealand if I'm from Angola?
If you're a citizen from Angola, you can stay in New Zealand for 90 days Per Entry
What are the requirements?
The first thing you need to do is to make sure that you have everything required for a successful application process. You will need the following:
Passport – It's not strange to ask that every applicant gets a valid passport that remains as such for at least another 3 months from the departure date. It's also important to have a digital color scan of the information page that includes the signature.
Digital passport photo – It must follow all the passport photo guidelines.
A travel itinerary – you need to prove all the things that you'll do in New Zealand. Also, you need to show some of the activities you will enjoy.
Proof of accommodation in New Zealand
List of all your periods of employment
Documents that prove your ties to your home country
Proof of your own sustenance – you need to bring evidence that shows you can provide for yourself while in New Zealand.
Valid e-mail address – You'll get your New Zealand ETA via e-mail, so you need to have an e-mail address.
A valid payment method – iVisa accepts credit/debit cards and Paypal accounts.
What are the fees and processing times?
The price of an eVisa is a normal concern for anyone. In the case of the New Zealand ETA, it will depend on one thing, and that is the processing time you prefer while completing the application form. iVisa offers you three choices so that you can select the one that best suits your needs. They are the following:
Standard processing – When you choose this option you accept to get your New Zealand ETA in

24 hours

, and you also accept to pay

USD $94.74

Rush processing – your ETA will be processed in

4 hours

, but the total price is higher. You will have to pay

USD $136.74

this time.
Super Rush processing – With this alternative you only have to wait

30 minutes

for your online form. However, this is the most expensive alternative of the three. You have to pay

USD $183.74

.
How long is the New Zealand ETA Valid for the citizens of Albanian?
With your New Zealand ETA, you'll be able to use it for 2 years after issued and it gives you Multiple Entry.
How can I apply?
After you realize that you have everything on the list above, you can proceed to fill in the application process. iVisa created a simple and short application form, but if you have questions, you can contact our customer support. The service is reachable 24/7 and is free of charge.
You must go through three steps when you fill in the form.
The first one should be easy. All you have to do is to write some general information about yourself and your trip, but you must also select a processing time for your application, an aspect that determines the cost of your New Zealand visa.

The second step consists of payment and revision of your information.

The third step will ask for the supporting documents of your application. You must upload them one by one. As soon as you are finished, feel free to submit your form, and iVisa will take things from there. All you can do at that point is to wait.
Needless to say, obtaining a New Zealand ETA for the citizens of Angola is a piece of cake with iVisa.
Does getting a Tourist ETA guarantee the entry into New Zealand?
No, it doesn't. Possession of a New Zealand Tourist eTA does not provide automatic right of entry for the holder into the Country. The last approval is made by the Immigration Officer.
Do I need a New Zealand Visa if I'm in transit?
You might need a visa in this case, so we recommend you to contact the embassy to receive proper information.
How does the New Zealand ETA look?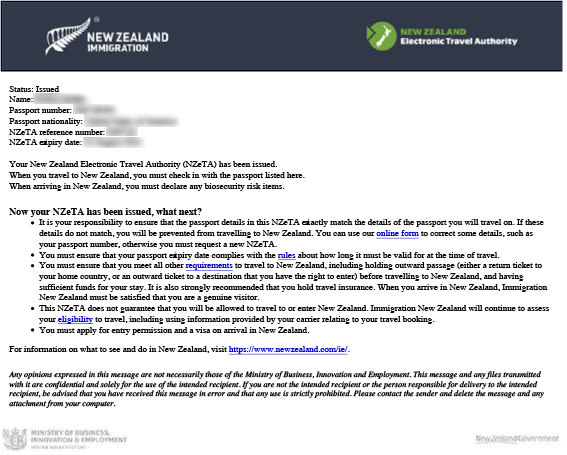 Where can I read more information about the New Zealand ETA?
It's ok if you still have doubts about the upcoming New Zealand ETA, that's why we recommend you to contact iVisa's customer service center. The service can be reached via online chat or phone 24/7, and it is completely free.
You can also read more about the New Zealand ETA here.
IMPORTANT NOTE: WE ARE NOT OFFERING THE NEW ZEALAND eVISA OR ETA AT THE MOMENT, BUT WE WILL LAUNCH THIS PRODUCT SOON, SO STAY TUNED!