IMPORTANT: WE ARE NOT OFFERING THE NEW ZEALAND eVISA OR ETA AT THE MOMENT, BUT WE WILL LAUNCH THIS PRODUCT SOON, SO STAY TUNED!
A New Zealand ETA will be available online for the citizens of the Bahamas very soon. iVisa will also facilitate the process of getting this document.
All you'll have to do is to follow the instructions below.

Frequently Asked Questions
If I'm from the Bahamas, do I need a visa to travel to New Zealand?
If you're from the Bahamas then you need a visa to enter New Zealand, but you can only obtain a Consular Visa by the moment. You'll get the chance to request a New Zealand ETA very soon.
In other words, we remind you that iVisa doesn't offer the New Zealand ETA yet, but we invite you to verify if you're eligible for other e-Visas on this page. The only thing you have to do is to write your country of origin and you also have to write the country of destination. This way, you'll get the information at once.
How long can I stay in New Zealand if I'm a citizen of the Bahamas?
If you're from the Bahamas, you can stay in New Zealand for no more than 90 days Per Entry.
What are the requirements?
The first thing you want to do when you apply for a New Zealand ETA is to put together a series of documents and information so that the process can run smoothly. You will need the following:
Passport – as you might guess, every applicant must have a valid passport with at least 3 months of validation from the intended day of departure from New Zealand. You also need to have a digital color scan of the information page that includes the signature.

Passport picture – for this requirement, just make sure that the photo is recent and that it follows all the passport photo guidelines.

A travel itinerary – this means that you need a proof to show what your plans in New Zealand are.

Proof of accommodation in New Zealand – it can be a hotel reservation or a letter from your host in the country.

Employment list

Documents that demonstrate your ties to your country – it can be a letter from your family, a contract, etc.

Proof of livelihood – you have to bring documents that show you can support yourself while in New Zealand. A bank statement, cash, credit cards, will be enough.

Email – we will send you the New Zealand ETA via e-mail, so you need to provide a valid e-mail address.

A valid method of payment – iVisa accepts credit and debit cards, but you can also use PayPal.
You can learn more about the requirements in this link.
What are the prices and processing times for this ETA?
It's completely normal to be concerned about the price of an eVisa. In the case of the New Zealand ETA, it will vary according to one thing, and that is the processing time you choose when you fill in the online form. iVisa offers you 3 options in order that you can select according to your needs. They are the following:
Standard – this alternative permits you to have your New Zealand ETA in 24 hours, by paying USD 57.00

Rush – your New Zealand ETA will be ready in no more than 4 hours. The price will be USD 57.00.

Super Rush – using this alternative, you'll need to wait 30 minutes for your online form. However, since this is the most expensive option, it will cost you USD 57.00.
How long is the New Zealand ETA Valid for the citizens of the Bahamas?
If you're from the Bahamas, you'll be able to use your ETA for 2 years after issued and it gives you Multiple Entry.
How can I apply for a New Zealand ETA?
After you have all of the documents above, you are ready to fill in the online application form. This part should be easy, and it should not take you more than 20 minutes, but if you find yourself in need of assistance, iVisa's customer support service is available 24/7 and is free of charge.
iVisa broke down the form into three simple steps for your convenience:
The first one asks you to fill in the fields with your personal information, some travel details, as well as passport information. At this point, you are also required to make a choice about the processing time. Note that your choice determines the price of your New Zealand ETA.

The next step is about payment and revision. You need to offer the payment details and review your form to make sure that it does not include inaccuracies or mistakes. Otherwise, you can end up with an invalid New Zealand visa.

Lastly, you must upload the supporting documents of your application. After you are done with that, you are ready to hit the submit button, and iVisa will take it from there.
What you need to remember is that with iVisa, getting a New Zealand ETA for the citizens of Bahamas is almost effortless. By offering a few things, and taking just some minutes to complete the online form, you're ready!
Is it necessary that I acquire a New Zealand Visa if I am in the International transit area?
You will probably need a visa in this situation, so we recommend that you contact the embassy to get more precise information.
Can I see a sample of the New Zealand ETA?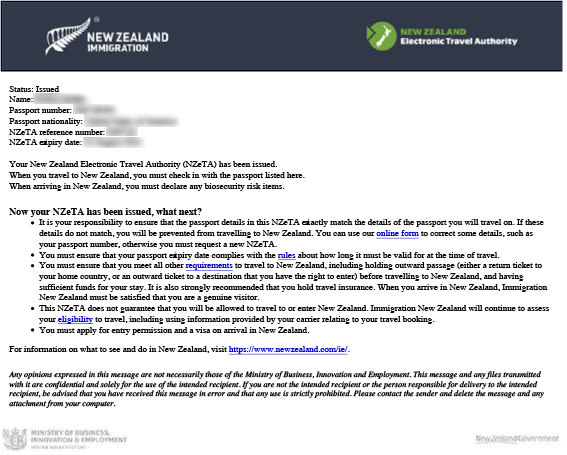 What should I do if I travel with kids?
In this case, you'll also have to apply for a New Zealand ETA separately. Every traveler must apply for this document regardless of age. We strongly recommend you to contact the embassy to solve your other doubts about this topic as long as you're not eligible for a New Zealand ETA yet.
Where can I find extra details about the New Zealand ETA?
There's no problem if you still have questions or doubts about the upcoming New Zealand ETA, if that's your case, we advise you to contact iVisa's customer service center.
You also have the chance to read more about the New Zealand ETA here.
IMPORTANT: WE ARE NOT OFFERING THE NEW ZEALAND eVISA OR ETA AT THE MOMENT, BUT WE WILL LAUNCH THIS PRODUCT SOON, SO STAY TUNED!