IMPORTANT NOTE: THE NEW ZEALAND ETA IS NOT AVAILABLE YET, BUT WE WILL OFFER IT SOON, SO STAY TUNED!
The citizens of Cameroon will have access to a New Zealand ETA very soon, which means that if you're planning a trip to New Zealand, you will be able to apply for this eVisa online.
iVisa will be able to help with the online application process, all you have to do is read all the information below. We hope you find it helpful.

Frequently Asked Questions
Do I have to apply for a visa to New Zealand if I'm from Cameroon?
If you're from Cameroon, then you will have to apply for a visa to travel to New Zealand. Don't forget that you can only apply for a Consular Visa momentarily, so you must take a trip to the Embassy to get it. But don't worry! you'll get the chance to have a New Zealand ETA shortly.
As we said before, iVisa is not providing the New Zealand ETA yet, but if it helps you in your future travel plans, you can check the eligibility for other eVisas on this website.
How long can I stay in New Zealand if I'm a citizen from Cameroon?
If you're a citizen of Cameroon, you can stay in New Zealand for 90 days Per Entry.
What are the requirements to apply?
A New Zealand ETA is not as hard as you might think. In fact, you might have some of the items required. iVisa will ask you the following:
Passport – It's not strange to ask for it, this document is a must when you want to travel to other countries. Every foreign citizen must get a valid passport with 3 months of validation from the date of departure.

Digital passport photograph – With this picture, you need to ensure that it was taken at least a few months ago. Don't forget to confirm that it also follows the passport photo guidelines.

A travel program proof – This item is important to prove your plans in New Zealand.

Proof of accommodation in New Zealand – For this item, you can show hotel reservations or a letter from your host.

Employment list.

Documents that prove your connections with your home country - this can be a contract or a family letter.

Proof of sustenance – You have to provide a piece of evidence that proves you can sustain yourself. A bank statement, cash, credit cards, etc, will be more than enough.

E-mail address – iVisa will grant you the New Zealand ETA by e-mail. You must provide a valid e-mail address.

A valid method of payment – With iVisa you have not one, but three payment alternatives. You can pay using credit and debit cards, but you also have the option to pay using a PayPal account.
How long is the New Zealand ETA valid for?
If you're from Cameroon, you'll receive a New Zealand ETA that will expire 2 years after issued. Don't forget that you can also have Multiple Entry.
What are the prices and processing times?
The price for your New Zealand ETA is based on the processing time you select while filling in the online application process. iVisa offers you three options so that you can choose the one that is most convenient. They are as follows:
Standard processing – You can obtain your New Zealand ETA in 24 hours as long as you pay USD 57.00.

Rush processing – your New Zealand ETA will be ready in 4 hours, but you'll have to pay more. The total price will be USD 77.00.

Super Rush processing – By selecting this option, you'll only wait 30 minutes. However, since this is the most expensive option, you'll have to pay USD 97.00.
How can I apply?
If you want to receive your New Zealand ETA the best way possible, then you have to fill in an application form. iVisa designed a short online form that can be easily completed in 20 minutes. However, if you have doubts about the application process, iVisa's customer support is at your disposal anytime you prefer.
You have to follow three steps:
The first step will ask you to provide basic and personal information, like your passport info, and some details about the trip. You also have to offer the arrival and also the departure dates. You must also choose a processing time for your application.

The second step is as easy as the last one. In this part, you have to proceed with the payment and check your online form. You also have to be very careful about the information you provide because even a single mistake could invalidate your New Zealand ETA.

In the third step you have to upload supporting documents. Once you finish this last part, you can submit your form, and iVisa will take it from there. As easy as that!
As you can see, obtaining a New Zealand ETA for the citizens of Cameroon is quite easy when you choose iVisa as your visa service.
Do I have to apply for a visa if I'm only in the International Transit Lounge?
You'll probably need to get a visa for this case too. That's why we always suggest contacting the Embassy first, at least while we launch the New Zealand ETA
When should I apply for the New Zealand Visa?
You can apply for this visa whenever you like, preferably a month before your trip. However, consider that once we get the ETA available, you'll be notified with more precision about the processing time.
How does the New Zealand ETA look like?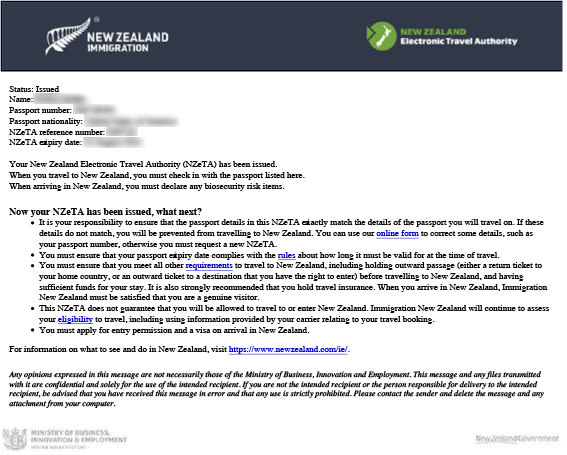 Where can I read more info about the New Zealand ETA?
In case you still have uncertainties about the forthcoming New Zealand ETA, then we suggest you contact iVisa's customer service center. This assistance can be reached via chat or phone 24/7, and it's completely free.
You can also read more about the New Zealand ETA using this link.
IMPORTANT NOTE: THE NEW ZEALAND ETA IS NOT AVAILABLE YET, BUT WE WILL OFFER IT SOON, SO STAY TUNED!