IMPORTANT NOTE: IVISA IS NOT OFFERING THE NEW ZEALAND ETA BY NOW, BUT THIS PRODUCT WILL BE LAUNCHED SOON, SO STAY TUNED!
The citizens of Ecuador will have access to a New Zealand Visitor ETA soon, so you better get prepared for it if you're Ecuadorian.
The best thing about this upcoming process is that iVisa will simplify the steps to follow to get a visa when traveling to New Zealand. In other words, you won't need to go to the Embassy.
But while we wait for it, let's learn some important details related to this document.

Frequently Asked Questions
I'm Ecuadorian, do I need to get a visa to enter New Zealand?
If you're from Ecuador, then the direct answer is YES, you do need a Consular Visa to enter New Zealand, but don't worry about this tedious process! you'll get the possibility to apply for a New Zealand ETA shotly, so if you can wait just some months for your trip, then you get a better alternative than taking a trip to an embassy.
As we already stated before, iVisa is not rendering the New Zealand ETA, at least for now, but you can check the eligibility for other eVisas on this website, which is another wonderful option if you have flexibility in your travel arrangements.
It is quite easy to use the Visa Checker designed by iVisa, all you have to do is to write down your nationality in the drop-down menu, and after that, you have to write the country you wish to visit as the destination. Once you're done with that, you'll know the information immediately.
If you need to apply for a visa, you'll know it at once, and if you qualify for an eVisa (which is a lot easier to get than a consular one) you'll be redirected to the online application form. You'll also be informed in case you don't need a visa.
How long is the New Zealand ETA valid for?
If you're from Ecuador, you can use the New Zealand ETA for 2 years after issued.
What are the requirements for Congolese citizens?
It's not that hard to get all the documents required to apply online. You probably have at least two of the following documents:
Passport – This item is extremely important if you want to travel to other countries. If you already have it, then don't ignore to verify that it has validity for at least another 3 months from the departure date. You also need a scan of your passport's information page. You have to ensure that the scan includes the signature.
Digital passport photo – The digital picture must have some requirements as well. It must be a recent photo and it must follow the proper guidelines based on passport photographs.
Travel Plans – you require to have an itinerary that shows what are your plans in New Zealand.
Proof of accommodation – For this part, you can show a hotel booking confirmation or a letter from a host.
List of works or last jobs.
Documents that prove your ties to your country of origin – for example, you can show family papers or a job contract.
Proof of sustenance – you should offer a piece of evidence to support yourself while you visit New Zealand.
E-mail address – iVisa will mail you the New Zealand ETA. A valid e-mail address is extremely necessary.
Payment Methods – If you get the New Zealand ETA with iVisa, you can pay the service with a credit or debit card, but Paypal is also a valid option.
What are the processing times and fees?
The total price you'll pay for the New Zealand ETA will vary according to the processing time option you choose while filling in the online form. iVisa gives you three excellent choices so that you can select the one that best suits your needs. These are:
Standard processing – This alternative will allow you to receive your New Zealand ETA in no more than

24 hours

as long as you decide to pay

USD 57.00

Rush processing – you'll receive your ETA in

4 hours

, but you'll have to pay a bit more,

USD 77.00

being precise.
Super Rush processing – With this choice you only have to wait

30 minutes

, but keep in mind that the price for this is the most expensive of all. You'll pay

USD 97.00

.
How long can I stay in New Zealand if I'm from Ecuador?
If you're Ecuadorian, you can stay in New Zealand for 90 days Per Entry.
How can I apply for the New Zealand ETA?
After you get the requirements, the last thing to do is to fill in the online form. It should take you at least 20 minutes, and you should not experience any problems along the way. Nevertheless, if you find some issues, you can reach to iVisa's customer support 24/7.
The online form is split into three simple steps:
The first step will invite you to offer personal data, but it also asks you to pick a processing time for your online form. What you select defines the cost of your New Zealand ETA.

In step two, you proceed with the payment and check your form so that it does not have any mistake. You cannot make changes after your form is issued, so make sure you read it carefully before submission.

The third and last step will ask you to upload the records that support your online form. When you are done with that, you can click on the submit button, and iVisa will do the rest of the process.
The most significant thing to remember from all this is that receiving a New Zealand ETA with iVisa is incredibly convenient. This process is completely smooth!
What can I do if I travel with my children?
If you're planning to enter New Zealand with your kids, then you must know that they need to have a Visa as well. That's why we heavily suggest contacting the embassy to get more information about this topic.
Do I need a New Zealand ETA or Visa if I'm in the Transit area?
You'll presumably need a visa for this case as well. In other words, if you have to stay at the airport to go to another country, you also require to get a visa. That's why we recommend to contact the embassy to receive more precise information about this topic.
How does the New Zealand ETA look like?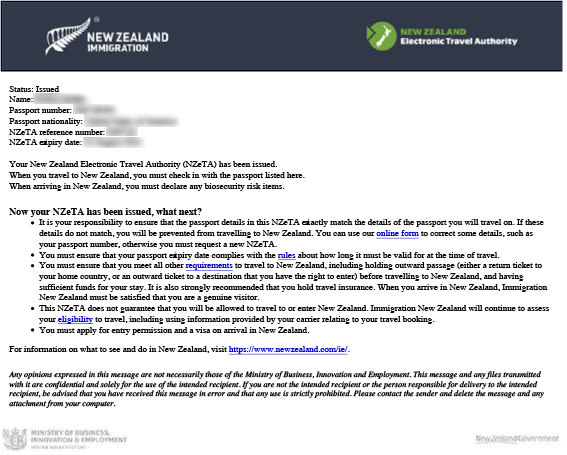 Where can I find more info?
If you have doubts about the forthcoming New Zealand ETA then there's no problem, we grant you the option to contact iVisa's customer service center to receive more satisfying attention. The service can be contacted via online chat or phone 24/7, and it is completely free of charge.
IMPORTANT NOTE: IVISA IS NOT PROVIDING THE NEW ZEALAND ETA BY NOW, BUT THIS PRODUCT WILL BE LAUNCHED SOON, SO STAY TUNED!