IMPORTANT NOTE: We're not allowed to offer you the New Zealand ETA yet, but we will launch this product shortly, so stay tuned!
Great news for Guatemalan Citizens! You'll have the opportunity to apply online for a New Zealand ETA very soon. In other words, if you're from Guatemala and you're planning a trip to New Zealand, you'll be able to get an ETA to enter the country, so you won't need to go to an Embassy by then.
But this is something that will work in the future. For now, you can only get your New Zealand Visa by going to an embassy.
To learn more about the upcoming New Zealand ETA, keep reading this article.

Frequently Asked Questions
I'm from Guatemala, do I have to apply for a visa to visit New Zealand?
Yes, if you're from Guatemala, then you have to apply for a Consular Tourist Visa if you want to travel to New Zealand, at least for now. Nevertheless, don't stress about it! you'll get the chance to apply for a New Zealand ETA soon.
Consider that iVisa does not offer the New Zealand ETA yet, but you have the chance to verify your eligibility for other e-Visas on this website. It's not hard to use this tool, you only have to write down your country of origin and the country you wish to visit in the drag-down menu. After that, you'll know the information very quickly.
If you require a visa, you'll be informed at once, but if you need an eVisa (which is more accessible to get than a consular one) you'll be redirected to the application page. You'll also be notified in case you don't need a visa at all.
How long is the New Zealand ETA valid for?
If you're Guatemalan, you can use the New Zealand ETA for 2 years after issued.
What are the requirements for Guatemalans?
The process of getting a New Zealand ETA for the citizens of Guatemala is quite simple. The first thing you need to ensure is that you meet all the requirements. That should be easy since iVisa does not ask for much. You only need the following requirements:
Valid passport – This is the most important item to take when traveling abroad. In case you already have this document, remember to check that it has validity for at least 3 months from the departure date. You also require a scan of your passport's information page. You have to ensure that the scan covers the signature as well.
Digital passport photo – This image must have some requirements too. It must be a recent picture and it must follow the proper guidelines based on passport photographs.
Travel schedule – you also need to get an itinerary that shows what are your purposes in the country.
Proof of accommodation – For this, you can have a hotel booking agreement or a letter from a host.
List of employment.
Documents that prove your ties to your home country – for example, you can offer family papers or a job contract.
Proof of sustenance – you have present a valid piece of evidence to support yourself while you stay in New Zealand.
E-mail address – iVisa will send you the New Zealand ETA. A valid e-mail address is necessary.
Payment Methods – If you apply for this ETA using iVisa's website, you can pay with a credit or debit card, but Paypal is also a valid method.
You can read more details about the documents needed here.
How long can I stay in New Zealand if I'm from Guatemala?
You can stay in New Zealand for 90 days Per Entry.
What are the fees and processing times for Guatemalan citizens?
The New Zealand ETA will have a total price based on how fast you want the document. iVisa gives you three options so that you can select the one that is better for you. They are as follows:
Standard processing – This option will get your New Zealand ETA in

24 hours

if you pay

USD $97.49

Rush processing – your ETA will be ready in

4 hours

, but you'll have to pay more this time,

USD $128.99

being precise.
Super Rush processing – With this option you only have to wait

30 minutes

, but don't forget that the price for this is the most expensive. It is

USD $165.99

.
How many times can I enter New Zealand?
If you're from Guatemala, you'll receive Multiple Entry.
How can I apply?
The next step to receive your ETA is to fill in the application form. This process is quite convenient, but if you need some help along the way, iVisa provides customer support 24/7 at no cost.
You will see that the form has three stages:
The first stage is to provide your personal information, passport info, and a few details regarding your trip to New Zealand. At this point, you must select a processing time as well. Just bear in mind that your decision determines the cost of your New Zealand ETA.

The second stage is made for you to insert the payment details so that it can go through, but you must review your form too. It is imperative that the information you provide is 100% accurate. Otherwise, your visa will be invalid.

During the third and last stage, iVisa requires you to provide the documents that support your application. You must upload them one by one. Once you are done with this part, you can click on the submit button, and all that is left for you is to wait for your ETA.
Needless to say, the process of obtaining a New Zealand ETA for the citizens of Guatemala will be incredibly convenient. iVisa will help you anytime you need it.
Do I need a New Zealand ETA or Visa if I'm in the International transit area?
You'll need to apply for a New Zealand visa if you wait at the airport, regardless of the area. In other terms, if you have a pause in the International Transit Area, you also need a visa. That's why we firmly advise you contact the embassy or consulate to get well-defined information about this topic.
How does the New Zealand ETA look like?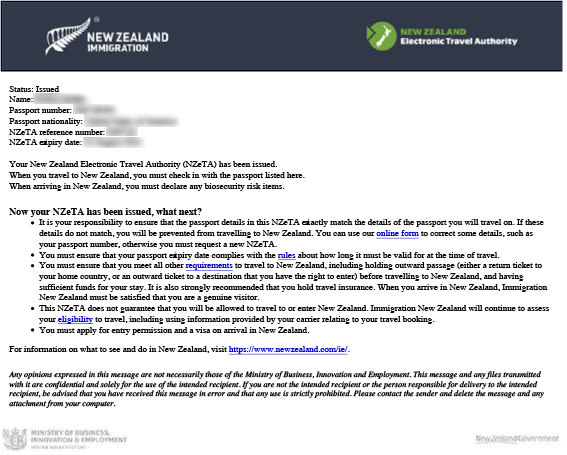 Where can I find more information about the New Zealand ETA?
Don't worry if you still have doubts about the future New Zealand ETA, you can communicate with iVisa's customer service center to receive appropriate attention. The service can be reached via online chat or phone 24/7, and it is entirely free of charge.
IMPORTANT NOTE: We're not allowed to offer you the New Zealand ETA yet, but we will launch this product shortly, so stay tuned!