IMPORTANT NOTE: IVISA DO NOT PROVIDE THE NEW ZEALAND eVISA OR ETA BT, BUT WE WILL LAUNCH THIS PRODUCT SHORTLY, SO STAY TUNED!
As a Honduran citizen, you will be eligible for a New Zealand ETA whenever you want to travel to New Zealand. As a result, all the nationals of Honduras will be able to apply online for this eVisa.
iVisa puts its services at your disposal so that you can get any travel documents in a few hours.
In this article, we will show you what are the requirements and other important points to consider once the New Zealand ETA is available.

Frequently Asked Questions (FAQs)
I'm from Honduras, do I need a visa to travel to New Zealand?
If you're from Honduras, then you must get a New Zealand Visa by now, but don't worry about this, you'll be able to apply for a New Zealand ETA.
As we announced before, iVisa does not offer you the New Zealand ETA yet, but you can check the eligibility for other e-Visas on this website. It's quite mild to use the Visa Checker, you only have to inscribe your nationality and the country of destination in the drag-down menu and you'll see the information quickly.
How long can I stay in New Zealand if I'm from Honduras?
If you're from Honduras, you can stay in New Zealand for 90 days Per Entry.
What are the requirements?
Before you proceed to fill in the application form, we recommend that you first put together all that is necessary for a nice application process. iVisa will ask you for the following documents and information:
Valid Passport – It's not strange to demand this document for any travel plan, so iVisa is not an exception. Every foreign citizen needs a valid passport that remains as such for at least 3 months from the flight date. It's also essential to get a digital color scan of the information page.
Digital passport photo – It must follow all the passport photographs requirements.
A travel itinerary – you have to prove all your plans in New Zealand. You have to show some of the activities you will experience as well.
Proof of accommodation in New Zealand
List of your last jobs
Documents that validate your links to your home country
Proof of your own sustenance – you also have to bring a piece of evidence that explains how you can provide for yourself while in New Zealand.
Valid e-mail address – You'll get your New Zealand ETA via e-mail, so you have to provide a valid e-mail address.
A valid payment method – iVisa allows you to pay using credit/debit cards and Paypal accounts.
What are the processing times and fees for Hondurans?
Before offering you the possible processing times and fees for your New Zealand ETA, consider that one thing is the cost and other the total price with iVisa's fees included. In the case of the New Zealand ETA, the total price varies depending on the processing time you select while completing the online form. iVisa gives you three options so that you can choose the one that best suits your needs. These are:
Standard processing – By selecting this option, you accept to receive your New Zealand ETA in

24 hours

, and you also accept to pay

USD 98.99

Rush processing – your ETA will be ready to use in

4 hours

, but the total price is more expensive. You will have to pay

USD 131.99

this time.
Super Rush processing – With this option you only wait

30 minutes

for your ETA. However, don't forget that this is the most expensive option of all. You have to pay

USD 169.99

.
How long is the New Zealand ETA Valid for the citizens of Honduras?
If you're from Honduras, your ETA will expire 2 years after issued and it allows you to have Multiple Entry.
How can I apply?
Once you have everything from the list above, you are ready to fill in the application. That should not be difficult for anyone, but if you need help, you can contact iVisa's customer support service 24/7.
The form you have to complete is made of three steps:
The first one requires you to provide your personal information, some details about your trip, but passport info as well. You must also select a processing time which dictates the timeframe in which your New Zealand ETA arrives as well as its cost.

The second step wants you to cover the payment and review your form. It is essential that your application does not contain any mistakes. Otherwise, you will receive an invalid visa. Prevent that from happening by correcting any errors that your form may include.

The last step focuses on supporting documents. iVisa will ask you to upload them one by one. After you are done with that, you can submit your form. iVisa will process it as soon as possible.
As you can see, getting a New Zealand ETA for the citizens of Honduras is a piece of cake. iVisa makes sure of that.
Does getting a Tourist ETA allows me automatic entry into New Zealand?
No, it doesn't. If you obtain a New Zealand Tourist ETA, you're allowed to be examined by the Immigration Checkpoint so you can enter the country, but it does not grant you an automatic right of admission into the Country.
In other words, the last approval is made by the Immigration Officer.
Do I need a New Zealand Visa if I'm in the International transit area?
Yes, you'll probably require a visa in this situation, so we recommend you contact the embassy to get more detailed information.
How does the New Zealand ETA look?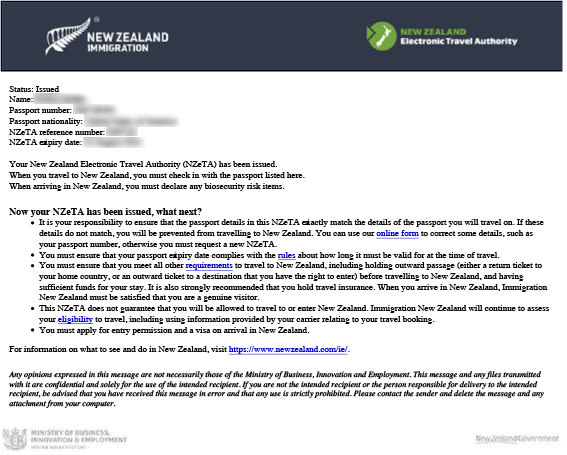 Where can I read more information about the New Zealand ETA?
Don't despair if you still have uncertainties about the upcoming New Zealand ETA, that's why we recommend you to contact iVisa's customer service center. The service can be reached via online chat or phone 24/7, and it is completely free.
You can also read more about the New Zealand ETA here.
IMPORTANT NOTE: IVISA DO NOT PROVIDE THE NEW ZEALAND eVISA OR ETA BT, BUT WE WILL LAUNCH THIS PRODUCT SHORTLY, SO STAY TUNED!