IMPORTANT NOTE: iVisa IS NOT OFFERING THIS VISA yet, but stay tuned because we will launch it very soon!
The citizens of Kyrgyzstan will be able to apply for a New Zealand ETA soon.
To make it clearer, Kyrgyz nationals are eligible for a forthcoming ETA if they want to travel to New Zealand. For a short and smooth application process, you will be able to use the services rendered by iVisa.
Learn more about this document with the information below.

Frequently Asked Questions (FAQs)
If I'm from Kyrgyzstan, do I need to apply for a visa if I want to travel to New Zealand?
Yes, you have to apply for a Visa if you're Kyrgyz and you want to take a trip to New Zealand for tourism purposes. You'll be able to enter this country with an ETA shortly, but you can only receive a Consular Tourist Visa by now.
As we mentioned above, iVisa is not rendering the New Zealand ETA yet, but you can read your qualification for other e-Visas on this website.
It's quite effortless to use the iVisa's Visa Checker. You just have to choose your nationality and the country of destination in the drop-down fields. This way, you'll receive the information quickly.
By using this tool you'll verify if you're able to apply for an eVisa to that country or if you don't even need a visa. And in case you need a Consular Tourist Visa, you'll be informed as well.
How long can I stay in New Zealand if I'm a citizen of Kyrgyzstan?
You can stay in New Zealand for 90 days Per Entry if you're from Kenya.
What are the requirements?
To obtain a New Zealand ETA you need to through an application process. However, that should not be difficult for anyone.
The first thing you need to do is to ensure that you have everything required for a successful application process. Here is a list of what you need:
Passport – all applicants who want a New Zealand ETA need to have a valid passport that maintains its valid status for at least another 3 months after their departure date from New Zealand.
Digital passport photo – the picture must has been taken recently, and keep in mind that there are other guidelines it must follow.
Travel itinerary – you need to create a document that states the activities you want to enjoy in New Zealand, as well as other plans you may have while in the country.
Proof of accommodation in New Zealand – a hotel booking confirmation or something similar (like Airbnb).
List of all periods of employment.
Documents that prove the ties you have with your home country.
Proof of sustenance – you need to have evidence that you can provide for yourself while you stay in New Zealand. You can use a bank statement, for example.
E-mail address – iVisa sends all documents via e-mail, so it makes sense that you provide an address you have access to.
Payment Methods – iVisa accepts multiple payment options, including credit and debit cards, or even PayPal Accounts.
What are the processing times and fees for the New Zealand ETA?
The price of your New Zealand ETA is based on how quickly you want the document. iVisa offers you three alternatives so that you can choose the most convenient for you:
Standard – this is the slowest alternative. Your New Zealand ETA is ready in no more than 24 hours, and it costs you USD $94.74.

Rush – this time, things move a bit quicker. Your application is processed within 4 hours, and you have to pay USD $136.74.

Super Rush – if you need your visa as soon as possible, this option guarantees that you will have it in only 30 minutes. The cost of your ETA will be USD $183.74 this time.
How can I apply?
The next step would be for you to fill in the application form. If you have some questions about it or you have concerns, feel free to contact iVisa's customer support via phone or online chat. The service is available 24/7 and it's free of charge.
The application has three stages:
The first one wants you to provide your personal information, some details about your trip, and passport info. You need to select a processing time for your application as well, but remember that your choice affects the cost of your ETA.

The second stage consists of payment and revision. You need to make sure that the information you provide in the application form is 100% accurate and there are no typos. Mistakes will render your visa invalid.

The last stage requires you to upload the documents that support your application. Once you do that, you can submit your form, and iVisa will process it in the timeframe of your choosing.
The bottom line is that getting a New Zealand ETA for the citizens of Kyrgyzstan with iVisa is very easy as you can see. The document you receive is valid for 2 years after issued, and you are granted Multiple Entry in New Zealand.
How does the New Zealand ETA look like?
This is a sample of the New Zealand ETA: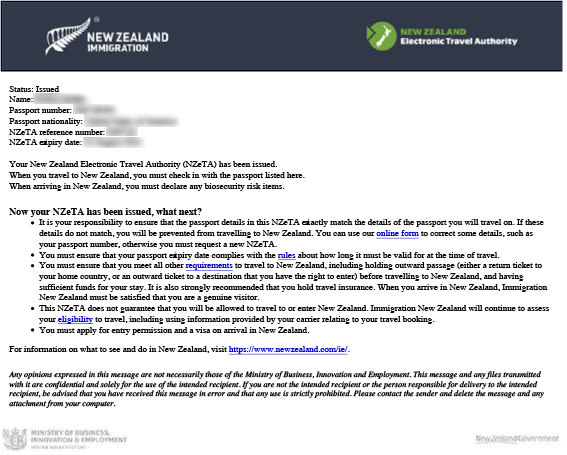 Where can I find more information?
If you still have questions and doubts about this ETA, you can obtain more details on this link. You can also countact our customer service center to receive faster and better attention.
IMPORTANT NOTE: iVisa IS NOT OFFERING THIS VISA yet, but stay tuned because we will launch it very soon!