IMPORTANT NOTE: CURRENTLY WE DO NOT OFFER THIS VISA. STAY TUNED, BECAUSE IT WILL BE AVAILABLE SOON.
According to the visa policy of New Zealand, the citizens of Liberia are eligible for the future ETA if they're planning to travel to New Zealand. As a result, *Liberians will be able to apply for a New Zealand ETA.

Frequently Asked Questions (FAQs)
If I'm from Liberia, do I need a visa to visit New Zealand?
If you're from Liberia then you must apply for a Visa to visit New Zealand. Consider that you can only purchase a Consular Tourist Visa by now, so you have to go to the nearest embassy. Nonetheless, don't stress out yet, you'll have the chance to apply for a New Zealand ETA very soon.
As we indicated before, iVisa is not offering the New Zealand ETA yet, but you can check if you're able to get other e-Visas on this page.
After you enter the Visa Checker Tool, you have to choose your nationality and the country of destination in the drop-down menu. That's how you'll obtain the information swiftly.
How long can I stay in New Zealand if I'm a citizen from Liberia?
You can stay in the country for 90 days Per Entry.
What are the requirements for a New Zealand ETA?
Before you proceed to fill in the application, you need to make sure that you can provide whatever is necessary for a successful application process. iVisa will ask you the following documents and information:
Passport – Every traveler who wants a New Zealand visa must have a valid passport that maintains its valid status for at least another 3 months after the departure from New Zealand.

Digital passport photo – the picture must be taken recently, and keep in mind that there are other guidelines it should follow.

Travel itinerary – you have to create a report that states the activities you want to enjoy in New Zealand, as well as other plans you may have while in the country.

Proof of accommodation in New Zealand – a hotel booking confirmation or something similar can be useful in this part.

List of all periods of employment.

Documents that confirm the ties you have with your home country – property, family, job, etc.

Proof of subsistence – you need to get evidence to provide for yourself while you stay in New Zealand. You can use a bank statement, for example.

E-mail address – iVisa sends all documents via e-mail, so it makes sense that you provide an address you have access to.

Means of payment – iVisa accepts multiple payment alternatives. Credit and debit cards are okay, but you can use PayPal as well.
What are the processing times and fees?
You should know that the cost of a New Zealand ETA for the citizens of Liberia is determined by how fast you want your visa. iVisa gives you three options so that you can select the most convenient. They are as follows:
Standard processing – this is the slowest option. Your New Zealand ETA is ready within 24 hours, and it costs USD $94.74.

Rush processing – this time, things move a bit faster. Your application is processed within 4 hours, and you are charged USD $135.74.

Super Rush processing – if you need your visa ASAP, this option guarantees that you will have it in only 30 minutes hours. The cost is USD $182.74.
How can I apply?
The next thing to do is to fill in an application form, which is quite easy to complete. If you have questions during this process, iVisa provides customer support 24/7 that is free.
The form is split into three stages:
The first one asks you to provide personal information, passport, and some travel details. You must also choose a processing time for your online form, but keep in mind that each alternative comes at its own cost.

The second stage asks you to proceed with the payment and review your application so that it does not include any mistake. Make sure the information is 100% correct, otherwise, you could get a wrong ETA.

The last stage is based on uploading the documents that support your application. As soon as you finish that part, you can hit the submit button, and iVisa will do its job.
Needless to say, obtaining a New Zealand ETA for the citizens of Liberia is almost effortless with iVisa. The ETA is valid for 2 years after issued and it grants you Multiple Entry.
How does the New Zealand ETA look like?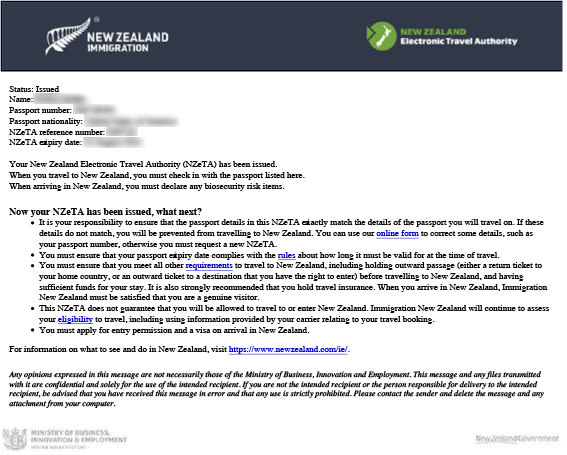 Where can I read more information about the New Zealand ETA?
If you still have doubts about the upcoming New Zealand ETA and you want a faster resolution, we suggest communicating with iVisa's customer service center. This service can be reached via online chat or telephone 24/7, and is free.
As another great option for your help, you can read more about the New Zealand ETA as well using this link.
IMPORTANT NOTE: CURRENTLY WE DO NOT OFFER THIS VISA. STAY TUNED, BECAUSE IT WILL BE AVAILABLE SOON.