IMPORTANT: iVisa is not offering the ETA or e-Visa to New Zealand if you're from Nauru, but we can help you with some valuable information to travel there. Nauruan citizens do need a Consular Tourist Visa to travel to New Zealand.
As stated by the visa policy of New Zealand, the citizens of Nauru will have access to a New Zealand ETA online. That is because as a Nauruan, you qualify for the expected ETA if you plan to travel to New Zealand. As far as that is concerned, iVisa can be of tremendous help. Stick around to learn how you'll get your travel document in a few hours.

Frequently Asked Questions / FAQs
I'm from Nauru, do I need a visa to travel to New Zealand?
Yes, you must apply for a Consular visa to enter New Zealand. Unfortunately, we aren't giving an e-Visa at the moment, but we're working arduously to give you this option soon. You can only apply for a consular visa by now.
How long can I stay in New Zealand?
If you're from Nauru, you can stay in New Zealand for 90 days Per Entry
What are the requirements?
What you need to do before applying is to make sure that you can fulfill all the requirements for an online application process. iVisa will ask you for the following documents:
A valid passport – Nauruans who want to apply online must have this item. You need to ensure that the passport is valid for 3 months from your date of departure from New Zealand.

Digital photo – This picture has to be the most recent possible and it must follow all the guidelines for a passport photo.

Payment methods – iVisa will ask you to provide the payment while filling in the application form. You can do that using a credit or a debit card, but you can also pay using a PayPal account.

Valid e-mail address – iVisa offers you the ETA via e-mail in PDF format. We recommend you to print a few physical copies.

Means of sustenance – once you arrive in New Zealand, you have to prove that you can provide for yourself during your journey. A bank account statement should be more than enough.

Return flight ticket – when you arrive at the airport, you may be asked to offer a return flight ticket to your country of origin (or another destination if you're in the International Transit Lounge). If you do not have one, then you must prove that you have enough money to buy one.

Proof of good behaviour– if you have a criminal history, you need to disclose it.
How long is this e-Visa valid for?
Your document has a validity of 2 years after issued
What are the processing times and prices for the New Zealand ETA?
If you apply for your ETA using iVisa's services, then you can choose one of the following:
Standard processing – you'll get your New Zealand ETA in

24 hours

. You'll only have to pay

USD $94.74

Rush processing – your ETA will be processed in

4 hours

, but you'll have to pay a bit more,

USD $135.74

being precise.
Super Rush processing – with this option you have to wait

30 minutes

for your application to be processed. As you can guess, this is the most expensive option. You have to pay

USD $182.74

.
Consider that the fees charged by iVisa are already included in these prices. iVisa does not practice hidden charges or surcharges
How can I apply?
Now that you have everything that is necessary for a successful application process, there is one last thing you need to do, and that is to fill in the application. The form you are given to complete is simple, but in case you need some help, you should know that iVisa's customer support is reachable 24/7 and is free of charge.
There are three steps you need to go through:
The first one asks for your general information and some details regarding your trip to New Zealand. You must also choose one of the processing time options, something that determines the total price of your ETA.

The second step is related to the payment and revision of your form so that it does not contain any mistake.

The third step requires you to upload the necessary documentation that supports your application. As soon as you are over, you can simply click on the submit button, and iVisa will take it from there.
Do I need to get a New Zealand ETA or Visa if I travel with my children?
Yes, you must apply to your kids too. Keep in mind that every foreign citizen who wants to enter New Zealand requires a visa, and that includes children.
How does the New Zealand ETA look like?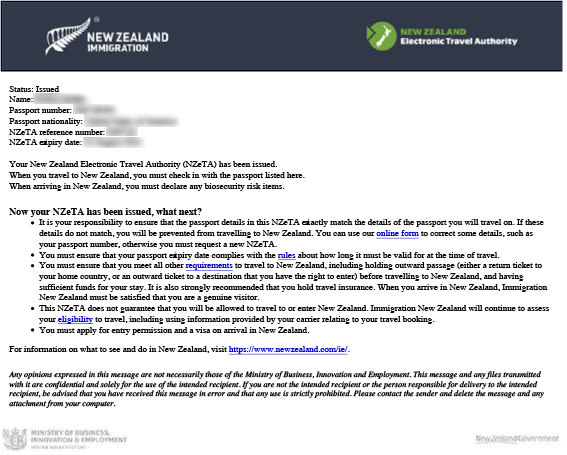 Where can I read more?
If you still have uncertainties about the New Zealand ETA, then do not hesitate to reach iVisa's customer center. You can contact this service via online chat or phone 24/7.
Don't forget that you can also find more details about this document on this page, so don't lose the chance to be informed about New Zealand.
IMPORTANT: iVisa is not offering the ETA or e-Visa to New Zealand if you're from Nauru, but we can help you with some valuable information to travel there. Nauruan citizens do need a Consular Tourist Visa to travel to New Zealand.