IMPORTANT NOTE: WE DO NOT ISSUE THE NEW ZEALAND ETA BY NOW, BUT WE WILL LAUNCH THIS PRODUCT SOON, SO WE INVITE YOU TO KEEP EXPLORING OUR WEBSITE!
According to the visa policy of New Zealand, if you're Peruvian, you will be able to obtain an eVisa if you travel to New Zealand. In other words, the citizens of Peru will have the chance to apply online for a New Zealand ETA. If you use the services rendered by iVisa, you¿ll get this document in a few hours.a
Learn more about it with the information below.

Frequently Asked Questions
I'm from Perú, do I need a visa to travel to New Zealand?
If you're Peruvian then you must get a visa to travel to New Zealand. Regrettably, iVisa doesn't offer an e-Visa at the moment, but you'll enjoy this option shortly. You can only apply for a consular visa by going to an embassy, at least for now.
How long can I stay in New Zealand?
If you're Peruvian, you can stay in New Zealand for 90 days Per Entry
What are the requirements?
Before you take any other step, you should make sure that you have access to everything necessary for the online application process. Luckily, the New Zealand ETA is not demanding, and you only need the following documents and information:
A Valid passport – Peruvians that need to apply online must obtain this item. You need to ensure that it is valid for at least another 3 months from your departure date from New Zealand.

Digital Passport Photo – This picture has to be the most recent possible and it must follow all the guidelines required for a passport photo.

Means of payment – iVisa will require you make the payment while completing the application form. You can do that with a credit or a debit card, but you can also pay using a PayPal account.

Valid e-mail address – iVisa grants you the ETA via e-mail in PDF format. Do not forget to print a few physical copies.

Means of sustenance – once you arrive in New Zealand, you need to prove that you can provide for yourself during your trip. A bank account statement should be enough.

Return flight ticket – when you arrive at the airport, you may be asked to show a return flight ticket to your country of origin (or another destination if you are in transit). If you do not have one, then you have to prove that you have enough money to buy one.

Proof of good behaviour– if you possess a criminal history, you need to disclose it.
How long is this e-Visa valid for?
Your ETA has a validity of 2 years after issued
What are the processing times and prices for the New Zealand ETA?
If you apply for your ETA with iVisa, then you'll be able to select one of the following processing options:
Standard – you'll obtain your New Zealand ETA in

24 hours

. After that, you'll only pay

USD 57.00

Rush – your ETA will be processed in

4 hours

, but you'll pay more,

USD 77.00

being precise.
Super Rush processing – with this option you have to wait

30 minutes

for your application to be ready. As you can see, this is the most expensive option. You have to pay

USD 97.00

.
Don't forget that the fees charged by iVisa are already included in these prices. iVisa does not practice hidden charges or surcharges
How can I apply?
If you notice that you have everything required, you can move forward with the process and fill in the application form. It should take you approximately 20 minutes to complete it, but iVisa's customer support is available 24/7 if you need some assistance.
The form you need to complete consists of three simple steps:
Step number one asks for some general information about yourself and your trip, but it also requires you to select a processing time for your application. Just keep in mind that your decision affects the cost of the New Zealand ETA.

The second step wants you to make the payment and carefully review your form.

The third step expects you to upload the documents that support your application. As soon as you are done, you are free to submit your form and iVisa will take things further.
Do I need to get a New Zealand ETA if I travel with my kids?
Yes, you should apply to your children too. Remember that every foreign traveler who wants to enter New Zealand requires a visa, even children.
How does the New Zealand ETA look like?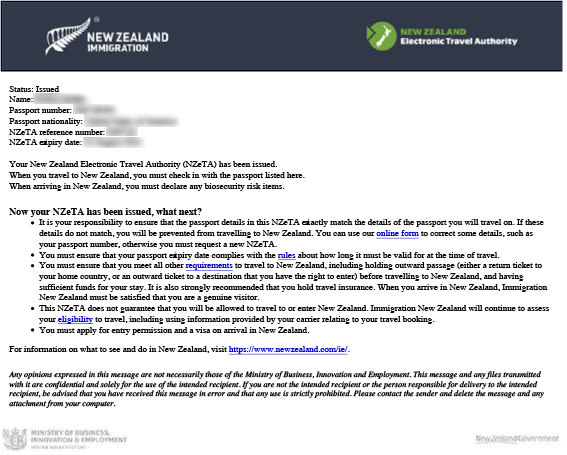 Where can I read more?
If you have more questions related to the New Zealand ETA, then communicate with iVisa's customer center. You can reach this service via online chat or phone 24/7, and it is free of charge.
You can also read more about this ETA on this page, so don't lose the chance to be informed about this destination.
IMPORTANT NOTE: WE DO NOT ISSUE THE NEW ZEALAND ETA BY NOW, BUT WE WILL LAUNCH THIS PRODUCT SOON, SO WE INVITE YOU TO KEEP EXPLORING OUR WEBSITE!