IMPORTANT NOTE: WE CURRENTLY DO NOT OFFER THIS VISA. STAY TUNED, BECAUSE IT WILL BE AVAILABLE SOON.
Just like many other nationalities, the citizens of Russia will be able to apply online for a New Zealand ETA shortly. If you're from Russia you have to get a Consular Visa to enter New Zealand, at least by now, but that could change in the future.

Frequently Asked Questions
Do I need a visa to enter New Zealand if I'm from Russia?
Yes, you need a visa to travel to New Zealand. You have to apply for a consular visa by now, but you'll have the chance to apply for an ETA soon.
Remember that iVisa is not offering the New Zealand ETA yet, but if it helps you in your travel plans, you can check the eligibility for other eVisas on this page. After you enter this page, you have to choose your nationality and the country of destination in the drag-down menu. This way, you'll get the information immediately.
How long can I stay in New Zealand if I'm a citizen from Russia?
You can stay in New Zealand for 90 days Per Entry.
What are the requirements?
The requirements for a New Zealand ETA for the citizens of Russia are the same as for everyone else. You need to provide some documents and information so that iVisa can get the process started. You must have at hand the following:
Valid passport – you cannot apply for a New Zealand ETA if you do not get a valid passport that maintains its validity for at least 3 months after the intended departure date from New Zealand. You also have to scan the information page.

Digital passport photo – it's preferable that the picture is as recent as possible and meet all the passport photo requirements.

Travel itinerary – you must put together a document that states the activities you will be joining in New Zealand.

Proof of accommodation – you can provide a hotel booking confirmation or anything else of this sort.

List of all the periods of employment.

A document that proves all your ties with your country of origin – property ownership, current job, papers that show you have a family, etc.

Proof of sustenance – you are obligated to show evidence that you can support yourself while in New Zealand.

E-mail address – iVisa will send you the e-visa through an e-mail. Make sure you print it out before departure.

Means of payment – iVisa accepts multiple methods of payment. You can use credit or debit cards or a PayPal account.
What are the processing times and fees?
The price of a New Zealand ETA is determined by a single factor, which is the processing time you choose during the application process. iVisa offers you three options so that you can choose the one that suits your needs best. They are as follows:
Standard processing – Choosing this option means that you receive your New Zealand ETA within 24 hours, and you will be charged USD 57.00.

Rush processing – this time, the processing takes just 4 hours, but you are charged USD 77.00.

Super Rush processing – since this is the fastest option, it is also the most expensive. Your visa is ready within 30 minutes, and you need to pay USD 97.00 for it.
How can I apply?
Now that you know the requirements and the prices, we will explain to you the process of the application form. This shouldn't be a difficult task, but if you require some help, iVisa's customer support is at your disposal 24/7 with no charge.
The online form has three simple steps.
The first one asks you to offer general information about you, and it also requires you to select a processing time for your application**. Remember that your selection affects the cost of your New Zealand ETA.

The second step of the application form requires you to cover the payment and review your form to correct any possible mistakes.

The third step asks you to offer other necessary documents that support your application. You must upload them as instructed. Once you finish, you can just submit your form and iVisa will finish the rest.
As you can see, getting a New Zealand ETA for the citizens of Russia with iVisa is incredibly accessible.
How many entries do I have with the ETA?
You get Multiple Entry with a validity of 2 years after issued.
How does this ETA look like?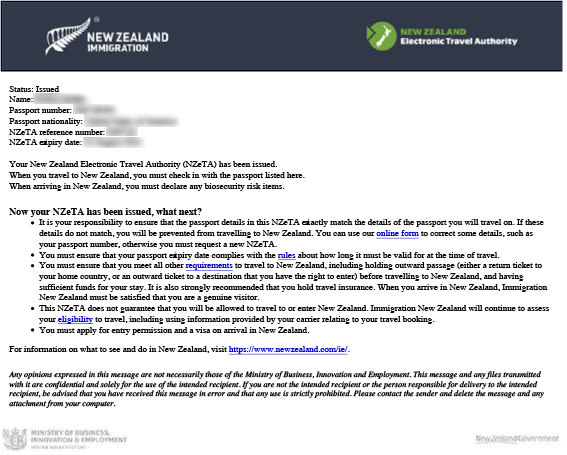 Where can I read more information about the New Zealand ETA?
If you still have difficulties about the forthcoming New Zealand ETA, we recommend you to reach iVisa's customer service center. The service can be contacted via online chat or phone 24/7, and it has no cost.
As a second option, you can read more about the New Zealand ETA as well using this link.
IMPORTANT NOTE: WE CURRENTLY DO NOT OFFER THIS VISA. STAY TUNED, BECAUSE IT WILL BE AVAILABLE SOON.