IMPORTANT NOTE: WE ARE NOT PROVIDING THE NEW ZEALAND ETA YET, BUT WE WILL LAUNCH THIS PRODUCT VERY SOON. KEEP EXPLORING OUR WEBSITE FOR MORE INFORMATION
Like many other nationalities, the citizens of Syria qualify for a forthcoming e-Visa if they're planning a trip to New Zealand. In other words, you will be able to apply online for a New Zealand ETA if you have a Syrian passport.
But while you wait for this document to be available, you can read more details about it with the information below.

Frequently Asked Questions // FAQs
If I'm from Syria, should I apply for a visa to enter New Zealand?
Yes, if you're Syrian then you need to apply for a visa. However, you can only get a Consular Tourist Visa by now.
As we addressed before, iVisa is not offering the New Zealand ETA yet, but you can review your eligibility for other e-Visas on this website.
What you have to do with the *Visa Checker is to write your nationality and also the country of destination in the drag-down fields. This way, you'll get the information immediately.
How long can I stay in New Zealand if I'm a citizen of Syria?
You can stay in New Zealand for 90 days Per Entry.
What are the requirements for the New Zealand ETA?
The online application process for a New Zealand ETA Visa is not very demanding. However, you still need to be able to provide some documents and information so that iVisa can get the process started. They are as follows:
Valid Passport – Every foreign citizen who wants a New Zealand ETA must obtain a passport that keeps its validity for at least another 3 months from the possible flying date from New Zealand.
Digital passport photo – Ensure that the picture meets all the proper guidelines.
Evidence of your plans in New Zealand – You need to compile a paper that states some of your activities in New Zealand.
Proof of accommodation in New Zealand – A hotel booking verification could be enough. Another kind of reservation could work too. Even a letter from a friend who is hosting you during your trip is an excellent option.
Financial links and commitments in your home country – for example, property ownership, your current job, family, etc.
List of all your periods of work
Means of payment – iVisa allows you to pay with more than one method. You can use a credit or debit card, but you can also pay with PayPal.
E-mail address – You obtain your ETA via e-mail and it is electronically linked to your passport so you have to provide a valid email address.
How long is the New Zealand ETA valid for Syrian citizens?
Your New Zealand ETA expires 2 years after issued and it gives you Multiple Entry.
What are the fees and processing times?
The total price of your New Zealand ETA will vary depending on how fast you want this document. That's why it is so important to be sure about the processing time you prefer during the application process. iVisa offers you the following alternatives:
Standard processing – You'll obtain your New Zealand ETA in

24 hours

, but only if you pay

USD $97.49

Rush processing – You'll just wait

4 hours

, but you'll have to pay more. The total price you'll have to pay weill be

USD $128.99

.
Super Rush processing – With this option you only need to wait

30 minutes

for your online form. However, this is the most expensive alternative, so you'll have to pay

USD $165.99

.
How can I apply for the New Zealand ETA?
The next thing on your checklist would be to fill in the application. It is a reasonably easy task for most applicants, but just in case you have questions, iVisa puts at your disposal its support service. It is reachable 24/7 and it's free of charge.
You will notice that the application has three stages:
During the first one, all that you have to do is provide your basic information and select a processing time. Keep in mind that the option you choose establishes the cost of your New Zealand ETA.

The second stage requires you to cover the payment and review your form. It is crucial that you read it carefully and make sure that it does not contain any mistake. Otherwise, your visa will be invalid and you need to repeat the application process.

The last stage consists of documents to upload. iVisa will ask you to upload the documentation that supports your application. As soon as you are through, you can click on the submit button and iVisa will take things further.
What you need to remember is that iVisa can really help you get your New Zealand ETA. It is almost an effortless process.
Do I need a New Zealand Visa if I'm in the International transit area?
Yes, you still need a visa in this case. We recommend you contact the embassy to receive more information
How does the New Zealand ETA look like?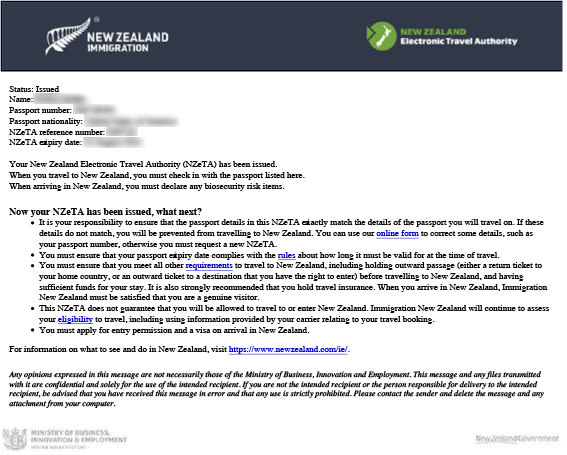 What should I do if I travel with my kids?
If you travel with your kids you still need a visa for each of them. We firmly suggest contacting the embassy to solve other uncertainties about this topic as long the New Zealand ETA isn't ready yet.
Where can I read more information about the New Zealand ETA?
Don't stress out if you still have uncertainties or questions in mind about the upcoming New Zealand ETA, you can contact iVisa's customer service center for any help. The service can be reached via online chat or phone 24/7, and it is free.
Or you can read more about the New Zealand ETA using this link if you prefer to avoid any phone call or chat.
IMPORTANT NOTE: WE ARE NOT PROVIDING THE NEW ZEALAND ETA YET, BUT WE WILL LAUNCH THIS PRODUCT VERY SOON. KEEP EXPLORING OUR WEBSITE FOR MORE INFORMATION