IMPORTANT NOTE: WE DO NOT PROVIDE THE NEW ZEALAND ETA, BUT WE WILL LAUNCH THIS PRODUCT VERY SOON, SO STAY TUNED!
Do you want to travel to New Zealand? If the answer is yes and you're a citizen of the Marshall Islands, then you should know that you need a visa to enter the country. However, you'll have the chance to apply online for a New Zealand ETA soon, which is a better option than a consular visa.
iVisa provides a convenient application process to receive certain travel authorizations, and that includes the upcoming ETA. Learn more about this document with the information below.

Frequently Asked Questions
If I'm from the Marshall Islands, do I need a visa to travel to New Zealand?
Yes, you have to apply for a visa if you aspire to travel to New Zealand and you're not from a visa-exempt country. Don't forget that you can only receive a Consular Tourist Visa by momentarily, so you must take a trip to the embassy or the consulate. As a recommendation for you, there's no need to stress out before time, keep in mind that you'll be able to apply for a New Zealand ETA very soon and that's great news.
As we already mentioned before, iVisa is not providing the New Zealand ETA yet, but you can check your eligibility for other e-Visas on this page.
Once you examine the Visa Checker Tool, then the only thing you'll have to do is to select your nationality and the country of destination in the drag-down fields. This way, you'll receive the information quickly.
How long can I stay in New Zealand if I'm a citizen from Marshall Islands?
You can stay in the country for 90 days Per Entry.
What are the requirements for the New Zealand ETA?
The first thing that you must do in order to get a New Zealand ETA is to put together a series of documents and information that are required for the online application process. You will need to provide the following:
Passport – You need a valid passport with at least 3 months of validation, starting from the departure date. You'll also require a scan of the passport's information page.
Digital passport photo – You need a recent passport photo with all the proper guidelines.
A travel itinerary schedule – It's obligatory to get valid documentation so you can prove what plans you have in New Zealand.
Proof of accommodation in New Zealand – You can verify this by providing hotel reservations or a letter from your host.
Documentation that verifies your ties to your original country.
Proof of subsistence –You must show a piece of evidence that proves you can afford for yourself while you stay in New Zealand. A bank statement, cash, credit cards, etc are great options.
E-mail address – iVisa will send you the New Zealand ETA by e-mail, so you need to offer a valid e-mail address.
Proper payment options – iVisa allows you to pay with a credit or a debit card, but you can also pay with PayPal account.
What are the fees and the processing times for the New Zealand ETA?
The total price of your New Zealand ETA is not expensive at all, but keep in mind that it can change depending on one single thing: the processing time. This is something you select while filling in the application process. iVisa offers three options so that you can select the one that you find most convenient. They are as follows:
Standard processing – You'll get your New Zealand ETA in

24 hours

, and you'll pay

USD $97.49

Rush processing – your ETA will be ready in

4 hours

, but the price is more expensive than the previous one. It will be

USD $128.99

.
Super Rush processing – By choosing this, you'll only have to wait

30 minutes

. Nevertheless, since this is the most expensive option, you'll pay

USD $165.99

.
How can I apply?
To obtain a New Zealand ETA you need to also fill in an application. The online form is short and simple, but if you need help, iVisa has an excellent customer support service that is at your disposal 24/7.
The application you need to go over is broken down into three simple steps:
Step number one wants you to fill in the indicated fields with your personal information, travel details, and passport info. You must also select a processing time. It determines the timeframe in which your ETA is ready and its cost.

Step number two wants you to provide your payment details as well as to review your form. Read your application carefully and make sure that all the information within it is 100%. You cannot make any corrections once your application reaches processing.

Step number three is all about supporting documents. iVisa will require you to upload the necessary documentation. After you are done, just click on the submit button and iVisa will send you the e-visa in the timeframe of your choice.
As you can see, obtaining a New Zealand ETA for the citizens of the Marshall Islands with iVisa is incredibly convenient. The ETA you receive maintains its validity for 2 years after issued and you receive Multiple Entry.
How does the New Zealand ETA look like?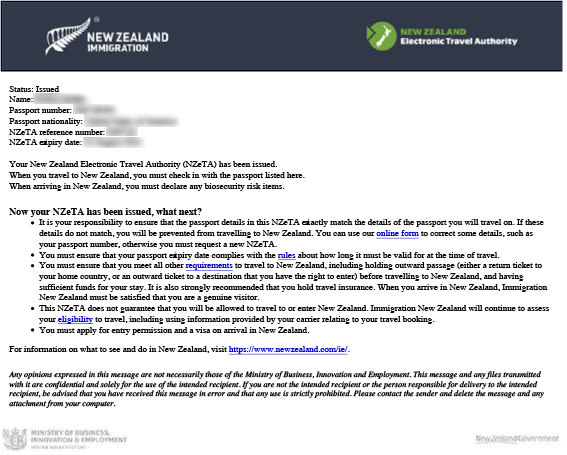 Does an ETA guarantee my entry into New Zealand?
No, it doesn't. Having a New Zealand ETA does not provide an automatic right of entry for the holder into the Country.
The Immigration Officer at the port of entry may refuse entry to any person if they consider that such a person is unable to fulfill the immigration requirements.
Where can I read more information about the New Zealand ETA?
It's ok if you still have doubts about the upcoming New Zealand ETA, in that case, we advise talking to iVisa's customer service center. The service can be reached via online chat or telephone 24/7, and it's free.
You can read more about the New Zealand ETA as well using this link.
IMPORTANT NOTE: WE DO NOT PROVIDE THE NEW ZEALAND ETA, BUT WE WILL LAUNCH THIS PRODUCT VERY SOON, SO STAY TUNED!