IMPORTANT NOTE: WE ARE NOT RENDERING THE NEW ZEALAND ETA YET, BUT KEEP EXPLORING OUR WEBSITE BECAUSE IT WILL BE LAUNCHED VERY SOON.
The citizens of Tuvalu will be able to apply for a New Zealand ETA online because they are eligible for this upcoming eVisa. If you are interested, iVisa can help you apply and get your travel document in a few hours whenever it is available. Just follow the instructions below.

Frequently Asked Questions (FAQs)
If I'm from Tuvalu, do I have to apply for a visa if I want to enter New Zealand?
Yes, if you're from Tuvalu, then you need to apply for a visa. Nonetheless, don't forget that you can only get a Consular Tourist Visa by now.
You should also remember that iVisa is not offering the New Zealand ETA yet, but you can review your eligibility for other e-Visas on this page.
To use iVisa's Visa Checker, all you need to do is to select your nationality and also the country of destination in the drop-down menu. You'll obtain the information at once.
With this useful information, you'll know if you're able to apply for an eVisa to that country or if you don't need a visa. If you have to apply for a Consular Visa, you'll be informed too.
What is a New Zealand ETA?
The New Zealand ETA is a document that allows foreign citizens to travel to this country for tourist purposes.
How long can I stay in New Zealand if I'm a citizen of Turkmenistan?
You can stay in New Zealand for 90 days Per Entry if you're from Tuvalu.
What are the requirements?
Before you access the application online page, we suggest that you first handle the requirements. The list of demands is not very long, and chances are that you already have some of the stuff on it. Here is what you will need:
A Valid Passport – This is an important item for anyone who wants to receive a New Zealand ETA. You need to get a passport that keeps its validity for 3 months from the intended departure date from New Zealand.

Digital passport photo – The photograph must follow all the proper passport guidelines, including to be taken against a white background and without any face gesture.

Evidence of your plans in New Zealand – you must choose a document that proves some of your possible plans in New Zealand.

Proof of accommodation in New Zealand – you will need a hotel reservation or something similar.

Financial links and commitments in your home – In this part you can have a property ownership, your current job contract, etc.

List of all your periods of employment.

Payment Alternatives – iVisa allows you to pay the fees with more than one payment method.

E-mail address – You'll receive your ETA via e-mail. However, we suggest you print out the document before departure.
What are the processing times and also the fees?
The amount of money you have to spend on a New Zealand ETA will vary according to one single factor, and that is the processing time you select during the application online form. iVisa offers you three fantastic alternatives so that you can select the one that is the most convenient. They are as follows:
Standard processing – With this alternative, you'll receive your New Zealand ETA in only 24 hours and you have to pay USD 57.00.

Rush processing – The visa arrives faster this time. You will get it in 4 hours but you will have to pay USD 77.00.

Super Rush processing – as you can guess, the fastest option is also the most expensive. Your application will be ready in 30 minutes and you will have to pay USD 97.00.
How can I apply for the New Zealand ETA?
After you check that you have all of the above at your disposal, you are ready to fill in the application. The form created by iVisa is short and should take you about 20 minutes to complete, but if you need help, you can contact iVisa's customer support 24/7.
What you will see once you access the application page is that the form is broken down into three steps. That should make the application process smoother for you.
The first step asks for your personal information, but you also need to select a processing time for your application. iVisa gives you three choices so that you can go for the one that suits you best.

The second step wants you to cover the payment and review your form so that there are no mistakes in it.

The third step requires you to provide iVisa with the documents that support your application. After you are finished, click on the submit button, and iVisa will process your application in the timeframe you selected.
What you need to remember from all this is that receiving a New Zealand ETA for the citizens of Tuvalu is effortless with iVisa.
The e-visa is valid for 2 years after issued.
How many entries am I allowed to have?
You can get Multiple Entry if you're from Tuvalu.
How does this ETA look like?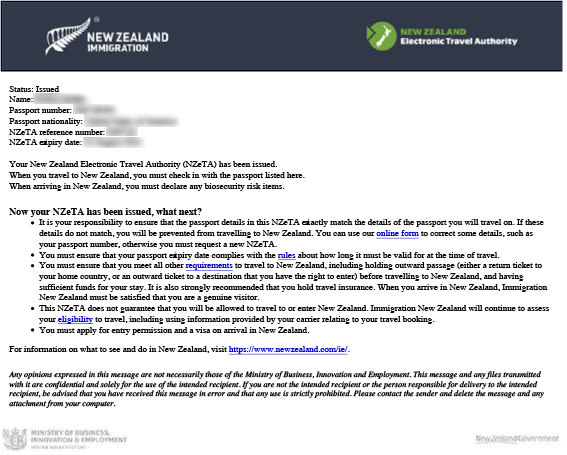 Where can I find more information?
If you need to get more information about the New Zealand ETA, then you can check this link to read more FAQs. You can contact our customer service center to receive personal assistance as well.
IMPORTANT NOTE: WE ARE NOT RENDERING THE NEW ZEALAND ETA YET, BUT KEEP EXPLORING OUR WEBSITE BECAUSE IT WILL BE LAUNCHED VERY SOON.