IMPORTANT NOTE: WE DO NOT OFFER THIS ETA AT THE MOMENT, BUT WE INVITE YOU TO KEEP READING THIS ARTICLE TO GET MORE INFORMATION ABOUT THIS UPCOMING DOCUMENT. WE WILL LAUNCH IT VERY SOON!
The citizens of Uzbekistan will have access to a New Zealand ETA online soon. That is because as a Uzbekistani, you qualify for the forthcoming ETA if you ever want to travel to New Zealand. But for now, you have to go to an Embassy to receive your New Zealand Consular Visa.
iVisa can help you in the future ETA, and if you choose its services, you''l be able to have it in a few hours. Learn more about it with the information below.

Frequently Asked Questions (FAQs)
I'm from Uzbekistan, do I need a visa to travel to New Zealand?
Yes, if you're from Uzbekistan, then you have to apply for a Consular Tourist Visa, at least presently, but you'll be able to apply online for an ETA forthwith.
Please, acknowledge that iVisa does not provide the New Zealand ETA yet. Nevertheless, you can verify if you're able to get other e-Visas on this page.
It's quite a smooth task to use the visa checker designed by iVisa, you only have to choose your nationality and the country you want to visit in the drop-down fields on the menu. After that, you'll know the information immediately.
If you need to apply for a consular visa, you'll know it at once, but if you need an eVisa (which is a lot easier to obtain than a consular one) you'll be redirected to the request page. You'll also be notified if you don't require a visa to travel.
How long is the New Zealand ETA valid for?
If you're from Lesotho, you can have the ETA for 2 years after issued.
What are the requirements?
For the application process to go speedier, we suggest that you first put together all the documents and information that are required. To apply for a New Zealand ETA, you will need the following:
Passport – Every traveler who needs a New Zealand ETA requires a valid passport that mantains its valid status for at least another 3 months after the departure date.

Digital passport picture – the picture must have been taken recently, and keep in mind that there are other guidelines it should follow.

Travel itinerary schedule – you need to get a document that states the activities you want to enjoy in New Zealand. You also need to show other plans you may have in the country.

Proof of accommodation in New Zealand – a hotel booking or something similar is a great alternative.

List of all periods of employment.

Documents that prove the bonds you have with your home country – for instance, property, family, job, etc.

Proof of subsistence – you need to have evidence that you can provide for yourself while in New Zealand. You can use a bank statement, for example.

Valid e-mail address – iVisa sends your ETA via e-mail, so it makes sense that you provide an address you have access to.

Payment Metod – iVisa accepts multiple payment options. Credit and debit cards work, but you can use a PayPal account too.
What are the processing times and also the fees for the New Zealand ETA?
The price of a New Zealand ETA for the citizens of Uzbekistan is the same as for any other nationality. But it can vary depending on the processing time you choose during the online process. iVisa offers you three options so that you can select the one that is most convenient for you:
Standard processing – this is the slowest option of the three. Your New Zealand ETA is ready in only 3 days, and it has a price of USD $95.99.

Rush processing – this time, the process moves a bit faster. Your application is ready in no more than 24 hours, and you'll have to pay USD $137.99.

Super Rush processing – if you want your visa as soon as possible, this option guarantees that you will get it in no more than 6 hours. The cost is USD $184.99.
How can I apply?
Once you gather all the items from the list above, you can fill in the application form. That should not be a challenging task, but if you have questions, do not hesitate to contact iVisa's customer support. The service is available 24/7 and is free of charge.
The form you must complete consists of three steps:
During the first one, all you need to do is to provide your personal information and select a processing time for your application. iVisa gives you three choices so that you can select the one that satisfies your needs.

The second step asks you to handle the payment and review your form in case there are some inaccuracies within it. It is crucial that you eliminate all mistakes. Otherwise, your New Zealand ETA will be invalid.

During the third step, iVisa will require you to upload the documents that support your application. After you are done with that too, you can submit your form. iVisa will process it in the timeframe you requested.
As you can see, getting a New Zealand ETA for the citizens of Uzbekistan is convenient when you have iVisa as your visa service. The electronic document has a validity of 2 years after issued and you can stay in New Zealand for up to 90 days Per Entry with Multiple Entry.
How does the New Zealand ETA look like?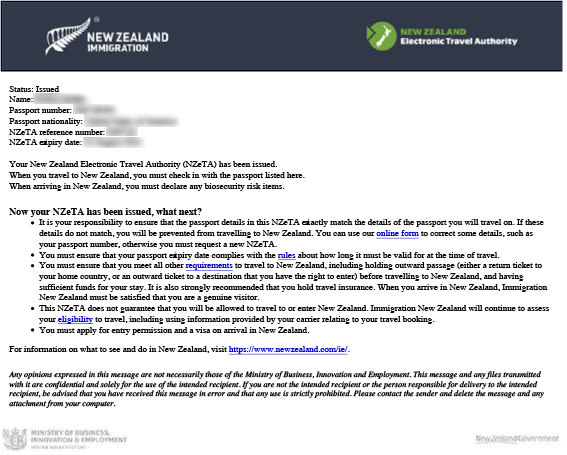 Where can I read more information about the New Zealand ETA?
If you still have doubts about the New Zealand ETA in mind, we strongly suggest contacting iVisa's customer service to obtain special and faster attention. The service can be reached via online chat or phone 24/7, and it is completely free of charge.
You can read more info about the New Zealand ETA on this link too.
IMPORTANT NOTE: WE DO NOT OFFER THIS ETA AT THE MOMENT, BUT WE INVITE YOU TO KEEP READING THIS ARTICLE TO GET MORE INFORMATION ABOUT THIS UPCOMING DOCUMENT. WE WILL LAUNCH IT VERY SOON!