IMPORTANT NOTE: WE ARE NOT OFFERING THE NEW ZEALAND ETA YET, KEEP IN MIND THAT THE NEW ZEALAND VISITOR VISA IS NO LONGER AVAILABLE. HOWEVER, WE WILL LAUNCH THE UPCOMING ETA SOON SO STAY TUNED!
The citizens of Zambia, along with many other nationalities, qualify for a forthcoming ETA if they plan a journey to New Zealand. As a result, they'll have the chance to apply online for a New Zealand ETA.
If you're Zambian, iVisa can help you with the online process once the ETA is available. For now, you can only get a New Zealand Visa by going to an Embassy.
We bring you this article with useful information to consider when you're ready to apply in the future.

Frequently Asked Questions (FAQs)
If I'm from Zambia, do I need to apply for a visa to travel to New Zealand?
Yes, you're required to apply for a visa to travel to New Zealand if you're from Zambia. Consider that you can only obtain a Consular Tourist Visa for the moment, so you need to take a trip to an embassy. Nevertheless, don't stress out about it, you'll be able to apply for a New Zealand ETA shortly.
As we affirmed before, iVisa is not offering the New Zealand ETA yet, but you can confirm your qualification for other e-Visas on this link.
After you check the Visa Checker Tool, you have to choose your nationality and the country you want to visit in the drag-down menu. That's how you'll obtain the information instantly.
How long can I stay in New Zealand if I'm a citizen from Zambia?
You can stay there for 90 days Per Entry.
What are the requirements?
The first thing you need to do to get your New Zealand ETA is to make sure that you can fulfill all the requirements, but don't worry, iVisa doesn't ask a lot of things. You only need to provide the following documents:
Valid Passport – This is essential if you want to travel to other countries. Every foreign traveler needs a valid passport with at least 3 months of validation, and that starting from the flying date. You also require a scan of your passport's information side.
Digital passport picture – For this section, you have to make sure that the photo was taken recently and that it follows all the passport photograph guidelines.
Travel itinerary – It's crucial to get valid documentation so you can prove what purposes you have in this country.
Proof of accommodation – You can confirm this with hotel bookings or even a letter from your host.
Employment list
Documentation that demonstrates your ties to your country of origin.
Proof of subsistence –You must give a piece of evidence that proves you can support yourself while you visit New Zealand. A bank statement, cash, credit cards, etc, will be ok.
E-mail address – iVisa will e-mail you the New Zealand ETA, so you have to offer a correct e-mail address.
Proper payment methods – iVisa permits you to pay with credit and debit cards, but you can also use PayPal.
Do you want to obtain more information about these requirements? Then click here.
What are the processing times and fees?
The amount of money you spend on your New Zealand ETA will vary according to one single factor, and that is the processing time option you select during the online application. iVisa offers you three choices so that you can choose for the one that best suits your needs and budget. They are as follows:
Standard processing – You'll receive your New Zealand ETA in

24 hours

, and it costs you

USD 57.00

Rush processing – your ETA will be ready within

4 hours

, but the total price is more expensive. It is

USD 77.00

.
Super Rush processing – By selecting this, you'll only wait

30 minutes

. Nonetheless, since this is the most expensive alternative, you'll have to pay

USD 97.00

.
How can I apply?
The next thing on your to-do list involves an application form. The task is not a difficult thing to do, but in case you need some help, iVisa puts at your disposal an excellent customer support service which is available 24/7 and is free of charge.
The form you need to go through has three steps:
The first one asks for the applicant's personal information, passport info, and a few details concerning the trip. The same step asks you to select a processing time for your application.

Step number two expects you to cover the payment and review your form so that you do not submit an application that contains inaccurate information.

The last step requires you to upload all the documents that support your application. iVisa will let you know how you can do that. Once you are done with all three steps, you can submit the form and iVisa will deliver your visa in the timeframe you requested.
As you can see, getting a New Zealand ETA for the citizens of Zambia does not require hard work. iVisa can be of tremendous help. The ETA is valid for 2 years after issued and it gives you Multiple Entry.
How does the New Zealand ETA look like?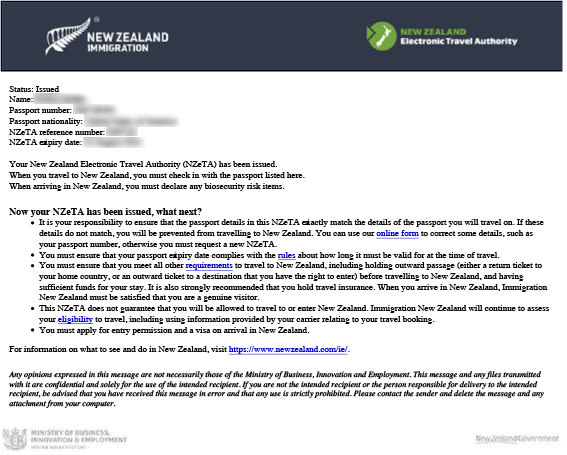 Where can I read more information about the New Zealand ETA?
If you still have questions about the New Zealand ETA, then we suggest talking to iVisa's customer service. The service can be reached via online chat or telephone 24/7, and it's free.
As a second choice, you can read more about the New Zealand ETA as well using this link.
IMPORTANT NOTE: WE ARE NOT OFFERING THE NEW ZEALAND ETA YET, KEEP IN MIND THAT THE NEW ZEALAND VISITOR VISA IS NO LONGER AVAILABLE. HOWEVER, WE WILL LAUNCH THE UPCOMING ETA SOON SO STAY TUNED!