NOTE: in iVisa, we currently do not offer the electronic visa to New Zealand if you are from Thailand, but we'll give you some details to travel there. Thai citizens don't need a Consular Tourist Visa to enter New Zealand.
As a Thai citizen who is planning a trip to New Zealand, one of your concerns should be the visa. After all, you need one to cross the border. You can get a New Zealand visa in one of two ways. You can go to the embassy of New Zealand in Bangkok at the moment, but you will be able to apply online with iVisa soon. If you have never tried an online application process before, you have nothing to worry about. It is easier, cheaper, and it saves you a lot of trouble.
In this article, you'll find more info about this document.

Frequently Asked Questions (FAQs)
I'm a Thai citizen, do I have to get a visa to go to New Zealand?
Sure, you need a visa if you want to travel to New Zealand. Sadly, we don't provide the online version of this document, but we'll give you this option soon. For the moment, you can request a consular visa.
How long can I remain in New Zealand if I am a Thai citizen?
You can stay in the country of New Zealand for no more than 90 days Per Entry
What are the documents for a New Zealand ETA?
Believe it or not, when you apply online for a New Zealand Visitor Visa, the list of requirements is actually shorter. All you need to do is provide iVisa with some information and some documents. Here is what you need:
Valid passport – thai citizens who want to apply online need to have a passport. Furthermore, ensure that the passport has a validity of 3 more months from your arrival date in New Zealand.

Digital photo – this must be a current photo. Also, follow the criteria for a passport photo. For example, you must avoid gestures.

Methods of payment – we ask you to make the payment while you complete the steps of the application form. You can use a credit/debit card or a PayPal account.

E-mail address – iVisa sends you the visa via e-mail in PDF format. Do not forget to print a few physical copies.

Means of sustenance – as soon as you arrive in New Zealand, you need to demonstrate that you can support yourself during your journey.

Return flight ticket – when you arrive at the airport, you may be asked to present a return airline ticket to your country of origin. If you don't have one, then you have to demonstrate that you have the money to purchase it.
As far as the proof of good behavior is concerned, you need to disclose any criminal history you may have. Special procedures may be applicable.
One final requirement is that you fill in an application form. However, the form made by iVisa is short and simple. You should not spend more than 20 minutes completing all three steps. Moreover, if you have any questions regarding the process or any difficulties in completing the steps, iVisa has an excellent support service that is free of charge and available 24/7.
How long is the New Zealand ETA valid for?
If you're a Thai citizen, your electronic visa expires 2 years after issued
What are the fees and the processing speeds for the ETA?
With iVisa, you can choose one of the 3 alternatives:
Standard procedure – you'll acquire your New Zealand ETA within 24 hours. The price of it is USD $89.74.

Rush procedure – your electronic visa will be done in 4 hours and the cost will be USD $146.74.

Super Rush procedure – in only 30 minutes, you'll receive your ETA By email and it will cost you USD $196.74.
All the service prices owed by iVisa are included in the alternatives above. Don't forget that we don't practice hidden charges or surcharges
How long does it take to apply?
In 20 minutes you can easily finish your online form.
How can I apply for my New Zealand ETA?
First of all, it's a straightforward form. Moreover, if you need assistance while entering all the information, iVisa has a great customer support.
Follow the 3 parts to complete the online form:
Enter your general info and processing speed. Note that the procedure time will determine the fee of your New Zealand visa.

Make the corresponding payment and proofread your form. The review is often underestimated, however, you have to assure that all the information you offer is 100% correct. Otherwise, your ETA could be rejected.

Upload some other documents, but this will depend on the case (you might need it or not). Once you're done, submit your application and then wait for your ETA.
How many entries do I have with this ETA?
You will have a Multiple Entry.
Can I see a sample of the New Zealand ETA?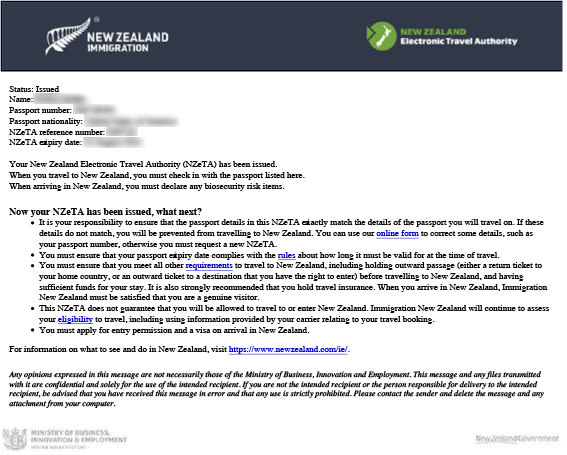 Where can I read more information about the New Zealand ETA?
To get more info about New Zealand ETA, you can contact iVisa's customer service center 24/7.
As a second choice, you can read extra details about this travel document on this page.
So, while you can get a New Zealand ETA in Bangkok by going to the embassy, you should probably know that Thai citizens will be eligible for an ETA in the future. Don't forget that you can also search for other countries that you could simply know by applying for an eVisa.