IMPORTANT NOTE: WE CURRENTLY DO NOT OFFER THIS ETA, BUT STAY TUNED AND CHECK OUR WEBSITE BECAUSE WE WILL OFFER IT VERY SOON!
If you plan a trip to New Zealand, you should know that Indonesian citizens will be able to apply for a New Zealand visa. That is why you must do the proper research and see under which circumstances you can get one. You have more than one option, and you can choose the one you find most convenient. At the moment, you can go to the nearest embassy of New Zealand to have one, but you will have the option to apply online with iVisa in the future.

Frequently Asked Questions
If I'm from Indonesia, do I need a visa to visit New Zealand?
Yes, you need a visa if you want to travel to New Zealand. Sadly, we do not offer the online version of this document at the moment, but we're working hard to give you this option in the future. At the moment, you can only apply for a consular visa.
How long can I stay in New Zealand?
If you're from Indonesia, you can stay in New Zealand for 90 days Per Entry
What are the requirements?
As mentioned above, one of your options for getting a New Zealand visa in Jakarta is going to a New Zealand embassy. You must be aware, however, that getting a consular visa can be time-consuming.
The requirements are relatively easy to meet, but we recommend that you give the embassy a call if you have doubts.
Here is what you need:
Passport – Indonesians who want to apply online need to have a valid passport. You also have to make sure that the document is valid for at least another 3 months from your date of departure from New Zealand.

Digital photo – The picture must be as recent as possible and meet all the other guidelines for a passport photo.

Means of payment – iVisa requires that you make the payment during the application process. You can do that using a credit or a debit card, but you can also pay using PayPal.

E-mail address – iVisa will send you the visa in PDF format. Do not forget to print a few copies.

Means of sustenance – Once you arrive at the New Zealand airport, you need to prove that you can support yourself during your journey. A bank account statement can help a lot.

Return flight ticket – This might be a requirement needed once you arrive at the airport. If you do not have this ticket, you need to prove that you have the financial means to purchase it.
You may want to be honest about your criminal history as well. If you have one, of course. Tha's because there may be special procedures you must go through. But don't worry, just because you have been convicted before, it does not mean you are not allowed to enter New Zealand. It is just that the officials need to be cautious.
How long is this e-Visa valid for?
The expiration date is 2 years after issued
What are the processing times and prices for the ETA?
Just in case you decide to apply for your ETA with iVisa's services, then you'll be able to select one of the following:
Standard processing time – you'll obtain your New Zealand ETA in about

24 hours

, and you will have to pay no more than

USD $97.49

Rush processing – your ETA will be ready in

4 hours

, but the total price is a bit higher. You must pay

USD $129.99

Super Rush processing – with this option you have to wait only

30 minutes

for your application. As you can guess, this is the most expensive alternative. You have to pay

USD $166.99

.
The service fees charged by iVisa are already included in this list. You will be happy to learn that iVisa does not work with the hidden charges or surcharges idea.
How many entries am I allowed to have?
If you apply for your New Zealand ETA with iVisa you'll acquire a Multiple Entry.
How can I apply?
You're able to complete the application form on iVisa whenever you want. Preferably after you get everything you need. The form is not hard at all, and if you need some assistance, you can call iVisa's support service 24/7.
You need to complete three simple steps:
First of all, you must fill in your personal information such as name, address, etc. Some details about your trip might be important, such as the departure date. During the same step, you must choose a processing time too.

During step number two, you have to make the payment and review the information you gave in step one. It is important to really check everything you write since a single mistake can invalidate your ETA. Make sure that the spelling is right and that the information is 100% accurate.

Step three is made for document upload. iVisa notifies you about every single piece of paper you have to provide. After step three is complete, you can submit your application and get your New Zealand visa in the timeframe of your preference.
It is easy to see that a New Zealand visa is easy to acquire. The process is entirely online, and iVisa handles the hardest part. The document you receive is valid for 18 months, and you can stay in New Zealand for up to 9 months.
Do I need to get a New Zealand ETA if I travel with my kids?
Yes, defiantly. Keep in mind that every foreign traveler who wants to enter to New Zealand requires a visa, even kids.
How does the New Zealand ETA look like?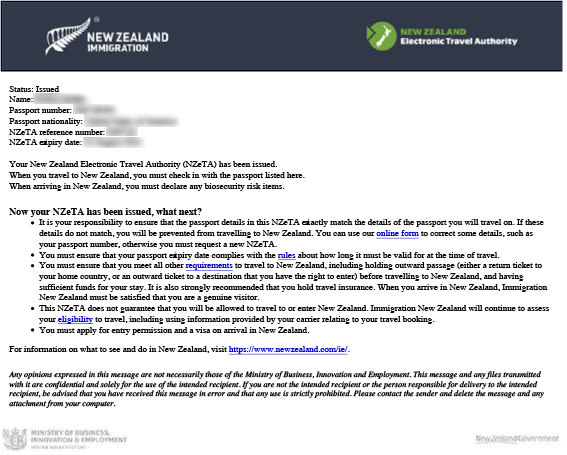 Where can I read more?
If you still have doubts about the New Zealand ETA? Then don't worry! You can contact iVisa's customer center via online chat or phone 24/7 totally free.
Don't forget that you can also read more about the New Zealand ETA on this page, so don't lose the chance to be informed.
Hopefully, you find the information above helpful. You can get a New Zealand visa at the embassy in Jakarta, but the online application process is so much easier. You do not have to go anywhere; you do not have to waste more than 20 minutes. iVisa will handle the bureaucratic part since people dislike it so much.
IMPORTANT NOTE: WE CURRENTLY DO NOT OFFER THIS ETA, BUT STAY TUNED AND CHECK OUR WEBSITE BECAUSE WE WILL OFFER IT VERY SOON!