IMPORTANT NOTE: WE DO NOT OFFER THIS ETA AT THE MOMENT, BUT WE WILL OFFER IT VERY SOON, SO STAY TUNED!
As an Indian citizen, you need to apply for a visa to visit New Zealand. You have two options when it comes to where you can do that. You either go to the New Zealand Consulate General in Mumbai, or you can take the easy way out and apply online with iVisa. We recommend that you take the second option because it is easier, faster, and there is less effort for you to make.

Frequently Asked Questions (FAQs)
I have an Indian passport, do I need a visa to visit New Zealand?
Indian visitors need a Consular Tourist Visa at the moment, but don't worry, you'll have the option to apply for a New Zealand eVisa soon.
If you hold a passport from the UK, or another country under the visa-waiver agreement, you do not need a visa to holiday in New Zealand.
Please, remember that iVisa does not provide the New Zealand ETA. But you can always check your eligibility for an eVisa here. Just select your nationality and the country of destination and the information will unfold in seconds.
How does the New Zealand ETA work?
The New Zealand ETA is issued electronically by the Ministry of Foreign Affairs in New Zealand.
Travelers, travel agents, airlines and specialist service providers around the world can use the New Zealand ETA system to process the document. However, this will be completely available in the near future since there is still some work to do and that's why iVisa is one of the companies that's still proving that everything is ok to proceed with this online document.
What are the requirements for the New Zealand eVisa?
The requirements you need to meet when you apply online with iVisa are about the same you need to achieve when you submit your application at the New Zealand Consulate-General in Mumbai. However, there are a few differences, as you need fewer things for the online option. iVisa does not ask very much of you, but you do need to provide some information and a few documents. They are as follows:
Passport – Indian citizens who want to apply online need a passport. Plus, you need to make sure that the document is valid for at least another 3 months the departure date.

Digital photo – the photo has to be as recent as possible and it also has to meet all the guidelines for a passport photo.

Means of payment – You will have to make the payment while completing the steps of the application form. You can do that using a credit or a debit card, or even a PayPal account.

E-mail address – You will receive your ETA via e-mail so you must provide a valid one.

Means of sustenance – As soon as you arrive in New Zealand you have to prove that you can maintain your expenses.

Return flight ticket – when you arrive at the airport, you may be required to show a return flight ticket to your country of origin.
What are the prices and processing times for the New Zealand ETA?
In iVisa we understand that people have different needs and budgets, and that's why we provide you three processing time options. They are as follows:
Standard processing time – you get your New Zealand ETA in 24 hours, and you have to pay USD $95.74.

Rush processing time – your application is ready within 4 hours, but the total price is a bit higher. You must pay USD $158.74.

Super Rush processing time – you must wait 30 minutes for your application form. As you can guess, this is the most expensive option. You have to pay USD $197.74.
Don't forget that the service fees charged by iVisa are already included. You will be glad to learn that iVisa does not practice hidden charges or surcharges
How long can I stay in New Zealand?
You can stay in New Zealand for 90 days Per Entry. And you can use this document in 2 years after issued. Remember that you'll also get Multiple Entry.
How can I apply?
The next step that follows the requirements is the application form. You do not have to worry about that either because the form is as simple as it can be. It is comprehensible, short, and iVisa can help you if you have difficulties in filling it in. The support service is available 24/7 and it is free of charge.
The application form is broken down into three simple steps.
The first one asks you to insert your general information and select a processing time, which determines the cost of your visa.

The second step is about payment and revision.

The third step requires you to upload some documents. iVisa will let you know which. Once you finish this, just submit the application and wait for your visa to arrive via e-mail in the timeframe you chose during step one. It cannot get any easier than that, can it?
The bottom line is that you can apply for a New Zealand visa in Mumbai at the Consulate General at the moment, but you will be able to apply online in the future. It is up to you which option you will choose, but we consider that the online application process is more accessible, shorter, and cheaper. Your effort is close to non-existent, and you do not have to deal with the bureaucracy you usually come across to at the consulate.
Do I need to get a New Zealand eVisa for my children too?
Yes, you do. All foreign travelers wishing to travel to New Zealand require a visa regardless of their age.
How does this ETA look like?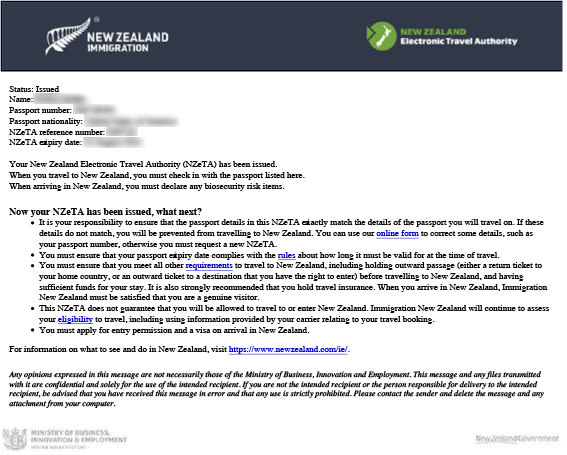 Where can I read more info?
If you have more questions about the New Zealand ETA, then do not hesitate to contact iVisa's customer service center. The service can be reached via online chat or phone 24/7, and it is free of charge.
Remember that you can also read more about the New Zealand ETA here, so don't lose the chance to be informed about this exotic and popular destination.
IMPORTANT NOTE: WE DO NOT OFFER THIS ETA AT THE MOMENT, BUT WE WILL OFFER IT VERY SOON, SO STAY TUNED!