If you are asking yourself "Do I need a vaccine to travel to Norway?", we have the answer for you. Because of the pandemic, most travelers have concerns about their travel plans. Make sure that you have received all routine vaccines before your trip. Some of these vaccines include Chickenpox (Varicella) Diphtheria-Tetanus-Pertussis, Flu (influenza), Measles-Mumps-Rubella (MMR), Polio.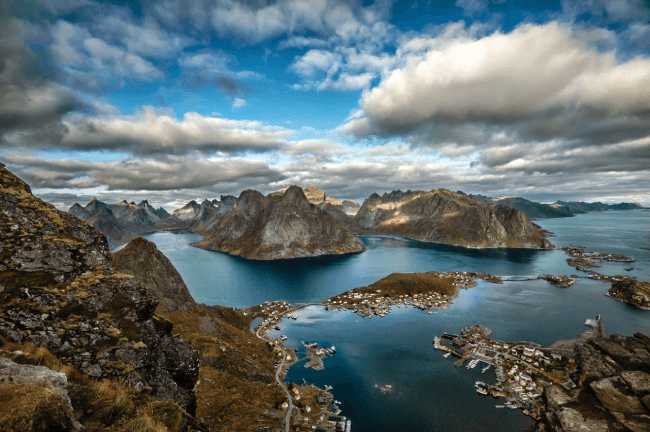 You might also need a visa to enter Norway. Apply for the Norway Health declaration through iVisa.com. It is fast and reliable. Keep on reading this article for more information on Norway vaccination requirements.
How do I get a Health declaration with iVisa.com?
We can help you apply for a Health declaration in "three easy steps":
Please fill out the online form with your personal information.
Choose your preferred processing time and pay the applicable fee once the answers are all correct.
Upload the scans of the essential document, simply hit submit. You will receive an email when it is processed.
Get your Health declaration soon!
Frequently Asked Questions
Do I need Visa to enter Norway?
If you don't know whether a visa is needed for your destination, you can check with iVisa.com's Visa Checker Tool and learn more about the Norway vaccination requirements.
Do I need any vaccines to travel to Norway?
Yes. Some vaccines are recommended in Norway. The following vaccinations are recommended for Norway by the CDC and WHO: hepatitis A, hepatitis B, rabies, meningitis, polio, measles, mumps, and rubella (MMR), Tdap (tetanus, diphtheria, and pertussis), chickenpox, shingles, pneumonia, and influenza. Follow iVisa.com for more updates on Norway vaccination requirements.
Do I need a COVID vaccine or vaccination certificate to enter Norway?
Yes, Norway has been taking steps to restore travel within its borders. Unless you are traveling from the green countries, in order to enter Norway for tourism purposes, you'll need to display your COVID vaccine passport or vaccination certificate.
Accepted vaccines are Pfizer/BioNTech, Moderna, AstraZeneca, Johnson & Johnson.
Since information may change quickly, we advise you to follow up on the latest Norway travel updates and/or contact your local embassy.
Is it possible to extend my temporary visa in Norway?
Yes, you can extend a Norway Schengen visa, but only in exceptional circumstances, such as when new facts or special circumstances arise after your arrival in Norway. See iVisa.com for more details on Norway vaccination requirements.
What are the time and fees to get the Health declaration?
iVisa.com has three options to start with.
Standard option: if you have a reasonable amount of time to get your Health declaration before traveling.

USD 20.00

-

24 hours

.
Rush option: this is a faster way of getting what you need at a lower cost than the previous option.

USD 35.00

-

8 hours

.
Super Rush option: pay the highest price and will receive the Health declaration as soon as possible.

USD 60.00

-

4 hours

.
What are the mandatory requirements for obtaining a Health declaration?
The application is simple and requires personal and trip information.
A copy of your passport that includes a clear photo and contact information
A working email address in order to receive Health declaration electronically.
Method of payment: you can pay using a PayPal account or with a debit/credit card.
Why should I apply with iVisa.com?
If you want an easy, fast, and secure way to apply, iVisa.com is the best option. Your privacy is our concern. Check the reviews for further proof.
Where can I get more information about vaccination requirements in Norway?
If you still have unresolved issues, then contact our customer support agents. They are available 24/7. For more details about the Norway vaccination requirements, visit iVisa.com's webpage.
iVisa.com Recommends
Norway is located in Northern Europe, sharing a long land border with Sweden to the east and Finland and Russia to the northeast. This enthralling land, which covers an area of 385,178 square kilometers, is home to majestic glaciers, stunning fjords, heartwarming landscapes, and beauty in all its splendor. Oslo is the capital of this Scandinavian beauty. Its essence is extremely cosmopolitan, and it is a burgeoning trade capital with an active and thoroughly enjoyable nightlife. Norway is also popular among those who want to immerse their senses in the awe-inspiring Northern Lights phenomenon. Norway, also known as the Land of the Midnight Sun, offers a plethora of recreational opportunities.
Hike a trail or go fishing to soak in the natural beauty. The country is divided into several small regions, each with its own distinct flavor. Norwegian architecture is a soothing blend of old-world charm and cutting-edge technology. Norway has it all, from 12th-century architecture to high-tech structures. The country is home to a variety of climate zones. Known for its wide and deep tunnels. Norway is also known for having the world's longest road tunnel, which has a total length of 24.5 kilometers and has become a popular tourist attraction. The country also has a wide range of accommodation options, ranging from hostels to luxury hotels. There are attractive spots so plan a trip here and enjoy your vacation!