Owing to the ongoing COVID-19 situation, Norwegian authorities have restricted entrance to the country for almost anyone.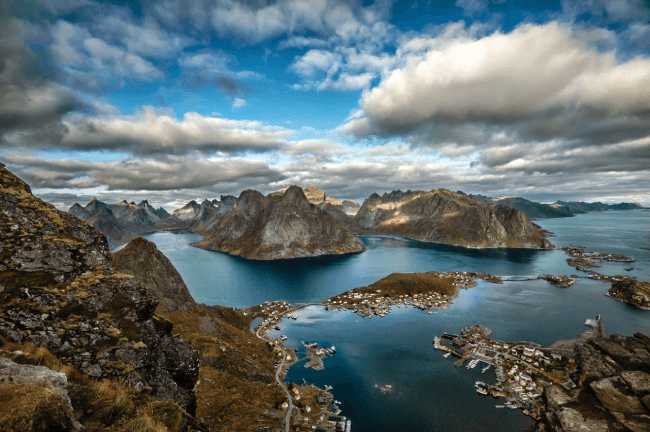 The number of people who can enter Norway covid is limited to:
Norwegian passport holders.
Immigrants residing legally in Norway.
Immigrants with a family immigration permit.
Immigrants visiting or living with close family members in Norway.
Everyone who can freely commute between Nordic nations.
Immigrants who are going to have listed connection with their children.
Immigrants with exceptional reasons that show that the person is given the right to enter, such as special care responsibilities for persons in Norway or other great welfare concerns.
Asylum seekers and resettlement refugees.
If you are one of those who can enter Norway covid, and you want to access the country, you need to present a COVID-19 negative test and the Norway Entry Registration. iVisa.com can help you to obtain your entry registration through our online service and platform, saving you energy and precious time.
Get started with your Norway Entry Registration
What is the most effective way to start processing my Norwegian Entry Registration with iVisa.com?
Fill out this Online Form.
Complete the required information and upload a clear scan of your passport alongside other documents if demanded.
Pick your favored processing speed.
Submit your form (Our specialists will check it and make the corrections in case it is needed).
Check your email according to your favored processing speed to get your document
Print the entry registration and go to the airport.
Why is it recommendable to order for my Norwegian Registration Form in advance?
Everyone Who Can Enter Norway Covid must deliver a registration form. When you acquire this document in advance, you can decrease the amount of work of your travel arrangements, hence stress and anxiety. We will take proper care of processing it and with more time, if there is an unlikely mistake, we can fix it right away.
Get your registration form NOW!
Frequently Asked Questions
How is my country categorized in Norway?
Red countries: Bulgaria, France, Italya, Malta, Portugal, Romania, San Marino, Spain and Vatican City
Dark red countries: Andorra, Austria, Belgium, Croatia, Cyprus, Czech Republic, Estonia, Faroe Islands, Germany, Great Britain, Greece, Greenland, Hungary, Iceland, Ireland, Latvia, Liechtenstein, Lithuania, Luxembourg, Monaco, Poland, Slovakia, Slovenia, Switzerland and the Netherlands
Countries outside of the EU/EEA, Switzerland and the United Kingdom: The rest of the world.
Do I need a COVID vaccine or vaccination certificate to enter Norway?
Yes, Norway has been taking steps to restore travel within its borders. Travelers who have proof of vaccination accepted by Norway (mentioned below) or travelers who are coming from the country categories except "grey countries" can travel to Norway.
Norway accepts COVID-19 certificates from the following countries: Belgium, Bulgaria, Denmark, Estonia, Finland, France, Greece, Ireland, Italy, Croatia, Cyprus, Latvia, Lithuania, Luxembourg, Malta, Netherlands, Poland, Portugal, Romania, Slovakia, Slovenia, Spain, Sweden, Czech Republic, Germany, Hungary, Austria, Albania, Andorra, Armenia, Faeroe Islands, Georgia, Iceland, Israel, Liechtenstein, Morocco, Moldova, Monaco, New Zealand, North Macedonia, Norway, Panama, San Marino, Serbia, United Kingdom, Switzerland, Turkey, Ukraine, Vatican City.
Travelers are regarded as fully vaccinated when it has been more than one week since their second dose, or three weeks have passed since they received their single-dose vaccine.

Accepted vaccines: Pfizer, Moderna, AstraZeneca, Janssen, Covishield, Sinovac
Since information may change quickly, we advise you to follow up on the latest Norway travel updates and/or contact your local embassy.
Do I need to take a COVID-19 test before traveling to Norway?
COVID test prior to arrival: PCR within 24 hours for travelers without proof of vaccination/recovery.
COVID test on arrival: Unvaccinated travelers will be tested on arrival.
COVID test exemptions: Children under 18 and travelers with proof of full vaccination/recovery are exempt from testing requirements.
Requirements for all travelers arriving from South Africa, Namibia, Zimbabwe, Botswana, Mozambique, Lesotho, Eswatini and Malawi
COVID test prior to arrival: PCR or antigen within 24 hours.
COVID test on arrival: Antigen test on arrival.
COVID test after arrival: PCR test within 24 hours after arrival and again within 7 days.
Do I have to quarantine once I arrive in Norway?
Quarantine requirements for vaccinated arrivals from red and dark red countries: There are no quarantine requirements.
Quarantine requirements for unvaccinated arrivals from red and dark red countries and countries outside of the EU/EEA, Switzerland and the United Kingdom: 10 day quarantine which can end early with a negative PCR test result within 72 hours of arrival.
Requirements for all travelers arriving from South Africa, Namibia, Zimbabwe, Botswana, Mozambique, Lesotho, Eswatini and Malawi: 10 days in quarantine hotel, which can travelers can leave for self isolation with a negative PCR test on day 3. Day 7 testing can end self-isolation.
What is the cost and the processing speed for the Norwegian Registration Form?
iVisa.com has gained deep experience dealing with new covid-19 regulations and health travel documentation over the years. However, our prices are still affordable and are established according to processing times:
Standard Processing Time:

USD 20.00

, acquire your document in

24 hours

.
Rush Processing Time:

USD 35.00

, obtain your document in

8 hours

.
Super Rush Processing Time:

USD 60.00

, receive your document in

4 hours

.
What can I do to begin processing my document with iVisa.com?
Complete all your information here.
Choose your ideal processing time (Standard, rush, or super rush).
Verify again that all your data is the right one.
Pay our services with Paypal or with your valid credit or debit card.
Submit your request.
Where can I have further details?
If you want to get further details about our process or other related information on Who Can Enter Norway Covid. Feel free to reach our Customer Care Specialists Here. You can communicate with them 24/7, no matter the time zone.
Do I only need the Norwegian Entry Registration to access Norway?
No, you are also required to hand-over a COVID-19 negative PCR or antigen test with a maximum of 24 hours issued time. You will also need to self-quarantine and get tested again in the airport.
See Who Can Enter Norway Covid
Is the Entry Registration obtainable online at no cost?
Yes, it is. But if we do the job for you, we can guarantee an error-free process and you will not waste energy nor time, enabling you to relax and focus on things like getting COVID-19 tested in the established times.
Why should I trust iVisa.com's services?
Because we have been working in the travel documentation industry for a long time. We have supported thousands of clients and have processed millions of travel documents for them. Our experience has contributed to our no mistakes guarantee.
Check here what our thousands of clients share about their experience with us.
Obtain your entry registration now.
iVisa.com recommends
Enjoy winter at the Senja Islands! Known as the fairy tale island, this paradise has become the new favorite place for people from all over the world. Rugged mountains, beautiful fjords, wildlife, and fascinating history make Senja a must-see for Norway visitors. The island of Senja is less than a 3-hour drive from Tromsø in the province of Troms in northern Norway. It is accessible by ferry from the town of Brensholmen or Andenes (Vesterålen), but this possibility is only available for a few months a year and never in winter.
Among the most remarkable places to visit there, we have 1) Senjatrollet, a tourist attraction where a gigantic cardboard-stone Troll has been built 2) Skrolsvik Fort, Former German prison during the Second World War and where hundreds of Russian soldiers were forced to perform forced labor and the Bergsbotn platform, a 44-meter long platform where you stay suspended to embrace a majestic view.