Citizens of Canada are very lucky because they don't need a visa to visit many destinations around the globe, including Norway. Plus, Norway isn't too far from Canada so it constantly receives direct flights from this North American country. Nevertheless, you should remember that it's important to apply for the Norway ETIAS for citizens of Canada to avoid issues upon arrival, as this requirement will be mandatory for any foreign citizen when traveling to Schengen countries like Norway.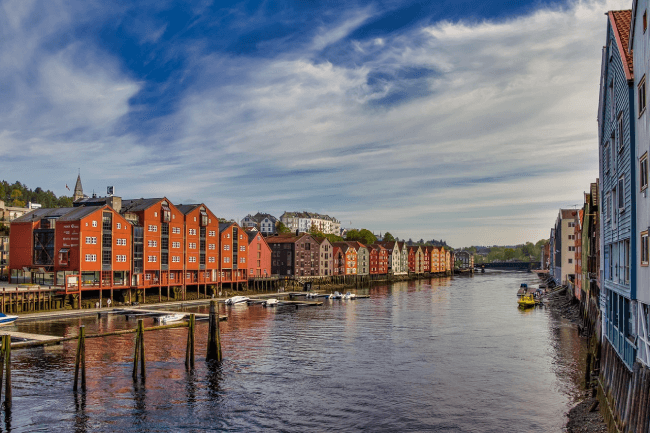 Enjoy an easier process by applying with iVisa.com. iVisa.com's application form is easier than other processes and it can be quite useful to get your ETIAS as soon as you want. The ETIAS can be ready in 20 minutes or less when using iVisa.com's application form.
If you want to learn more important details about the Norway ETIAS for Citizens of Canada, then stay in this article and keep reading the following FAQs.
Frequently Asked Questions
What is the ETIAS program?
ETIAS is an acronym used for European Travel Information and Authorization System, which is an official visa waiver program that authorizes you to visit the countries in the Schengen Area, like Norway. This system was created to improve the security in the Schengen Zone limits.
With this document, you can enter the ETIAS countries legally. As mentioned before, these countries are all the Schengen Zone members (26 at the moment). With one ETIAS, you can enter all of them as long as you make sure that the first country you'll be traveling to is the same first country mentioned in the application form.
Canadians don't need a visa to enter Norway or other countries in the Schengen Area, but they'll have to apply for the Norway ETIAS for citizens of Canada once it's ready to use.
Which countries can apply for the ETIAS?
The ETIAS is available for residents 60 countries by now. All of these countries don't need a visa to enter the Schengen Zone, but they still need to apply for the ETIAS to enter it.
Do Canadians need a Norway ETIAS?
Yes, Canadians must apply for the Norway ETIAS once it's ready to enter Norway without any issues. This document will be launched by 2022, so if you're planning your trip to Norway before that year, then you won't have to apply for it, you'll only need your valid passport.
If you're living in Canada but you don't have a Canadian passport and you must travel to Norway, then use our visa checker tool first to verify which documents you could need to travel to Norway. This way, you can check if you don't need a paper visa first.
What documents are required to apply online?
To apply online for the Norway ETIAS for citizens of Canada you won't need much, just this list of requirements:
A passport that mustn't be expired upon arrival.
A valid email address to receive the Norway ETIAS for citizens of Canada and other updates.
Means of payment- that can be credit or debit card or a Paypal account.
This shortlist can change if you apply with another method that's not iVisa.com's application form.
What are the prices and the processing times?
The Norway ETIAS for citizens of Canada was recently announced and it'll be formally launched in 2022, so there's not an official price yet. This price can vary from traveler to traveler, and it can also vary according to the processing time.
iVisa.com's service allows you to choose one of the following processing options that have different prices due to the variation in the waiting period. If you want to get your document as fast as possible, then you'll have to pay more for it.
Standard Processing Option: This alternative is the most requested because it's not as expensive as the others.
Rush Processing Option: This processing option is faster than the previous one, so the price increases.
Super Rush Processing Option: In case of emergency this option is great because it's the quickest, but it's also the most expensive.
It's important to emphasize that we don't charge anything without having the valid authorization, which is possible only when you see the total price to pay and click on 'Pay'. Before that, you don't have to pay anything.
How can I apply for the Norway ETIAS?
You only have to finish an easy-to-use 3-step process to get your Norway ETIAS with iVisa.com. This process is the following:
First, complete the online questionnaire by offering all of your personal details and choosing your processing option (choose the one that suits you better).
Second, check your information and pay for the fees using your debit/credit card or Paypal.
Third, upload the requirements and attach them to the application form before sending it!
That's it! You don't need to worry about anything else, and you can save yourself the trip to the embassy. If you're ready to start, click on this link.
How much time do I need to apply?
You can complete your online form in 20 minutes by using iVisa.com thanks to its effortless system. With this form, you don't have to worry about traveling to other places or wasting a lot of time in tedious queues.
Is it safe to use iVisa.com's service?
Yes, it's totally safe to apply with iVisa.com! You can receive your document as fast as possible thanks to an updated system. Our platform also has a top-notch security system that won't risk your private information. If you're unsure about it, you can take a look at our reviews.
Where can I get more information about the Norway ETIAS?
If you still have unresolved questions or you simply want to receive more details about the Norway ETIAS for citizens of Canada, then feel free to contact our customer service team that will be ready to assist you at any time. You can also keep searching for other FAQs or travel tips on iVisa.com's website if you prefer.
Start your ETIAS online application here and continue planning the rest of your journey peacefully!