As a result of the increase of COVID-19 cases around the world, Norway has imposed a travel ban: Only Norwegian citizens, legal residents with a valid permit, people with a family immigration permit, and some other exceptions can gain access to the Nordic nation. United Kingdom Citizens fitting one of these special cases must deliver a COVID-19 negative antigen or PCR test result and the Norway Entry Registration.
Leveraging iVisa.com's experience all these years and COVID-19 health measures knowledge, we have designed an online service to process your entry registration at an affordable rate in the most efficient way. Our service guarantees a document with no mistakes and accurate information about How Citizens of the United Kingdom Can Enter Norway During Coronavirus.
Note: Since February 12th, 2022, the Norway Entry Registration Form is no longer necessary to enter the country.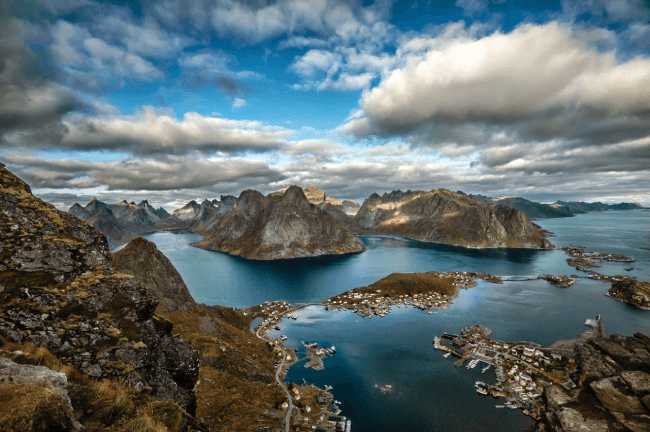 What is necessary to do for acquiring my Norway Entry Registration with iVisa.com?
Access Here our online form.
Complete with your information and documentation.
Pick your preferred processing speed alternative.
Submit your form (iVisa.com's team of specialists will examine it and correct it if needed).
Wait until your registration is in your inbox.
Print the form and fly happily to Norway.
Understand How Citizens of Germany Can Enter Norway During Coronavirus
Why is requesting my Norway Entry Registration in advance to ensure my process a good idea?
Either way, your process with us will be successful. But when you request your entry registration in advance, you have more time for correcting your fina form if the case requires it, sorting out other key life dilemmas, going for your COVID-19 test, and other pre-departure activities. Do not wait longer.
See How Citizens of the United Kingdom Can Enter Norway During Coronavirus.
Frequently Asked Questions
Do I need a COVID vaccine or vaccination certificate to enter Norway?
No, you don't. As of today, COVID vaccination passports or certificates are not mandatory to enter Norway.
The following certificates can be used upon entry to Norway:

Norwegian COVID-19 certificate

The EU digital COVID certificate

UK NHS COVID-pass

Approved vaccines are Pfizer, Moderna, AstraZeneca, Janssen, Covishield, Sinovac, Nuvaxovid.
Since information may change quickly, we advise you to follow up on the latest Norway travel updates and/or contact your local embassy.
Do I need to take a COVID-19 test before traveling to Norway?
COVID test prior to arrival: PCR within 24 hours for travelers over the age of 18 without proof of vaccination/recovery only.

COVID test on arrival: All travelers arriving in Norway must take a test after arrival, regardless of their vaccination status.

COVID test exemptions: Children under 16
Do I have to quarantine once I arrive in Norway?
Quarantine requirements: There are no quarantine requirements.
Do children also need to complete the Norway Entry Registration?
No, the Norway Entry Registration is only a required for travelers over the age of 16 who are not fully vaccinated.
What is iVisa.com's service fare and processing speed?
Through years iVisa.com has acquired relevant experience, which has turned us into leaders of the travel documentation industry. We are also procuring documentation to face the new COVID-19 context, just like we are doing now on How Citizens of the United Kingdom Can Enter Norway During Coronavirus, with cost-efficient fares:
Standard Processing Speed Alternative: Acquire your registration in

24 hours

, pay

USD $30.49

.
Rush Processing Speed Alternative: Get your registration in

8 hours

, pay

USD $52.99

.
Super Rush Processing Speed Alternative: Obtain your registration in the quickest time possible

4 hours

, pay

USD $93.99

.
How should I commence preparing my document process with iVisa.com?
First, Finish this online questionnaire, upload your scanned passport, and select your processing speed.
Second, Review your information is all set and Pay with Paypal, valid credit, or debit card
Third, Submit your form.
Apply for your Norway Entry Registration
How and when can I communicate with iVisa.com if I want to know more about the process?
Our Customer Support Agents can solve any doubts you have, and give you insights into How Citizens of the United Kingdom Can Enter Norway During Coronavirus. Reach them now, they are waiting for you 24/7.
Will I need to hand out any specific document for my Norway Entry Registration?
As you can see, we have already sorted out How Citizens of the United Kingdom Can Enter Norway During Coronavirus, so you will just require:
To upload a scanned of your passport.
To register a valid Email Address,
To pick a Method of Payment (Paypal, debit, or credit card)
Is there a chance I can obtain this document without a charge?
Yes, you could. However, you will need to take time and worry about its processing. While if we take care of that, you will be ready to prioritize your other travel tasks and do not waste your energy
Can iVisa.com ensure the data I provided them is secure?
Indeed, we can. Our reliable platform and strong processes have satisfied the needs of thousands of customers while procuring millions of documents. check here what our customers share about their integral experience with us.
Get help on How Citizens of Germany Can Enter Norway During Coronavirus
iVisa.com Recommends
When visiting Oslo, you need to get the Oslo Pass. The Oslo Pass saves you money and time. The Oslo Pass offers its holders free admission to museums and sights, free travel on public transport, and discounts on sightseeing, restaurants, and among other things. You can purchase the valid pass for 24, 48, or 72 hours. Of course, the price may vary according to its duration and to the age group, you belong to. It also includes free access to some guided walking tours in the city, alongside admission to two public bath complexes (with both indoor and outdoor pools).
The Oslo Pass can be bought on arrival at some different places around the city, including the Oslo Visitor Centre, various hotels, hostels, and tourist sites around the city. However, the easiest way to get it is to buy it online. Then, you will receive a voucher which you will require to take to the Oslo Visitor Centre on Østbanehallen, next to Oslo Central Station, where they will hand you out your pass and a booklet detailing all the included sights.