Norway is one of the most popular destinations in Scandinavia due to its spectacular fjords, the natural phenomenon of the midnight sun, and the Northern Lights. In Norway, you can enjoy nature to the fullest with outdoor sports like hiking and trekking, or you can simply taste a warm drink chilling in a cozy cafe in Oslo. Another popular aspect of Norway is that it allows free entry to many citizens around the world (they don't need a visa to enter this country), but that will change a little by 2022 once the Norway ETIAS is available.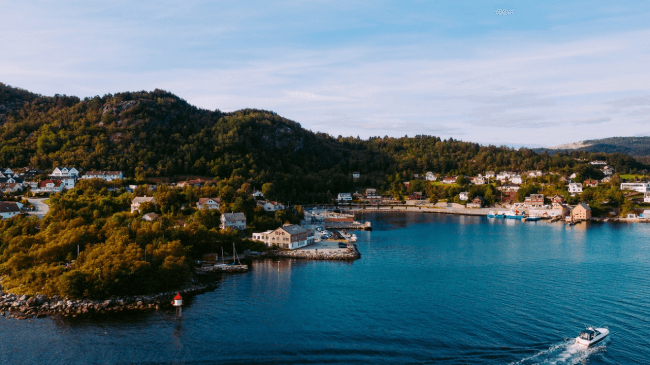 Getting the Norway ETIAS won't be hard because the process to obtain it will be totally electronic. You won't have to visit the embassy to receive it, you can easily apply for it by using your laptop, cellphone, or tablet with an Internet connection. Better yet, you can apply for it in a few minutes by using iVisa.com's website.
Nevertheless, we understand that ETIAS' cost is probably the most important thing to consider before applying. That's why we've brought this article to you with all the most important details about the Norway ETIAS cost.
We invite you to keep reading the questions below to learn more about this document and the process to obtain it.
Frequently Asked Questions
What is the Norway ETIAS and why do I have to apply for it by 2022?
The European Travel Information and Authorization System, also known as ETIAS, is a visa waiver program that the European Union produced to improve security and strengthen border protection in the Schengen Area. This region has a visa-free policy that permits the entry of 60 countries without having to get a visa, but unfortunately, in the last few years, the E.U. commission decided to change this aspect a little due to recent dangers in Europe, including terrorist attacks.
The good news is that the ETIAS system is totally electronic, and you don't need an embassy appointment to apply for it. You can apply for the Norway ETIAS with iVisa.com to save time and effort.
With this visa waiver program, the immigration authorities will be able to check if there's any threat in the Schengen Area. That's why you'll have to apply for it by late 2022 because it'll be mandatory for all the non-EU citizens that are eligible (60 visa-free countries).
Keep in mind that the ETIAS visa waiver program works in the entire Schengen Area, not only in Norway. You can use the ETIAS to visit all the Schengen state members.
How can I know if I'm eligible for the Norway ETIAS?
If you want to verify that you're eligible for this document, then we recommend you to use iVisa.com's website. On this website, you'll be able to see our Visa Checker Tool that allows you to confirm if you can apply for an ETIAS, an eVisa, or a Paper Visa.
It's easy to use it, just select your country of origin and leave 'Norway' as the destination country. After that, you'll be able to verify if you can apply for the Norway ETIAS.
How long is the Norway ETIAS valid for?
As soon as you obtain the ETIAS, you can use it to visit the Schengen countries for up to 90 days.
This document also has a validity of 3 years or after your passport expires. If your passport expires before the 3-year limit, then you'll have to apply for a Norway ETIAS again.
What documents do I need to apply?
iVisa.com's service offers a fast-and-reliable platform that allows you to get the ETIAS easily at any time.
To apply with iVisa.com, you only need the following documents:
A valid passport (it mustn't be expired once you apply for the ETIAS and arrive in Norway).
Your current and valid email address to obtain the ETIAS.
Valid payment options, like a debit/credit card or a Paypal account to pay for the fees.
How much does the Norway ETIAS cost?
The budget is always an important topic when planning a trip, especially to a country like Norway. Therefore, we want to tell you that the ETIAS' fee will be around €7 per applicant. However, this isn't the total price for the document with iVisa.com because it can vary depending on your nationality and also the processing time you choose.
We cannot give you the total Norway ETIAS cost yet, but we can tell you a little about our processing times:
Standard Processing Time – This is the basic option that allows you to receive your document in a decent amount of time for an affordable price.
Rush Processing Time – With this processing option, iVisa.com works faster with your document, so you can have in less time than the previous option. That's why the price also increases a little.
Super Rush Processing Time – This is the most expensive option, but it's also the fastest.
Keep in mind that you won't have to pay anything until you see the total price and you give us the valid authorization.
How can I apply with iVisa.com?
It's quite easy to apply with iVisa.com because you only have to complete the following 3-step process:
First, complete the application online form with your personal information and pick the processing option you favor.
Second check all the information you previously gave in the first step and continue with the payment part by verifying the total amount.
Third, attach the documents required after you complete the payment and click the 'submit' button to complete the online process.
After that, you just have to wait for your Norway ETIAS via email inbox and that's it!
How many times can I enter Norway with an ETIAS?
This system offers you Multiple Entries for a valid period of 90 days. Better yet, you can use the Norway ETIAS for any Schengen state member as long as it's valid. The validity of this document lasts 3 years or until your passport expires.
Is there any other condition I should take into account before applying?
Aside from the valid passport, just remember that to use the Norway ETIAS in any country that belongs to the Schengen zone, you must be careful when choosing the destination country in the form. If you're planning a multiple-country journey, then choose the first country to visit as the first country in the ETIAS application form.
Is it safe to use iVisa.com's service?
It's completely safe to use iVisa.com's application form because we have a reliable and updated system that won't leak your personal information. You can read our reviews at any time if you feel unsure.
Where can I find more information?
The Norway ETIAS is an important document if you want to visit Norway or other countries in the Schengen Zone. Therefore, you should apply for it once it's ready. In case you have doubts about it, reach out to iVisa.com's customer service agents or read our blog with more useful tips.