Geirangerfjord in Norway has some of the finest scenery in the whole of Europe. At the summit of Dalsnibba, you can take in the beautiful landscape full of mountains. iVisa.com is ready to help you with your travel documentation to enter Norway soon.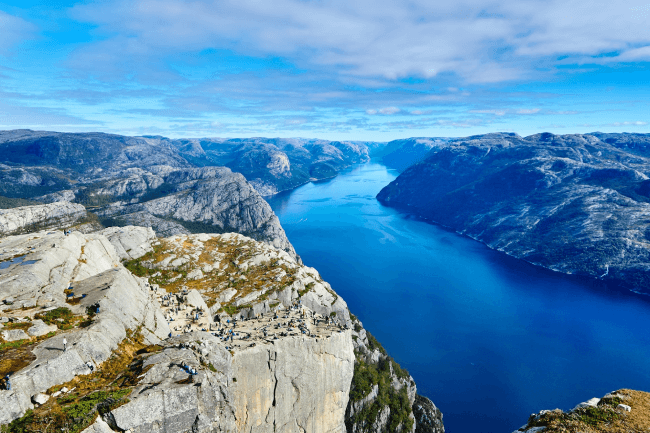 Citizens of Colombia can visit Norway without a visa. However, the European Union is establishing a new travel requirement that will be available in 2022. International travelers will need the Norway ETIAS to enter Europe. The Norway ETIAS for citizens of Colombia will be mandatory.
Don't worry! Because iVisa.com has a simple, fast, and reliable service for your ETIAS requirement.
Keep reading to learn all about the Norway ETIAS for citizens of Colombia.
Frequently Asked Questions
What does ETIAS mean?
ETIAS means European Travel Information and Authorization System. The European Union decided to implement a new process to pre-screen incoming visitors before they land in Europe. The process is called ETIAS, and it will be available by the end of 2022.
iVisa.com is already on top of the process. Check more details about the Norway ETIAS for citizens of Colombia here.
Do I need an ETIAS as a citizen of Colombia?
Yes! Colombia is among the 62 countries that don't need a visa to enter the Schengen zone, which includes Norway. For this reason, citizens of Colombia must obtain the Norway ETIAS before entering Europe.
Is the Norway ETIAS valid for all of Europe?
The Norway ETIAS for citizens of Colombia is valid for the 26 countries in the Schengen zone. Although most countries in Europe belong to the Schengen area, that doesn't mean all of Europe accepts the ETIAS authorization.
Go to our Visa Checker where we can confirm what countries in Europe accept the ETIAS document.
For how long is the Norway ETIAS valid?
The Norway ETIAS is valid for up to 3 consecutive years. Also, the Norway ETIAS for citizens of Colombia allows a maximum stay of 90 days within a 6-month period in Norway or any other Schengen country.
What information do I need to provide?
Citizens of Colombia must give personal information like name, birthdate, education, and work experience. They should also provide a brief medical history, previous trips to war zones, and previous visa denials, if applicable.
Get the next requirements too:
A copy of your passport, your passport should be valid for a minimum of 3 months after arrival in Norway.
A valid email address.
Payment options, pay with a Paypal account or use a credit/debit card. Our platform is safe for payments.
What are the processing times and fees?
The Norway ETIAS for citizens of Colombia has the following alternatives:
Standard service, if you are willing to wait a flexible time, then go for the cheapest option.
Rush service, the iVisa.com team will work quicker, so you can receive the ETIAS document in less time.
Super Rush service, the fastest alternative with the higher fee.
What are the steps for the ETIAS?
First, complete the information required in the online form with personal information and choose a processing time.
Second, check your details and correct any mistakes. Select a payment method between a credit/debit card or Paypal.
Third, upload the scan of your passport.
Reach out to our customer support agents if you need extra help.
What will I get in my email?
Travelers will receive the Norway ETIAS in their email inbox. The iVisa.com team will use the email address specified in the application to send the travel documentation.
Upon arrival, we are sure EU immigration will request the ETIAS document, so keep it with you at all times.
How safe is the ETIAS process with iVisa.com?
Incredibly safe! iVisa.com has years of experience with lots of travel documentation, and our customers know we are a trustable platform.
Check all the reviews about iVisa.com services on the comments page. The Norway ETIAS for citizens of Colombia is so easy with iVisa.com.
I have some questions. Who should I contact?
Get in touch with our incredible customer service team that is available 24/7. Besides, you can write an email to [email protected]
iVisa.com has everything you need for your trip to Norway! Get your Norway ETIAS!