Do you want to visit Norway with your Grenada passport? Well, we have good news for you. For now, you don't need a visa to enter this country, just your passport. However, remember that by 2022 you'll need the Norway ETIAS for Citizens of Grenada, an electronic document that will be easy to obtain online.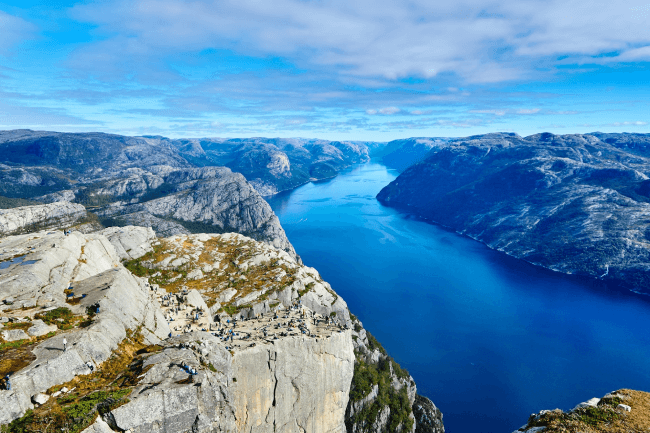 To apply for your Norway ETIAS you won't require many documents or items. This application can be completed in a few minutes if you use iVisa.com. Our online application form only has 3 steps to follow, which we will detail little by little in this article.
Find out more about the Norway ETIAS for Citizens of Grenada by reading the following questions.
Frequently Asked Questions
What is The Norway ETIAS?
Before getting your Norway ETIAS, you should know what it's all about. The ETIAS is a system that will be introduced in 2022 to strengthen safety and immigration control in Europe, especially in nations that are part of the Schengen Area. However, a good benefit of this system is that it'll be available through websites like iVisa.com and you won't need much time to complete the application form.
ETIAS is just an acronym for European Travel Information and Authorization System. This visa-waiver program will be mandatory for all Non-EU travelers who want to visit the Schengen Area. Although, the nationals eligible for it are under the Schengen visa-free policy. If you need a Schengen Paper Visa, you cannot apply for the ETIAS.
You have to apply for a Norway ETIAS for Citizens of Grenada with your Grenada passport before traveling to Norway. This specific ETIAS is useful to enter Norway, but from there, you can travel to other countries that are part of the Schengen Area, including France, Denmark, Finland, Italy, and more.
By using iVisa.com's application form, you can obtain the Norway ETIAS in a few minutes.
Do I need a Norway ETIAS for citizens of Grenada if I'm Grenadine?
The ETIAS is an obligatory document for almost every foreign citizen, including those who don't have to get a Schengen Visa to enter Europe. Therefore, if you have a Grenada passport, you'll have to apply for the Norway ETIAS for citizens of Grenada before continuing with your journey.
Don't forget that this online document will be available by 2022. Before that year, you won't need anything else than your valid passport. You can confirm this information here.
What documents do I need to apply for Norway ETIAS?
You must find a shortlist of documents before applying for your Norway ETIAS. These documents and items aren't difficult to find:
Firstly, you need a valid passport when arriving in this country and you have to scan the information page to attach it to the form.
The next thing you need is a valid email address to receive the ETIAS.
The last thing you need is a credit/debit card or a PayPal to pay for our service and the document's fees.
After that, you'll be on the way to fulfilling the Norway ETIAS requirements.
What are the processing times and prices?
By applying for the Norway ETIAS with iVisa.com you'll save much time and effort. Our service is faster than conventional websites, which is why we charge a small fee while applying.
Nevertheless, these prices might vary a little depending on the processing time you select. By now, we don't have an exact price for all of them, but we can tell you that the official fee for this document will be €7. As for our processing options, these are:
Standard Processing Option: If you're not in a rush or you don't need your document so soon, then you can choose this option for the lowest price.
Rush Processing Option: By selecting this processing time you have to wait for less time but the price is a bit more expensive.
Super Rush Processing Option: This option is the best one for people in a rush, and it's also the most expensive.
How can I apply for Norway ETIAS?
Using iVisa.com's application form is great if you want to enjoy a fast and easy service. You can apply for the Norway ETIAS for Citizens of Grenada at any time from the comfort of your home, and you don't have to visit the embassy afterward! To do so, follow these steps:
First, complete the questionnaire you see on this link and choose the best processing time for your trip.
Second, make sure that all of the information you gave is ok, and after that, pay for your document using a debit/credit card or a PayPal account.
Third, attach the papers required to the online form and click the submit button to finish the process.
That's all you'd have to do because the rest is ours! After that, be ready to receive your ETIAS by email.
How much time do I need to apply?
Since iVisa's application form is quite easy-to-understand, you'll probably need no more than 15 minutes to complete it. Just remember that you can contact iVisa.com's customer service at any time if you still have questions about the Norway ETIAS for Citizens of Grenada.
Is it safe to apply for this document using iVisa.com's services?
It's quite safe to use our services. You don't have to worry about the online form for the Norway ETIAS as iVisa.com's trustworthy platform will process your document fast and safely. Your personal details won't be in danger.
If you still have questions about the Norway ETIAS for Citizens of Grenada, then why not read our reviews in this link.
I still have unresolved questions, where can I obtain more info about the Norway ETIAS for Citizens of Grenada?
Since the Norway ETIAS is a new document for many travelers, don't worry if you still have questions about it. You can visit our website to get more details about this online document. Alternatively, you can also keep in touch with iVisa.com's customer service center if you want to obtain personal assistance.