Visa Policy for Norway
Norway is one of the most visited countries in Europe. As a member of the Schengen zone, Norway enjoys its fair share of tourism and visa relaxations. However, all visitors traveling to Norway must be aware of the specific requirements that are essential for you to obtain your visa for Norway without any hassles.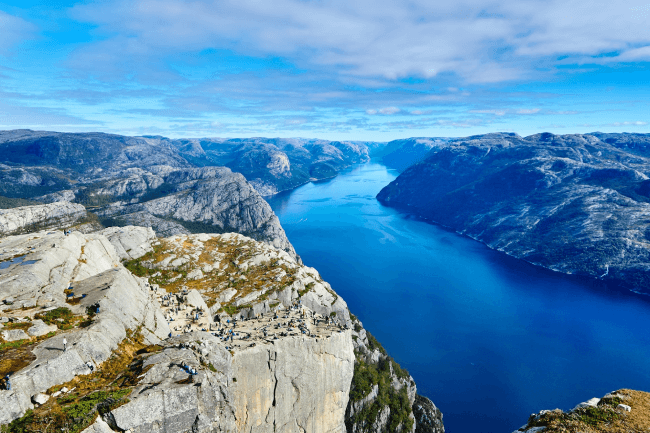 As per the current Norway visa policy, more than 100 sovereign states and their citizens do not need a visa to visit for short duration trips to Norway. If you have a nationality of any of these hundred nations, you can visit Norway for a period of 90 days at every 180-day interval. As of the upcoming Norway visa policy, there will be special exemptions for travelers visiting Norway from among the visa waiver countries. These nationalities will be able to visit Norway with the help of the simple electronic travel authorization, also known as ETIAS. This special travel authorization will allow visitors to visit Norway for 90 days, multiple times for the duration of three years.
Visitors of Norway must also follow the Schengen visa policy according to which, members of more than 150 countries can apply for the Norway visa at the Norway embassy in the country of their residence. This special Schengen visa for Norway will be obtained through a face-to-face visa interview at the Norway embassy.
Start applying for your Norway visa today
Tourist Visa for Norway
Norway has a great tourism industry, enabled by the visa relaxations in the Norway visa policy. According to the rules, as of now, members of the European Union and the European Economic Area do not need a visa to visit Norway for any tourism purposes. This arrangement is because of the Schengen Agreement signed by the members of the European Union. All members of the Schengen zone need a valid ID proof of their nationality or a valid passport and they can enter Norway for tourism and leisure. This is the kind of visa that you should apply for if you are coming to Norway for sightseeing purposes or to visit your friends and family.
In addition, there are around 60 nationalities that do not require a visa or tourist visa when traveling to Norway. These 60 nations are parts of a visa waiver agreement that Norway is a part of. All travelers that belong to these visa-free nationalities can stay in Norway for 90 days in the 180-day long interval.
The ETIAS waiver or the European Travel Information and Authorization System is an essential travel authorization document that all visitors will need regardless of the visa-free clause. However, this document can be availed via a simple online application form , and thus this is much more convenient than visiting the Norway embassy.
ETIAS Norway Visa Waiver
This is a travel authorization that was introduced for Norway visas and for other members of the Schengen zone, these nationalities did not require any visa document for their travel in Norway. However, as per the new Norway visa policy, the ETIAS travel authorization is mandatory for entry into Norway.
This is a visa waiver that will allow all Schengen zone travelers to enter Norway multiple times for all tourist and leisure purposes. They can visit for a period of 90 days every time they enter out of the three years for which the travel authorization is applicable.
This is the perfect travel document for you if you intend to visit Norway for any tourist or business purposes. You can also avail of the electronic travel authorization or the ETIAS waiver for Norway if you will be visiting the airport in transit. The ETIAS waiver will also help you if you are visiting Norway for medical purposes.
To be able to apply for the waiver and receive the ETIAS travel documentation, you will have to fill the online application form and submit it with a scanned copy of all your essential documents. The application process will not be completed without paying the applicable fees for the visa procurement process.
Begin your Norway ETIAS application today
Consular Visa
There are some countries whose people cannot visit Norway without a visa approved by the embassy as per the Norway visa policy. This is the way to obtain your Norway visa if your nationality is not a member of the signatory nations who are in a visa waiver agreement with Norway.
You cannot make any mistakes when applying for your Norway visa through an embassy. You shall have to book an appointment at the nearest Norway embassy in the country of your residence. You will also have to participate in a visa interview that will determine your eligibility for the Norway visa.
You will have to present valid and updated copies of any essential documents. These documents will include your ID proof, educational qualifications, invitation letters, medical fitness reports, and bank statement (verified by the bank) among many other such documents. This process will not be completed if you do not pay the visa application fees so make sure you do not miss this important step.
You will definitely need a passport; this passport should be valid even after three months of your trip. The passport must have at least two blank visa pages- these rules are there in the Norway visa policy to help you in the case of any medical emergency.
If you are worried about whether your nationality required you to have a Norway visa or an ETIAS waiver, you can check on iVisa.com and insert information in the visa eligibility tracker. You should be able to know if your nationality or country of residence requires you to have a visa or an electronic travel authorization to enter Norway.