Norway is blessed with dramatic landscapes and a unique culture that speaks to the soul. Its pristine and deep fjords, hip urban vibe in large cities, remnants of the Viking culture, and majestic views of the Aurora Borealis are staples of Norwegian tourism. With all the places you can visit and things you can experience, choosing Norway as your next destination can never go wrong.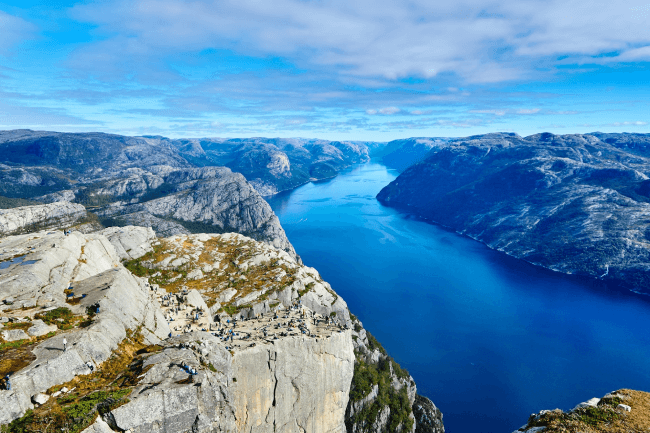 Citizens of Pakistan can indulge in the beauty that Norway has to offer. Norway requires Pakistani travelers to obtain a Schengen visa, like the Norwegian Schengen visa for citizens of Pakistan, before they go on their trip, affording them almost the same free movement within the country and the region as its own citizens.
Frequently Asked Questions
What should Pakistani passport holders know before applying for the Uniform Schengen Visa?
Pakistani passport holders should keep in mind that the Uniform Schengen Visa can be used for short stays and airport transit only. This document is a requirement for citizens of Pakistan in entering any of the member states of the Schengen Area.
As a citizen of Pakistan, how long am I allowed to stay in Norway?
You are allowed to stay in the Schengen Area for up to 90 days counted over any period of 180 days. This is known as the 90/180 rule and should be followed. Non-compliance could result in a revocation of your Norwegian Schengen visa for citizens of Pakistan.
What are the categories of Schengen Visa?
There are two categories of Uniform Schengen Visa or USV according to the purpose of travel. For travelers transiting through airports in the Schengen Area, the appropriate type of USV is Category A. This allows the holder to pass through the International Zone inside the airport. The other category is the Category C visa. It's a short-term visa that permits the holder to enter and stay in the host country for a limited time. An example is the Norwegian Schengen visa for citizens of Pakistan.
How many times can citizens of Pakistan enter Norway?
The USV can be obtained as single-entry, double-entry, and multiple-entry visas. The former two are limited-entry visas and will become invalid once the entries and exits are used up. The latter, known as MEVs, will let the visitor enter and exit the region as many times as he wants, provided he does not violate the 90/180 rule.
What should I do when applying for the Schengen visa?
You should first fill out an application form from iVisa.com, providing a passport with three months of validity remaining after the intended exit date and two passport-quality photos. You should also have a credit or debit card to pay for the transaction.
If you don't have one, paying through PayPal can also be accepted. The embassy may also need you to have proof of financial means and accommodations, as well as travel insurance.
What should a citizen of Pakistan consider before entering the Schengen Zone?
Pakistani nationals should take into account that the first country to enter when using the Norwegian Schengen visa for citizens of Pakistan must be Norway. If you will initially enter the country that you did not indicate in your application, you might get deported upon arrival.
Where should I get my visa application form?
iVisa.com is the best platform to get your visa application form. Our customer service team is equipped with reliable information about the Norwegian Schengen Visa or any other travel document you may need. Plus, the platform protects customer information from unauthorized access by using top security protocols.
Is there any means I can contact you if I have further information needed?
Our customer service is available 24/7 to serve you. You can reach out to us through chat by going to iVisa.com or drop us your inquiry through email at [email protected].