The E.U. Commission recently announced a visa waiver system that will be launched in 2022. This visa waiver system is called ETIAS, and it'll be mandatory for all the non-EU eligible citizens. To apply for it, you'll have to complete an easy-to-understand [application form] that iVisa.com recently created. This document will be necessary to visit any country that belongs to the Schengen Zone, including Norway.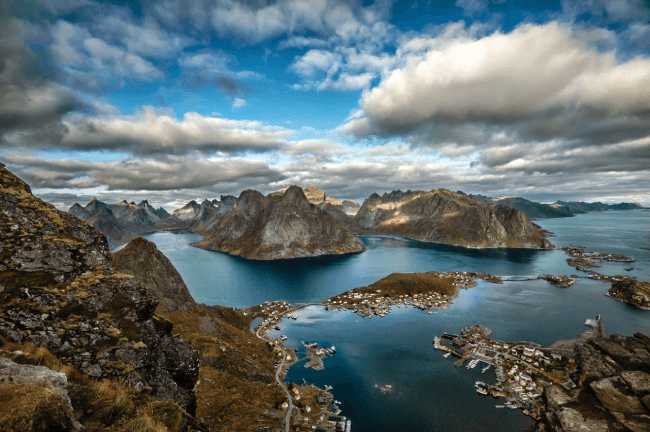 In the case of Norway, you'll need to apply for a Norway ETIAS, but it'll be useful in the rest of the countries that belong to the Schengen Area as long as you visit Norway first. As for the Norway ETIAS validity, we invite you to read the FAQs below to learn more about it.
In this article, you'll be able to learn what documents could be required to apply, and also how to apply online. Therefore, we invite you to keep reading below.
Frequently Asked Questions - FAQs
What is the Norway ETIAS?
ETIAS is an acronym that stands for European Travel Information and Authorization System. This is a new project for a border control policy that the European Commission made in order to strengthen the limits of many countries in Europe
It's mandatory to apply for the Norway ETIAS from 2022 and so on, even if you don't need a visa to enter the Schengen Union. The ETIAS is completely online, you don't need a local embassy to apply for it.
How can I verify if I'm eligible for the Norway ETIAS?
If you want to check your eligibility for the Norway ETIAS, then go to iVisa.com's website and take advantage of the Visa Checker Tool. This tool is available at the homepage, so once you're there, just click on the drag-down menu and choose your country of origin and the destination country (Norway in this case). Wait a few seconds, and see if you can apply for an ETIAS or if you need another document.
You must go to the local embassy if you need a paper visa because iVisa.com cannot offer you this type of document. Nevertheless, we want to remind you that you can apply for other requirements by using our website.
Why do I have to apply for a Norway ETIAS if Norway isn't part of the E.U.?
It's true that the E.U. Commission was the one that activated the use of the ETIAS, but that doesn't mean that's a requirement exclusively for the E.U.
The ETIAS application form applies to the Schengen Zone, not the entire E.U., which is why you need to apply for the Norway ETIAS to enter Norway. Remember that Norway is a member of the 'European Free Trade Association on Schengen Agreement (EFTA)', so Norway forms part of the ETIAS system just like the rest of the countries.
What is the validity of the ETIAS?
You're probably in this article to know what is the Norway ETIAS validity, and we're ready to help you with that. Keep in mind that once you obtain the ETIAS via email inbox, the document has a validity of 90 days. This document also offers you multiple entries to the Schengen Area as long as you don't exceed 90 days within a 180 day period.
This document is also valid for 3 years of use or until the applicant's passport expires. Get in touch if you have more questions about the Norway ETIAS validity.
What documents do I need to apply online?
If you fill in iVisa.com's easy application form, you'll be able to receive your document quite fast. But, to do so, you must offer the following requirements first:
A passport with 3-month validity upon arrival.
Your current email address to obtain the ETIAS.
A Payment method that could be debit/credit card or a Paypal account to pay for your document.
This list of requirements can change if you use another application form that's not the one iVisa.com created.
What are the processing times and prices?
As for the price of the Norway ETIAS, consider that it can change depending on the country of origin and also how fast you want to receive your document. In other words, the faster you want the ETIAS, the more you'll have to pay for it.
With iVisa.com, you can choose one of the following processing options:
Standard Processing Option – Which is the least expensive and also the slowest. However, it's still faster than other conventional options.
Rush Processing Option – Which is faster than the previous one, but it has a higher price.
Super Rush Processing Option – Which is the most expensive processing option but only because you receive your document the fastest way possible.
We cannot give you the total price yet, but we can tell you that the average cost will be €7 (without iVisa.com's fee).
How does the Norway ETIAS application work?
You can obtain the Norway ETIAS with iVisa.com's application form by completing this 3-step process:
First, fill in the online form with your basic information and select the processing option you favor.
Second, check all the personal information you offered in step one and ensure that is well-written so you can continue with the payment.
Third, attach your documents to the online form and click the delivery button to finish.
Don't forget to provide a valid email address to get your document as fast as possible. We will solve all your queries about the Norway ETIAS validity.
How safe is it to use iVisa.com's application form?
You can feel safe when using iVisa.com to apply for your Norway ETIAS. We're a third-party company authorized by the E.U. Commission to provide this document professionally. We have a reliable system that avoids unauthorized access to your personal details while applying.
Feel free to read our clients' reviews with more than 20.000 positive impressions if you have doubts about our service.
Where can I get more information about Norway ETIAS?
The ETIAS is a recent document, so don't stress if you have questions about it or the Norway ETIAS validity because that's completely normal. In that case, you can reach out to iVisa.com's super agents or read other useful tips on iVisa.com's blog.