Oman is an unknown destination for most travelers from India. Still, it has all the possibilities to become a top-rated destination. This country has lovely and well-preserved attractions, such as castles and mosques, a spectacular oasis with green waters, Arab fortresses, seas of gigantic dunes, and thousands of kilometers of beautiful landscapes. So try to visit it before it becomes popular and avoid the crowds!
Oman is the destination for Indian travelers searching for the purest adventure, in the most traditional and welcoming Arab country. But remember that every destination has restrictions and regulations that you must follow. This guide offers some tips for traveling to Oman from India stress-free.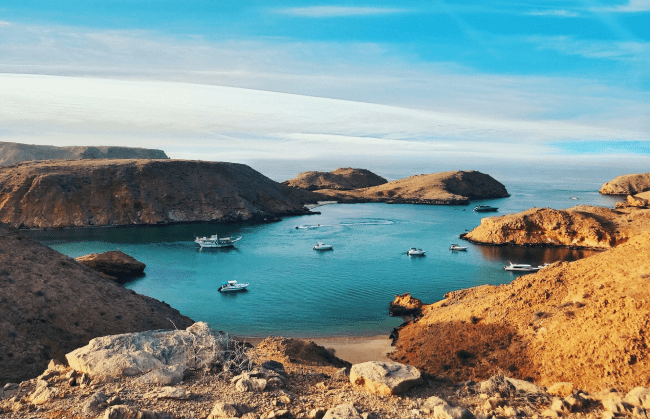 Requirements for Indian nationals traveling to Oman during the COVID-19 pandemic
To enter the country, many travelers, such as those from India, must obtain a travel document to enter. In the case of Oman, the Oman Visa is required. However, if you don't know how to get this type of visa, don't worry! At iVisa, we have a simple form so that you can process it without any hassle, from the comfort of your home.
What is the Oman visa?
This travel document is a visa for all foreign travelers, such as those from India who wish to visit the country. This official document provides authorization to travel to and from Oman; it is electronically linked to the visitor's passport.
The Oman visa is for tourist use only, available as a single-entry, multiple-entry visa, or a single-entry visa for GCC residents.
Types of visas available for Oman
Depending on your nationality and purpose of travel, there are three types of Oman visas available:
Single entry visa: This one allows Indian visitors to enter the country once and stay up to 30 days in total. This type of visa can be extended for up to 30 days.

Multiple-entry visa: This allows Indian travelers to enter the country multiple times within 1 year. Each stay cannot exceed 30 days.

GCC Resident Visa: This is a special visa for travelers with a GCC Resident Card. It is valid for a single entry into the country, for 28 days in total, and can be extended for up to 7 days. Local laws stipulate that if you overstay your visa, you will have to pay a fine of USD 26 per extra day of stay.
Documents needed to obtain an Oman visa from India
To process the Oman eVisa, you will need the following information:
A valid passport - You must have a passport valid for at least six months after the date of arrival in Oman.

A digital photo - You must have a passport-size digital photo that meets the guidelines. At iVisa, we provide a handy passport photo service.

Other travel documents - Accommodation reservations and airline travel tickets may be required by the border control when entering Oman.

Travel insurance - International travel and medical insurance are mandatory. It must include medical treatment, medical evacuation, emergency assistance, and other health-related events.
Costs and processing times for Oman visa application for Indian nationals
The processing fee varies depending on the visa you require or your needs:
Single Entry Visa:
Standard processing time is

4 Business Days

and it costs

USD $83.49

Rush processing time of

2 Business Days

which costs

USD $106.99

Super rush processing of

1 Business Day

for

USD $131.99
Multiple Entry Visa:
Standard processing time is

4 Business Days

and it costs

USD $161.49

Rush processing time of

2 Business Days

which costs

USD $184.99

Super rush processing of

1 Business Day

for

USD $209.99
GCC Resident Visa:
Standard processing time is

4 Business Days

and it costs

USD $74.99

Rush processing time of

2 Business Days

which costs

USD $126.99

Super rush processing of

1 Business Day

for

USD $189.99
All of these prices include the government fee and the iVisa services fee.
I am traveling with a minor, do I need to consider anything?
All travelers from India, including minors, need their own passports and tourist visas to travel to Oman. This applies to travelers of all ages, including infants.
If the minor travels alone, a statement in English must be submitted in which both parents and guardians with authority permit the trip. A copy of the adult's identity card, international driving permit, passport, or international birth certificate is also required.
COVID-19 restrictions to visit Oman as an Indian national
There is no restriction on tourism in Oman for travelers, regardless of their vaccination status. Travelers no longer need to take a PCR test to travel to Oman. All international visitors, including India passport holders, are allowed to enter the country. Please keep in mind standard health measures.
Other things to know before traveling to Oman
These are some tips you should follow to travel safely in the country.
Make sure to get travel insurance to cover COVID-19 medical expenses and other coverage for travel in Oman.

Travelers should follow standard health measures while visiting Oman and public places.

While the Royal Oman police has dropped the mask-wearing mandate, all international travelers are advised to wear masks in public transport, including in buses, taxis, or cars.

If you want to buy anything in the duty-free shop and send it to a friend in Oman, the public health agency might need an Oman postal address. Also, according to the local police, all inventory will be revised to find any illegal drugs or other illegal substances as security concerns.

According to local media, travel agencies are now open again to adventure tourism as long as the government guidelines are maintained.
Where can I learn more?
If you have any other questions about traveling to Oman as an Indian national, or need assistance with applying for the Oman visa, you can contact our customer service experts online or email them at [email protected]. They are available 24/7.