Traveling is always a pleasure and it should be something that wouldn't mortify anyone. Even so, with the current pandemic, it's normal that doubts and difficulties arise about travel, especially to countries far away from where you live. Therefore, we've created this article to explain to you How to enter Pakistan during COVID-19 for brits because we understand that as a British citizen you might still want to visit exotic countries. For your convenience, it's not impossible to travel to this place, but you have to take into account some measures.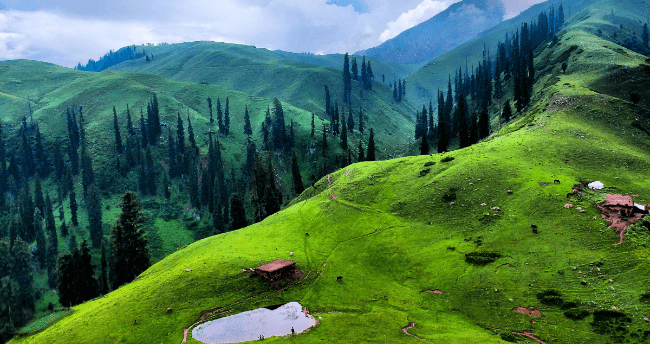 Due to the current COVID-19 Pandemic, the Government of Pakistan has performed strict measures to stop the spread of the COVID-19 on its population. One of these measures is to apply for the Pakistan Health Declaration. According to this recent law, all foreign citizens must complete this Health form declaring their health condition and travel history so they can enter the country without complications.
In iVisa.com, we understand that it might be time-consuming to do this entire process by yourself, so we designed a simpler and easier version for you to fill so you can travel quickly and pleasantly. By applying with us, you'll be ready in just a few minutes!
Just remember that you might also need a Pakistan eVisa to enter this nation, but don't worry, we can also provide you information about it.
Keep reading the FAQs below to learn more.
Frequently Asked Questions / FAQs
What is a Pakistan Health Declaration?
The Pakistan Health Declaration Form is a recent travel authorization that the Pakistani government created to stop the spread of the new COVID-19. That's why, everyone should apply for it, including visa-free nations.
Please note that the Health Declaration is not the same as the eVisa, these documents are different and you might need to apply for both if you're from the UK.
The great news is that iVisa.com created a special service that allows you to apply for your eVisa and your Health Declaration at the same time! Which is a great alternative to avoid spending a lot of time and effort in vain.
Do I need an eVisa to enter Pakistan if I'm a British citizen?
Yes, you need an eVisa to enter Pakistan if you're planning to visit the country for tourism purposes. As we said before, you can apply for your eVisa with iVisa.com and obtain the Health Declaration as well. This way, you won't have to worry about both documents separately.
What documents do I need to apply for these documents?
If you want to apply for your eVisa and your Health Declaration with iVisa.com, then you'll need to provide the following requirements:
Invitation Letter (if necessary)
Passport Personal Details Scan
Applicant Photo, which you can easily obtain using iVisa.com Passport Photos.
Proof of Residence (if relevant)
Travel Itinerary
Arrival and departure tickets
Pakistani Host's ID/Residence permit (Both sides) (if relevant)
Bank Statement (if suitable)
Hotel Booking Confirmation (if suitable).
Copy of the previous visa (if suitable)
A valid email address to receive the document
Valid payment options to pay for the service like Paypal or credit/debit card.
Do I need a COVID vaccine or vaccination certificate to enter Pakistan?
Yes, COVID vaccination certificates are now mandatory to enter Pakistan.
Since information may change quickly, we advise you to follow up on the latest Pakistan travel updates and/or contact your local embassy.
Do I need to take a PCR COVID-19 Test before traveling to Pakistan?
COVID test prior to arrival: PCR within 48 hours

COVID test after arrival: All travelers must take a rapid antigen test on arrival
Do I have to quarantine after I arrive in Pakistan?
Quarantine requirements: 10 days with a PCR on day 8 for any travelers who test positive on the antigen test on arrival only
What are the prices and processing times?
Since this is a special service that provides you both documents at the same time, then you should know that the prices will include both of their fees. The good thing is that their prices vary depending on how fast you need them:
Standard Procedure Time: you get both documents in

15 days

by paying

USD 110.00

.
Rush Procedure Time: this allows you to get your requirements in

13 days

by paying

USD 135.00

.
Super Rush Procedure Time: it is the fastest processing time, offering you both documents in

10 days

if you pay

USD 160.00

.
How can I apply with iVisa.com?
iVisa.com process is super easy and won't require you to be too skilled with online forms. You just need to follow this 3-step process:
First, answer all the questions in the initial questionnaire and once you're done with that, choose the processing alternative of your preference.
Secondly, verify the spelling of all the information you offered previously and pay for the service.
Thirdly, upload all the documentation asked at the beginning of the process and click on the submit button to send your online form.
The next thing to do is wait for your Pakistan eVisa + Health Declaration via email and nothing else!
If you find any issues while filling in the online form, you can contact iVisa.com's customer service center.
How much time will I need to apply online?
iVisa.com created a process that is fairly easy to understand, so it usually takes you only 20 minutes to complete, although it can be less if it is simple for you to answer the questions. Of course, there's no rush, remember to review all your details calmly. In case of emergency, it's better to choose the Super Rush Option and avoid any last-minute mistakes.
What if I already have the eVisa but not the Health Declaration Form?
In that case, you should know that you can apply only for the Pakistan Health Declaration Form too using iVisa.com's service. You can receive more information about it with our customer service.
Is it safe to use iVisa.com?
The most powerful benefit of iVisa.com's service is its security system because this company has a modern platform and a reliable work team that won't put your information in danger. In other words, the information on iVisa.com's website can't be easily leaked.
Please, also remember that it might be hard to find other trustful alternatives to apply for these documents, and you might know how tiring can be to apply with an embassy.
That's why iVisa.com created an authorized process by the Pakistani Government that won't make you feel tired about this process. You can always read our reviews here if you still feel unsure about it.
Where can I find more information about this important document?
We invite you to contact iVisa.com's customer service center if you still have questions. You can also read iVisa.com's website if you prefer to read other FAQs.
Get ready for your trip by clicking this link.