If a trip to Pakistan is among your plans, then you should consider some tips before planning this adventure. To begin, you must have a Health Declaration on hand since this serves as a necessary item in the face of the Covid-19 pandemic. The Health Declaration is the Pakistan 14 day quarantine requirement most commonly used to enter the country without problems, so it is important to know the steps to obtain it.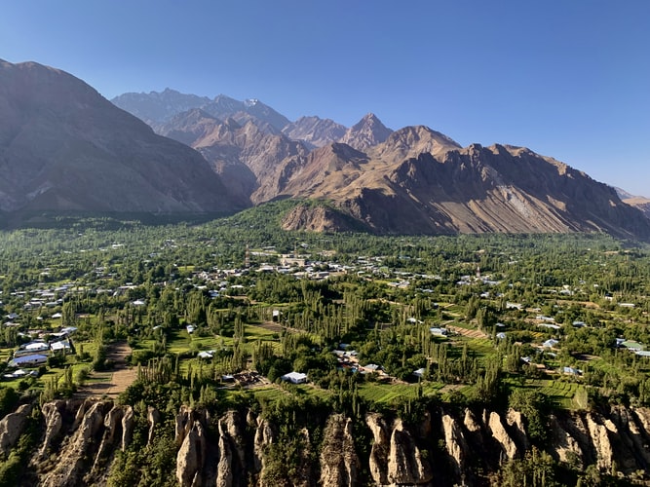 The steps to receive this document aren't so complicated, and you can read them in the FAQ that we've prepared in this article. Also, remember that with Visa you can apply online and thus save a lot of time.
Frequently Asked Questions about the Pakistan Health Declaration
Why is it important to get the Pakistan Health Declaration before entering the country?
Anyone who's planning a trip to Pakistan must apply for the Health Declaration. This document is important to accept the compromise with the government and avoid the spreading of the COVID-19 virus. If you don't apply for it, you won't be able to enter the country, regardless of other documentation you might have.
The Pakistan 14 day quarantine requirement or Health Declaration can be obtained through the "AOT" system, but this method can be complicated and bureaucratic. However, there's an easier option for you that allows you to get this document faster, and that's using iVisa.com's online form.
Do I need a COVID vaccine or vaccination certificate to enter Pakistan?
Yes, COVID vaccination certificates are now mandatory to enter Pakistan. All travelers aged 12 and over needs to be fully vaccinated to enter this country.
Since information may change quickly, we advise you to follow up on the latest Pakistan travel updates and/or contact your local embassy.
Do I need to take a PCR COVID-19 Test before traveling to Pakistan?
COVID test prior to arrival: PCR within 72 hours

COVID testing exemptions: Children under 12 and fully vaccinated travelers.
Do I have to quarantine after I arrive in Pakistan?
Quarantine requirements: There are no quarantine requirements.
Do I need to go to an embassy to get the Pakistan Health Declaration?
There's no need of going to a Pakistani embassy to apply for the Health Declaration, you can have it online from the comfort of your home. Just remember that you might need other documents like the passport and a travel authorization or visa. If you're not sure about this last part, you can use iVisa.com's Visa Checker to verify it.
Which documents do I need to apply for the Pakistan Health Declaration?
Even with an online process, you still have to provide certain documents. Fortunately, these documents aren't hard to find and you might even have some of them:
Scanned-copy of your passport: for this, you only have to scan the information page.
Valid email address: this is important to receive the document.
Payment Methods: You can use Paypal or a credit/debit card to pay for the service.
What are the processing times and prices?
Remember that iVisa.com is an authorized third-party company and that's why you'll have to pay a small fee. But, we understand that the budget is important for travelers and we always focus on offering something affordable but reliable. Therefore, you can choose any of these three options depending on how fast you need to have this requirement:
Standard Procedure Time: It takes

24 hours

to process the document and it costs

USD $27.49

.
Rush Procedure Time: it takes

8 hours

to properly process your application. The total price is

USD $48.49

.
Super Rush Procedure Time: It only takes

4 hours

, and that's why the price is

USD $78.99

.
How is the online application process?
The online application process created by iVisa.com's team works as a useful tool that will permit you to obtain your Health Declaration as soon as possible. This 3-step method shouldn't last more than 20 minutes of your day:
First, complete the initial questionnaire with your basic information and select the processing time.
Secondly, check the spelling of all the information you give and pay for the service.
Thirdly, upload the requirements asked at the beginning of the process (scanned-copy of the passport) and click on the submit button.
You'll receive a QR code via email among the Health Declaration, so stay alert about this part.
If you find issues while filling in the form, you can reach out to iVisa.com's customer support.
How will I obtain the Pakistan Health Declaration?
As we mentioned before, you'll receive a QR Code with your Health Declaration, and you should download it. You can keep this code on your telephone to avoid any problem before entering the airport. Once you arrive there, the Immigration officer will check that all of your documentation is valid, and that includes the QR code.
Do Children need this requirement too?
Yes, they do. Every foreign traveler, including tourists, must get a Health Declaration to enter the Pakistani territory, and that includes children. As you can guess, if you want to travel with kids, you'll have to apply for their Health Declarations as well.
Is it completely safe to use iVisa.com?
Yes, definitely! With iVisa.com you'll be able to use a security system that won't risk your information. In other words, your information won't get leaked. iVisa.com is a third-party company, but it still counts with the valid permission to provide you the Health Declaration. You can take a look at our reviews if you feel unsure about this process.
I still have doubts, where can I find more useful information about this process?
This process is too new for many travelers, and it's completely normal to have more questions about it. That's why, with iVisa.com, you can reach out to our customer service and obtain personal attention, or you can learn more details by exploring iVisa.com's website.
Even with the obstacle that COVID-19 has become, it's still possible to travel by being cautious. We invite you to apply for your Pakistan Health Declaration today to get closer to this amazing destination!