If you consider visiting the neighboring country on your next vacation, remember that Afghanistan citizens need a visa to enter Pakistan. But there's no need to worry. iVisa will help you with all the essential information for this trip.
The Government of Pakistan developed an electronic e-visa system to facilitate tourism travel, so foreign nationals can apply for the Pakistan e-Visa, including Afghans.
But if you are traveling for business, the process is different. Business visas have particular requirements, and you can't apply online. The same is valid for study, work, and diplomatic visas, so you will have to book an appointment at the embassy or consulate general.
Pakistan online Visa for Afghanistan is now easier to get with iVisa. Please read below for more details about obtaining your eVisa online, supporting documents, and everything you need to apply.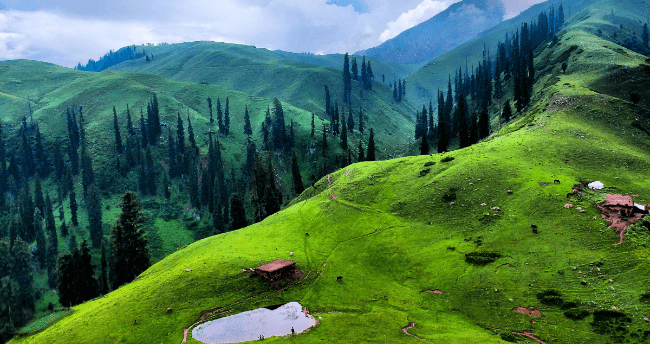 Different types of Pakistan Visa for Citizens of Afghanistan
Pakistan Online Visa for Afghanistan
The Government of Pakistan introduced the Pakistan e-Visa to reduce waiting for consular documents and facilitate the flow of tourists. Pakistanis are among the foreign nationals from countries eligible for this document. Of course, visa applications demand a valid passport and additional documents. Still, the process is quite simple and takes only a few minutes.
The foreigners have to fill out the application form online, providing contact details, an email address, and some requirements. Applicants receive the Pakistan visa via email and must present it to local authorities on arrival.
The Pakistan eVisa is valid for a maximum of 90 days after arrival after arrival. It's a Single Entry visa, so you can use it only once. It allows the applicants to stay within the country for up to 30 days Per Entry. Remember that this is a tourist visa.
Read more about visa processing, necessary documents, and visa fees below.
Pakistan visa at the embassy
Unfortunately, the tourist visa is an exception. You need the embassy services for all other visas. So for a long-term visa, multiple-entry visa, or even a business visa, you must visit the Pakistani embassy or consulate.
You should call Pakistani immigration services to learn the details about these visa applications for reliable information. Sometimes, internet resources provide mismatched data, and you don't want to have problems with your application, especially when it involves the bureaucracy of a paper visa.
Pakistan eVisa Requirements for Citizens of Afghanistan
Applying online is easy, but this doesn't mean that there are no requirements. Afghans have to submit the following documents to apply for a Pakistani visa:
Passport personal details scan
Applicant photo
Proof of residence (if applicable)
Travel itinerary
Invitation letter (if applicable)
Pakistani host's ID/Residence permit (Both sides) (if applicable)
Most recent 3 months' bank statements (if applicable)
Copy of the previous visa (if applicable)
Proof of accommodation (if applicable)
Airline confirmation
Cover letter (if applicable)
Proof of relationship with relatives residing in this country (if applicable)
Spouse passport scan (if applicable)
Birth certificate of minor (if applicable)
Minor consent letter (if applicable)
Legal guardian 1 passport page scan (if applicable)
Parent 1 passport page scan (if applicable)
Medical report (if applicable)
If you don't have a recent digital passport photo, we also provide an easy-to-use iVisa Passport Photo service and a video to guide you on how to take the perfect photo for your Visa.
Pakistan online visa system: Steps to apply for a Pakistani eVisa for Citizens of Afghanistan
To get your e-Visa, you'll have to complete your Pakistan Tourist e-Visa application form. You will have to provide personal information and details about your intended stay in Pakistan.
But don't worry, the process is simple, and iVisa is here to help you. You must follow these three steps to fill out the Pakistan visa application form:
First, start the Pakistan visa application process. Applicants must answer a few questions like travel dates, personal information, and email or phone number in case we need to contact them.
Second, the applicant must provide the correct information in the visa application form. After a double check, it's time to choose the Pakistan e-Visa processing fees and pay using a credit or debit card.
Third, it's necessary to add any required documents and click 'Submit' the e-Visa application.
You will receive an email with a PDF confirmation with a QR code attached. Print it and save it on your mobile device too. Once you arrive in Pakistan, you only need to show it as e-Visa support and other required documents (if needed) at the airport. Now, you can begin your journey.
How much does it cost to get a Pakistan Visa for Citizens of Afghanistan?
You can obtain your Pakistan tourist visa easily with our three options for processing fees. Each of them is tailored to your needs.
The prices are as follows:
Standard processing time:

15 days

-

USD $67.17

. It's the most affordable service when you have a small budget and still have time until departure.
Rush processing time:

13 days

-

USD $109.17

. It's an average price for fewer days of processing.
Super Rush processing time:

10 days

-

USD $156.17

. This is the quickest option, but it will cost you a little more.
Pakistan eVisa Sample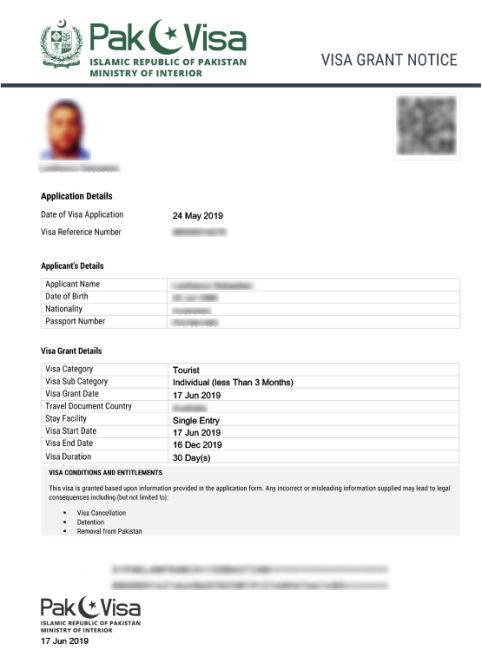 Who can I contact for more information about the Pakistan e-Visa?
iVisa works to streamline the processing of your travel documents. You can count on the support of our experts to get your Pakistan e-Visa easily. If you have questions or concerns, you can reach iVisa's customer support via online chat or email at [email protected]. Our customer support is at your disposal 24/7 and is free of charge.
Rely on us to prepare your travel documents and have a smooth arrival in Pakistan!