Are you planning a trip to Pakistan soon but don't know if you have all the necessary travel documents to enter the country? As a citizen of Azerbaijan, a passport, travel insurance, and most importantly a Pakistan eVisa are among the documents you need to enter the country.
The language differences and the bureaucratic processes may make getting this document seem difficult. However, you will be able to process your Pakistan Visa easily and in your preferred language thanks to iVisa.
Our user-friendly application form and visa experts make getting the Pakistan Visa from Azerbaijan a breeze. Keep reading to find out more about the application process, costs, and more.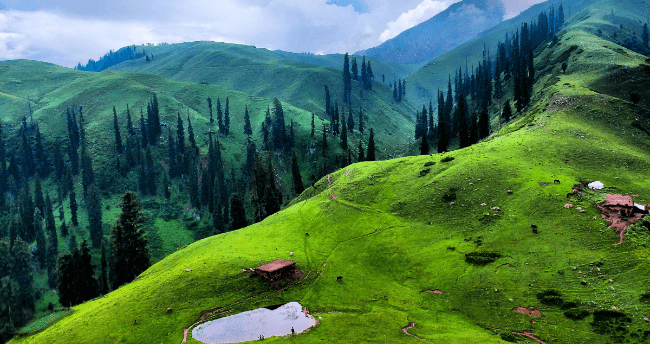 Pakistan eVisa: Everything you need to know
The Pakistani Visa is an official travel document issued by the Pakistani government that allows travelers to enter the country for tourism purposes. All citizens from the Republic of Azerbaijan need this visa to enter Pakistan for a holiday. Electronic visas like this one are digitally linked to the applicant's passport.
This travel visa must be used within three months after approval, and allows up to 30 days Per Entry of stay in the country. This is a single-entry document. There is currently no multiple-entry visa for Pakistan available.
If you need a business visa or want to apply for other visa types to visit Pakistan, contact your Pakistani embassy, as you can't apply online currently. The document offered on iVisa is a tourist visa.
The Pakistan Tourist e-Visa is only available for entry at the following international airports and ports:
Islamabad Airport, Lahore Airport, Peshawar Airport, Karachi Airport, Quetta Airport, Multan Airport, Rahim Yar Khan Airport, Bahawalpur Airport, Faisalabad Airport, Wahga Land Route, Wahga Railway Station, Khokarapar Railway Station, Karachi Sea Port, Ghassbandar Sea Port, Port Bin Qasim, Taftan Land Route, Gwadar Airport, Gwada Sea Port, Sost Land Route, and Sialkot Airport.
How to apply for the Pakistan e-Visa from Azerbaijan
Simply complete our application process to obtain an electronic visa for Pakistan. The Pakistan visa process consists of three steps:
Step 1: Answer a few simple questions about yourself and your trip, such as your travel dates, passport number, email address, or other contact details. After that, choose the preferred processing time.

Step 2: Once you have selected the processing time, check if all provided information is correct before paying the visa fee.

Step 3: Finally, add the required documents and click 'Submit' to confirm your application.
When you finish applying online, and your visa is approved, you will be sent a second email with a PDF with a QR code attached. You will need to present this code at the airport to enter Pakistan.
Required documents to apply for a Pakistan eVisa
To apply for a visa for Pakistan, you will need to provide certain documents, personal information, and details about your trip on the visa application form.
Scanned copy of your valid passport and/or proof of residence: The passport expiry date must be at least 6 months from the date of arrival, and the document must have at least 1 page available for stamping.

Applicant photo: You need to submit a digital passport-size photo with a white background. If you do not have a recent photo, iVisa offers an easy-to-use passport photo service.

Airline round trip ticket confirmation

Other information: You might need to present one or more of these documents: travel itinerary, proof of accommodation or invitation letter, bank statements, NOC letter, travel license of the tour operator, medical report, relationship certificate, and/or birth certificate (in case of minors). This depends on the purpose of your trip to Pakistan.

Email address: You must provide a valid email address to receive your eVisa confirmation by email.

Payment method: You can use credit and debit cards to pay the visa fee.
Service fee and processing times for obtaining a Pakistan Visa
iVisa's fees are competitive, and we offer different options depending on your needs. The price of the Pakistan eVisa varies per nationality, so check the application processing page for more info by entering your nationality.
Standard processing: Get your visa processed in 15 days for an affordable fee (USD $83.99).

Rush Processing: Get your visa processed in 13 days for an additional fee (USD $125.99).

Super Rush Processing: Get your visa processed in 10 days for an express fee (USD $172.99).
Remember that each of these processing options will be chosen according to your travel needs. The prices on the iVisa website include the government fee and the service fee.
More information about traveling to Pakistan
Visiting Pakistan has to be planned around the best time to travel. Due to its hot climate, it is a country best visited between January and April and October and December.
When you are looking for what to visit in Pakistan, you should remember that this country has some of the most picturesque places in South Asia. It is also known as the location of the oldest kingdom of Harappa, dating back to the 17th century.
Do not hesitate to visit the Lahore Fortress. The construction of this tourist attraction took place during the 12th century. It is located at the crossroads between Tibet, India, and Persia. The structure has a red sandstone fortress built on the initiative of Akbar the Great.
Another destination of interest is the Badshahi Mosque, located in Lahore. This temple was created by Emperor Aurangzeb, who also participated in the creation of the Taj Mahal. The mosque was built in the seventeenth century when the Mughal architectural style flourished.
COVID-19 restrictions in Pakistan
In order to enter Pakistan, you must present a COVID-19 vaccination certificate. All travelers under 12 years of age are exempt from compulsory vaccination.
However, unvaccinated travelers over 12 years of age must present a negative PCR test result obtained within 72 hours prior to departure.
As information can change rapidly, we advise you to check for the latest information shortly before departure.
Where can I get more information about the Pakistan eVisa?
If you have any questions about the Pakistan eVisa, please feel free to contact our customer service team online or email [email protected]. The visa experts are available 24/7.