Pakistan is one of the many countries in the world that adopted the electronic visa system. According to its visa policy, the citizens of 175 countries have access to it. As a result, if you are eligible, you can easily apply for a Pakistan eVisa online, and iVisa.com can help you through the process.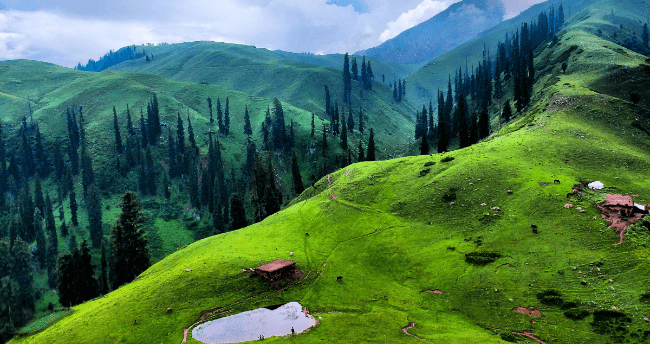 Below, you will find the answers to some of the most frequently asked questions about this topic: Pakistan Visa - Countries whose citizens can apply for an eVisa. Keep that information in mind if you are planning a trip to Pakistan.
Frequently Asked Questions
How can I know if I'm eligible for the Pakistan eVisa?
That is the easy part. We designed a smart tool that can help you out. It is called the Visa Checker Tool, and it is located on our homepage. All you have to do is to insert your nationality in the drop-down menu on the left and then select Pakistan as your destination in the box on the right. The result will tell you if you can apply for a Pakistan eVisa or not.
What items do I need to apply online?
To be able to apply for a Pakistan eVisa online, you have to make sure that you have on hand the following documents and items:
Passport – What you have to do is to make sure that it is valid and remains as such for at least another 6 months from the date of arrival in Pakistan. Take a look at its expiry date before you begin the application process. A scan of the passport's information page is also required.
Proof of accommodation – A hotel booking confirmation is adequate, but if you wish to stay with family or friends, you need to have them write an invitation letter.
Digital passport photo – Make sure that the picture is taken in the last 3 months
Travel itinerary.
Proof of legal residence – You do not need this unless you plan on applying from a different country, other than the one of origin.
Return flight ticket.
Valid email address – When you apply online for a Pakistan eVisa, the document arrives via e-mail in PDF format. Do not forget to print it out before you go to Pakistan.
Means of payment – You can use a credit or a debit card for payments.
See more information about the Pakistan Visa - Countries whose citizens can apply for an eVisa by reading the questions below.
What is the price of the Pakistan eVisa?
The cost of a Pakistan eVisa is determined by your nationality and the processing time you choose for your application. We give you three options as far as the processing time of your application is concerned. This should enable you to choose the one that is most convenient for you. The options are as follows:
Standard Processing Option: The most affordable means to attain your document easily.
Rush Processing Option: Compared to the above option, this is a slightly more expensive and faster way to get the document.
Super Rush Processing Option: This is the most expensive option because it is the fastest among the three options. It will provide you with a document ASAP.
Learn more about the Pakistan Visa - Countries whose citizens can apply for an eVisa by reading the lines below.
How can I obtain the Pakistan eVisa with iVisa.com?
You only have to follow this process to obtain the Pakistan eVisa:
Firstly, you must fill in a simple and secure online application form. You must also choose the processing time you prefer.
Secondly, you have to verify that the information you offered is correct and then pay for the fees.
Thirdly, you must attach the items required and submit the request form.
After that, you only have to sit back and relax while we process your eVisa. You won't have to visit the embassy to pick up your visa. We will send it to you by email.
Do not forget to show your eVisa once you arrive in Pakistan.
Get more information about the Pakistan Visa - Countries whose citizens can apply for an eVisa by checking the next questions.
Is iVisa.com a safe visa provider?
Yes, it is. We do the best we can to deliver a successful service, and as an extra, we also constantly update our platform so that your information is always preserved and out of risk. Additionally, we are very transparent with everything we offer, and we never charge any payment without the proper authorization of the client.
Where can I learn more about this eVisa?
Do you need more information about this topic: Pakistan Visa - Countries whose citizens can apply for an eVisa? Then we invite you to check out our website for more information about your specific country. You can also chat or email us with your queries. We are available 24/7.
iVisa.com Recommends
Pakistan, whose official name is the Islamic Republic of Pakistan, is a sovereign country located in South Asia. It has a population of more than 200 million people, so it is the fifth most populous country in the world. It has 1,046 km of coastline towards the Arabian Sea and the Gulf of Oman in its southern part.
In this country, you can easily fall in love with its mosques, as there is a great variety that goes from the oldest to the most modern. An example of this is the Shah Faisal Masjid, one of the largest mosques in Asia. It is located in the capital city of Islamabad. This mosque is well known in the Islamic world and is renowned for its immense size and architecture. The Faisal Mosque is also the National Mosque of Pakistan.
Another example is the Badshahi Masjid, or "Emperor's Mosque," built-in 1673 by the Mughal Emperor Aurangzeb in Lahore. It is one of the most important tourist attractions in the city since it is a sample of Mughal architecture and at the same time, one of the most beautiful mosques in the world. It is the second-largest mosque in Pakistan, after the Faisal Mosque in Islamabad.