Having a passport is essential in this day and age and applying for one takes plenty of responsibility. When you prepare for the application process, one of the requirements is that you have to submit multiple passport photos. You have various options to make that happen, but iVisa Photos provides the one that involves minimal effort. Basically, you can have your passport photos arrive at your door.
At the same time, if you are interested in traveling abroad, we suggest that you take a look at our website. Many countries issue electronic visas nowadays, and if you are eligible for one, iVisa can help you out with the online application process.
Photo specs
Size: 4.5 cm in height and 3.5 cm in width
Color: the picture must be in color
Head size and position: the head should be positioned straight, not tilted. Portrait-style photos are not accepted
Recency: no older than 6 months
Background: white
Smile: no. Neutral expression only
Eyes: straight into the camera. Clearly visible
Make sure your ears are both visible
The photo should not be blurry
Glasses: only if they do not alter the visibility of your eyes and face
Headgear: not allowed unless your religious beliefs do not permit an uncovered head
Dimensions and size (pixels): at least 600 dpi
Attire, clothing, dress code: must be in contrast with the background
Beard: only if it represents your everyday appearance
Quantity needed in application: 4
Andorra Passport Photo Size Requirements Guide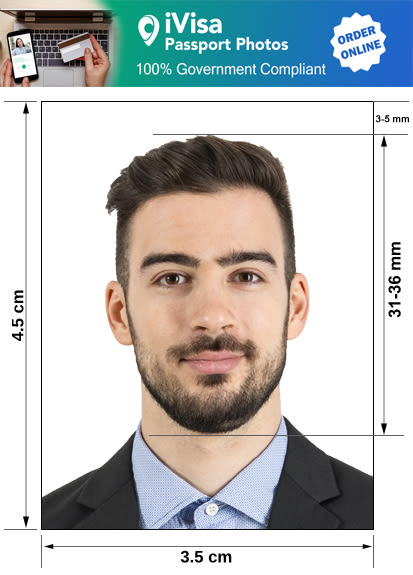 Andorra Passport Photos and Visa Photo Requirements – Rules, Guidelines, and Specifications
While we already mentioned the passport photo specifications, we think that we need to elaborate a little bit so that there is no confusion. That way, you know precisely what to do when you use the services provided by iVisa Photos. Getting the right photo for your passport is essential, which is why we want to eliminate any concerns you may have.
If you choose to print out the photo yourself, check the size and make sure to use photo-quality paper. Otherwise, it will be rejected.
You have to face the camera when you have your picture taken. Your face should occupy 70% of the photograph, meaning that it must be 36 mm in height. If you have voluminous hair, the face should still be 36 mm in height. Perhaps you should consider pulling back your hair while taking the picture. Make sure to include the shoulders as well.
If the background is a different color than white or has patterns on it, your photo will be rejected. Plain white is perfect.
You are not allowed to smile while snapping the picture, but you cannot frown either. Relax your face to achieve a neutral facial expression.
Your eyes must be perfectly visible. If you usually wear prescription glasses, you can keep them on, but only if the frame does not cover your face and the lenses allow for your eyes to be visible. If you can, you should take them off when you take the photo.
Please make sure that the focus is right when you take the photo. A blurry picture will be rejected. Headwear is not accepted unless it is for religious purposes. However, even if you wear something on your head, your face should be visible from the bottom of your chin to the top of - your forehead.
The lighting must be adequate when you capture the picture. Make sure that it does not form any shadows or reflections on your face.
If you usually wear a beard, you can keep it for the photo. But if you plan on shaving it off when you travel, you should shave it before taking the passport photo as well. The point is that the picture must reflect your everyday look.
Rules and Requirements for Babies, Infants, and Newborn Passport and Visa Photos
Children of all ages need their own individual passport and visa. That is why you must take their photo as well. It may be a bit more complicated with newborns, but with a little bit of patience, you will do just fine. There are no significant differences between adult and children's photos, although it is permitted for a baby's face to take up less than 70% of the picture. After all, their heads are smaller. Here are some useful tips when taking a passport photo of a child:
Some parents lay their children on their backs to take a picture from above. If you want to do that, place a white sheet underneath the baby.
If you use the car seat method, do not forget to cover the backrest of the seat with a white layer.
Do your best to capture the child with their eyes open.
Only the child can appear in the picture. If we are talking about a baby of fewer than 12 months old and you have to hold him/her, keep in mind that your hands cannot be visible in the photo.
Price
iVisa Photos takes great pride in its prices. Why? Because you will not find lower prices than ours. An Andorran passport application requires 4 photos, which you can get on iVisa Photos for only 8.30 Euros.
How to get Andorra Passport Photos or Andorra Visa Photos Online?
Using iVisa Photos' services is not a complicated task. All you need is a decent camera (phone or tablet). Make sure to follow all the guidelines above for a successful picture. After you take the photo, you can decide to download it to print it yourself, or you can have it delivered to your home. It is entirely up to you.
One of the benefits of using iVisa Photos is that you can take as many pictures as you want until you get the one you love. Multiple attempts are not charged.
If you have any questions related to the services rendered by iVisa Photos, please feel free to contact us. We will happily answer any questions you may have.
References