Having a working Azerbaijan passport requires you to use a particular kind of photo. When you're trying to find a photo that meets the standards, iVisa Photos is an excellent choice. We've helped thousands of people from Azerbaijan take effective passport photos, so we're very familiar with how to do it properly and our service is highly convenient.
Then there's iVisa.com website for those of you going abroad, which can tell you whether or not the country you're traveling to requires a visa. If it does, you'll want to know sooner rather than later, so you can get that out of the way and take the photos for it at the same time.
Photo Specs
Size of visa photo: 2 inches x 2 inches
Color: Color, not black and white
Head size and position: Full face and centrally aligned
Background: White
Smile: Neutral, do not smile
Eyes: Opened
Glasses: Only daily wearing glasses
Headgear: None
Quantity needed: Two (2)
Azerbaijan Passport Photo Size Requirements Guide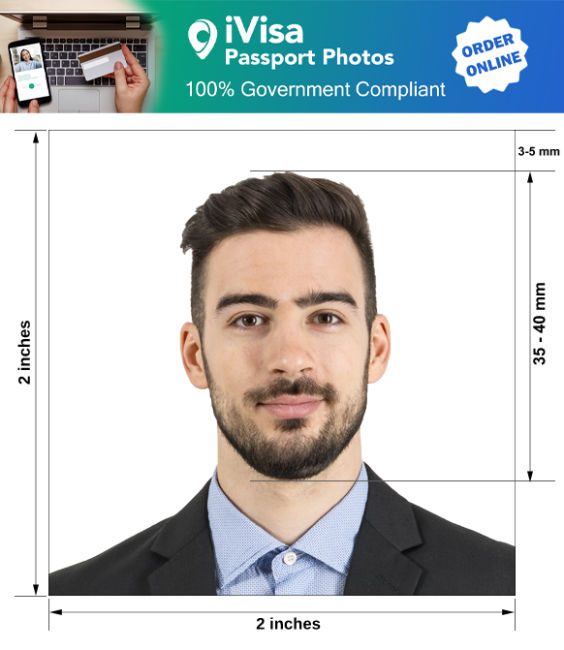 The Azerbaijan Passport Photo and Visa Photo Requirements, Rules, Guidelines, and specifications
The Azerbaijan Tourist Visa´s requirements has to be met to have your visa application approved. You need to submit not only a visa application form but also photos, medical insurance certificates etc.
See notes regarding your photo:
Should have a white background
Face should be in the middle of the photograph
Size: 2 inches x 2 inches
Must be a recent photo
No headgear
If you plan to use glasses then you should avoid glares on its lenses
You need two (2) photographs
Rules and requirements for babies, infants, and newborns Passport and Visa photos
Azerbaijan requires visa for children as well as adults and all who wish to apply need to submit photographs. This means that even your child will need to submit a photograph with their visa application.
Check these tips if you need to take a photo for a baby.
Baby's eyes should be open.
Background needs to be white
if the baby is too small to lay down or sit up, then you can take the baby and put take its photo in their car seat
Price and Cost
iVisa Photos prices are competitive. We offer delivery options via mail to your home or in store pickup at a CVS, Walgreens or a Walmart store.
How to get the Azerbaijan Visa Photographs Online with iVisa Photos? You can use our iVisa Photos app with a smartphone or tablet:
Download it here: iOS here, Android here.
Tips to take a good quality photo:
White background is a must
Keep your face centered in the photograph
Do not smile or frown too much, keep a neutral face
What you need to know before getting started:
It will take a few minutes to take a photo with the app
Select the country where you will use the photo at the beginning of the app
Use a smartphone or tablet with the app
Download the image afterwards, have it mailed to your house or select next day pickup at a WalMart store, CVS pharmacy or a Walgreens if you live in the US.
In addition to visa photos, you can also take a passport photo with the app. Select passport under "Photo Type". Get the visa or passport photo with the iVisa Photos app and start planning your trip to Azerbaijan.
References