Do you want to apply for a Bosnia & Herzegovina passport? One of the first things you have to do is to make sure that you meet a series of requirements. One of them refers to the passport photo. You will need two of them for your application process, and iVisa Photos can help you get them online with barely any effort.
It is safe to assume that you want to do some international traveling after you get your Bosnia & Herzegovina passport, right? In that case, look into our website. If you are eligible for an electronic visa, iVisa can facilitate the online application process for you.
Photo specs
Here are the specifications of a Bosnia & Herzegovina passport photo:
Size: 45 mm in height and 35 mm in width
The picture you submit must be in color
Head size and position: the head must be straight and facing the camera
Recency: no older than 6 months
Background: white
Smile: no
Eyes: must be clearly visible
Your ears should appear in the shot
Make sure that the photo is not blurry
Glasses: only if they do not distort your facial features
Headgear: accepted only for religious purposes
Dimensions and size (pixels): at least 600 dpi
Attire, clothing, dress code: in contrast with the background
Beard: only if it represents your everyday appearance
Quantity needed in application: 2
Bosnia and Herzegovina Passport Photo Size Requirements Guide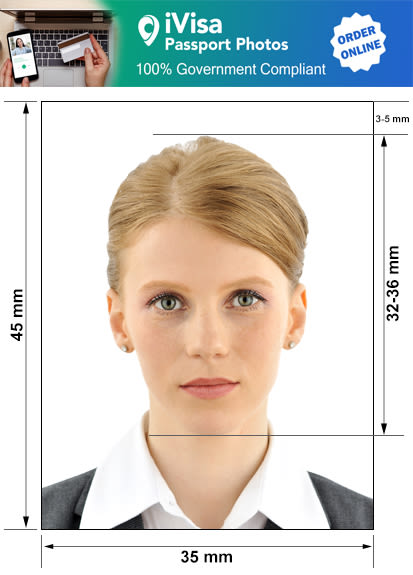 Bosnia & Herzegovina Passport Photos and Visa Photo Requirements – Rules, Guidelines, and Specifications
We consider that further explanations are required regarding the specifications of your Bosnia & Herzegovina passport photo, which is why we detailed a few of them below. An improper passport photo is often the cause of rejection, and we want you to avoid that.
Choosing the background for your picture is incredibly important. It has to be plain white. If you take your passport photo on a color background, your picture will be rejected. Shadows or patterns of any kind are not acceptable either.
Your head has to be square to the camera. Both halves of your face need to be equally visible. You cannot rotate or tilt your head when you take your picture. Portrait-style passport photos will be rejected, so do not photograph yourself from one side.
The lighting, when you take your photo, is also essential. It should not be too bright or too dark. Also, make sure that the source is in front of you for better visibility. Shadows on your face are to be avoided.
Any facial expression other than neutral is not accepted in a passport photo. You should not smile, frown or raise your brows. If you relax your face during the photoshoot, you will achieve the desired result.
When you take your passport photo, you should look straight into the camera. Your eyes cannot be obstructed in any way. If you wear glasses, you can keep them in the picture, but only if they do not cover your eyes. Large frames or tinted lenses are not acceptable, and neither are sunglasses.
You can keep your headwear, but only if you are bound by your religion to keep your head covered. Even then, you have to make sure that your headwear does not cast shadows on your face. Your face must be clearly visible from the bottom of your chin to the top of your forehead.
If a beard represents your everyday look, you can keep it for your passport photo. However, if you plan on making any changes regarding your facial hair, you need to make them before you take your passport photo.
Rules and Requirements for Babies, Infants, and Newborn Passport and Visa Photos
If you decide to travel with your children, please note that they need their own individual passport and visa. You can take passport photos of them at home too. The passport photos of adults and the passport photos of children are quite similar. Here are some tips on how to photograph your children:
If you want to take their picture in a car seat, place a white sheet on the seat's backrest.
When photographing infants on their backs, you have to lay a white sheet or blanket underneath them.
The child should not have a pacifier or headwear during the photoshoot.
Do your best to take a picture while the child is awake.
If you want to hold the child for the passport photo, remember that only the child can appear in the picture. Not even your hands can be visible.
Pricing
Having your passport photo taken by a professional photo studio can be costly, which is why the opportunity of taking them at home is most welcomed by many people around the world. For a Bosnia & Herzegovina passport application, you will need a set of two passport photos, and with iVisa Photos, you can get them at the unbelievable price of only 10.85 BAM. The amount may slightly differ when you use our services due to the currency conversion rates that day, but nothing notable.
How to get Bosnia & Herzegovina Passport Photos or Bosnia & Herzegovina Visa Photos Online
Are you ready to take your passport photos at home with iVisa Photos? Here is what you have to do. Using a camera from your phone or tablet, take your picture. Keep in mind that you have to follow the rules stated above. You can take multiple photos if you do not like the results. iVisa Photos does not charge additional fees for multiple attempts. When you get a picture that you really like, submit it for processing. Once you do that, you will have two options at hand. You can either download the photo to print it yourself, or you can request to have the set delivered to your home. The choice is yours. However, if you want to print the passport photos yourself, remember to use photo-quality paper.
Do you have questions or concerns regarding iVisa Photos and its online services? Feel free to contact us.
References