Are you getting ready to apply for a Haiti passport? Then you must already know that you have to submit a few documents, a completed application, as well as 2 passport photos. iVisa Photos may not be able to help you with the application and the required documents, but we can help you get the photos with as little effort as possible. Just take the picture at home, and iVisa Photos will turn it into a government-compliant passport photo.
Since you want to travel to a foreign country, you may also be interested in our website. They can help you with the online visa application process in case you happen to be eligible for an electronic visa.
Photo specs
Required photo size: 2 inches in height and 2 inches in width
The photo you submit must be in color
Head position: keep your head straight
Recency: must be as recent as 3 months
Background: white
Smile: no
Eyes: must be clearly visible
Your ears should appear in the photo
The picture must not be blurry
Glasses: only acceptable if they do not cover your eyes
Headgear: as a rule, no. Exceptions are made for religious purposes
Dimensions and size (pixels): at least 600 dpi
Attire, clothing, dress code: avoid white clothes
Beard: it is allowed only if it shows your everyday look
Quantity needed in application: 2
Haiti Passport Photo Size Requirements Guide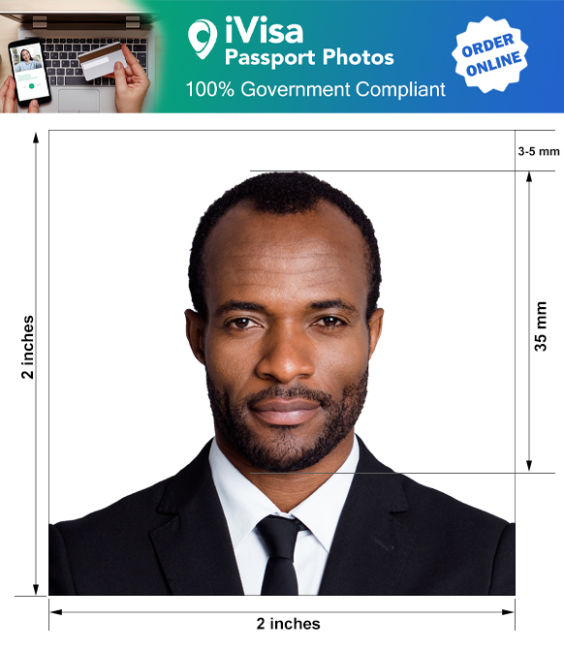 Haiti Passport Photos and Visa Photo Requirements – Rules, Guidelines, and Specifications
The list of Haiti passport photo requirements above is complete. Nevertheless, we feel that more clarification is necessary regarding a few of them. A lot of people have their passport application rejected because they fail to submit a proper passport photo, and we do not want you to go through that.
Your passport photo must be taken against a white background. There cannot be any colors, patterns or shadows in your picture. A plain white wall should suffice, but if you do not have one in your house, you can take a white sheet and hang it somewhere. The result is pretty much the same.
The best placement of the camera is at eye level. That ensures the best exposure of your facial features. Keep your head straight. Do not rotate or tilt it. Both sides of your face must be equally visible, so if you submit a portrait-style photo, it will be rejected.
The only facial expression accepted in a passport photo or visa photo is neutral. You cannot smile, frown, nor squint. For the best possible result, relax your face when you take your picture.
When taking the photograph, keep your eyes straight into the camera. Make sure that nothing obstructs them, such as the frames of your glasses or your hair. If you need to keep your prescription glasses on, you have to make sure that there is no flash reflection in the picture. At the same time, do not wear sunglasses or eyeglasses that have tinted lenses when you snap your passport photo. It will be rejected.
The source of light should have the right intensity. Since light can play tricks on your facial features, make sure that it is not too bright or too dim. It is preferable to have a source right in front of you so that there are no shadows on your face.
Headwear is usually prohibited in a passport photo or visa photo. However, an exception is made for people who are compelled by their religious beliefs to keep their heads covered at all times. Nevertheless, if you have to keep your headwear, make sure that it does not create shadows on your face. Also, your face must be visible from the top of your forehead to the bottom of your chin. This is as far as the exception goes.
Is your beard reflecting your everyday likeness? If so, you do not have to shave it off for your passport photo or visa photo.
Rules and Requirements for Babies, Infants, and Newborn Passport and Visa Photos
As you may already know, children of all ages must have their individual passports and visas. Obviously, you need to take their picture as well. You should do an excellent job is you follow the tips below.
Keep in mind that a child's passport photo is not that different from an adult's passport photo. However, it acceptable that a child's head can occupy less space in a picture.
If you wish to photograph your child in a car seat, like many parents do, remember to place a white sheet on the backrest of the chair. All background rules apply to children as well.
A lot of parents prefer to place their babies on their backs and taking their pictures from above. It seems simpler. If you want to do that as well, remember to put the baby on a white sheet.
Children should be awake during the photo shoot.
If you want to hold the baby when their picture is taken, remember that no part of you can be visible in the photo. Not even your hands.
You have to remove any foreign objects from the shot, such as pacifiers, headwear, toys, etc.
Price and Cost
If you have ever gone to a photo studio for your passport photos or visa photos, then you already know that it is not the cheapest thing to do. However, with iVisa Photos, things are different. For a Haiti passport, you must submit a set of two pictures, and iVisa Photos is prepared to give them to you for only $5.99. That is approximately 567.65 HTG. It actually depends on the exchange rate on the day you place the order, but it is somewhere around that. The fluctuations are not that significant.
How to get Haiti Passport Photos or Haiti Visa Photos Online
The process is more accessible than you think. Using the camera from your phone or tablet, take your photo. Just remember to follow all the rules and guidelines we discussed above. If your first attempt results in a photo you do not like, you can repeat the process, and iVisa Photos will not charge you extra for that.
When you have a picture you like, you have to submit it for processing. That is when iVisa Photos takes your photo and turns it into a government-compliant passport photo. Then, you are given two choices:
Download the processed passport photo so that you can print it yourself. Or,
Give us your address, and we will send the pictures to you.
For further information, do not hesitate to contact iVisa Photos' customer support service. We will happily address any questions or concerns.
References