If you are in need of a passport photo for Italy, you know how important it is to be sure your photo turns out correctly the first time. Delays in Italy passport photos can impact your travel plans, so you'll want to turn to a professional passport photo company. Here at iVisa Photos, we have years of experience processing Italy passport photos that meet all compliance regulations.
Check out our handy photo guide below to make sure you send us a great photo that we'll edit or tweak to meet all requirements. Think you need a visa, too? Check out our page to find out for sure.
Photo Specs
Size: 4.5 cm x 3.5 cm
Color: No black and white. Color only.
Head size and position: Head should fill 70-80% of entire photo. Centered and squared with camera.
Recency: Taken in the previous 6 months.
Background: Light colored and plain. No patterns or prints.
Smile: No smiling. Neutral expression preferred.
Eyes: Open and directed at camera.
Glasses: Prescription only.
Headgear: Religious or medical reasons are permitted.
Dimensions and size (pixels): 600 dpi.
Attire, clothing, dress code: None specified.
Beard: Optional.
Quantity needed in application: 2.
Italy Passport Photo Size Requirements Guide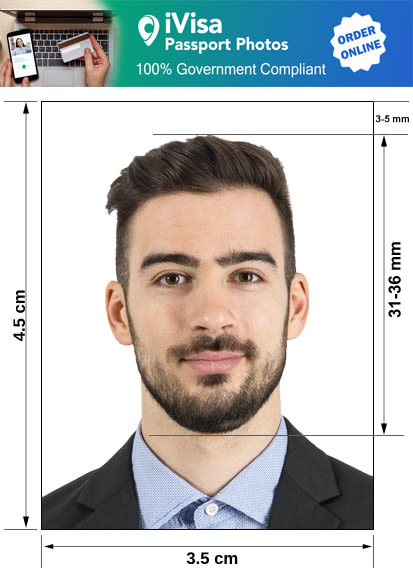 Italy Passport Photo and Visa Photo Requirements, Rules, Guidelines, and specifications
Taking heed at these quick facts give you an advantage in passport or visa photos. Though these specifications are a perfect start, there is much more to be considered when preparing for these types of photos. Governments are not amused with profile photos and snapshots submitted. To lighten your stress and get your application approved quicker, follow these additional requirements thoroughly:
Every person must submit a total of 2 photos with their visa or passport application.
Sizing is not optional. Each photo must be 35mm by 45mm.
Creating shadows on your fair due to hair, hats or poor lighting choices will result in automatic rejection. Keep your hair off your face. Check for proper exposure which create an even light across your face.
No hats or headwear are permitted with the exception for religious purposes only. If you wear a head covering for this reason, your face needs to be in full view.
Smiling is never appropriate in passport or visa photos. It distorts facial recognition by the government. Keep face neutral and mouth closed.
Eyes are the window to the soul which is why they should remain open at all times.
Glasses are permitted so long as the frames are thin, lenses are not tinted and if glare is kept at bay.
Men may opt to wear a beard if it's part of their everyday look. In other words, if you do not normally wear a beard, don't grow one out for your close up.
Though no specifications are implemented regarding clothing attire, you are suggested to wear a dark colored shirt so you will not blend with the background.
A recent photo is mandatory. Any aging over 6 months are not acceptable.
Be sure your camera is fully in focus and your face is not blurred.
When you print the pictures, it should be on good quality, glossy paper and have no creases or tears.
Rules and requirements for babies, infants, and newborns Passport and Visa photos
During this time, you may want to consider passport and visas for your children. Despite an idea that all you need is your own for entrance into another country, it's simply not true. Italy requires each citizen aged 0-150 years of age to have their own personal passport or visa. Children are to be photographed separately and carry their own documents. Without these booklets, your child may not go with. Here are a few things to keep in mind when photographing children and infants:
The above regulations are to be applied with youngsters as well as adults. Be sure all technicalities such as lighting and pixilation are followed.
No objects such as toys, bottles and pacifiers are to be photographed.
Parents, if you intend to hold your infant for the image, you cannot be visible.
We suggest using a light colored cloth or sheet to cover the background of your infant when sitting in a chair or laying on the floor.
Though it may be difficult, the photo must show the child's face squared with the camera, mouth closed and eyes forward.
Price and Cost
If you are the type of person who is easily adaptable to change and technology, than this is the perfect time in history for you. Lately, governments including Italy, have made drastic changes to how you can submit or receive a passport or visa photo. By choosing a site, such as iVisa Photos, you can save yourself time and money. Without having to leave your home or office, photos are at your fingertips. The cost of a set of pictures is €5.67. Seem expensive? Well, your other option is to fight traffic and wait in a long line at the post office or drug store and pay around €13 per set. If you have a large family, multiply those numbers and see why we recommend going with us. After all, wouldn't you rather spend that money on fun adventures? We sure hope so!
How to get Italy Passport Photos or Italy Visa Photos Online
Receiving your passport or visa photos online is a simple and convenient transaction when you allow iVisa Photos to take care of you. All you need is a smartphone or tablet and our nifty passport photo booth which can be done from the comfortable atmosphere of home or office. With our 100% government compliance guarantee, you have nothing to worry about as our knowledgeable staff works out the nitty gritty details to assure it's ready to go. The website is designed for your convenience and simplicity. Should you have any questions, feel free to contact us at your leisure. We are ready to give you peace of mind and start your journey abroad.
References