If you want to get the perfect passport photo, you have arrived at the right place. We recommend using a camera, natural light, making sure to have a white background, and that your face shows a natural expression. Keep exploring the 5 easy tips to get a perfect passport photo.
From the comfort of your home, iVisa.com Photo Service has the solution for your passport photo. Our service is 100% online, and we have an expert on hand, who will confirm your photo complies with government dispositions. We even have the most affordable prices in the market. We can tell you 5 easy tips to get a perfect passport photo.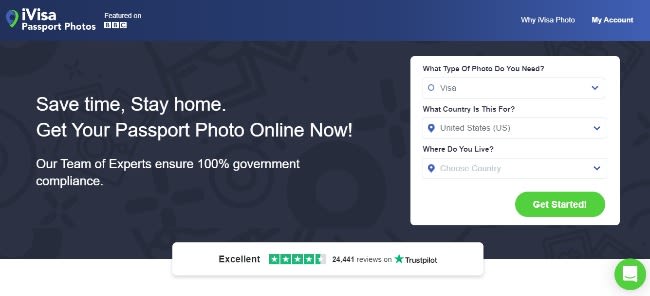 How does the digital process work?
The process is simple, and you only need to follow these steps:
Select the passport photo option on our application page.
Choose the country for which you need the passport photo. According to that, we will display the correct dimensions.
Select between Print and Digital photo options.
Take the photo with your electronic device. Remember to follow our 5 easy tips to get a perfect passport photo.
We will check your photo and confirm it's 100% compliant with Government guidelines.
Choose a Delivery Method for printed visa photos. We can send them to your home, or you can pick them up at the nearest store (for travelers in the US).Alternatively, you can get them digitally.
Pay for the service with a Paypal account or a credit/debit card.
We can help you with the 5 Easy tips to get a perfect passport photo.
Frequently Asked Questions
How will iVisa.com Photo send the print and digital photos?
According to your current location, you have different alternatives:
As a US citizen living in the United States, you have these alternatives:
Digital Photos: receive your photos electronically.
Printed Photos: we can send your printed photos to your doorstep in 2 to 4 days. Also, you have the alternative to pick them up at the nearest CVS or Walgreens.
If your location is in Europe or Canada, you can opt for the digital version or the printed version, only for home delivery. For the rest of the world, we only offer digital photos.
We know we can discuss 5 Easy tips to get a perfect passport photo.
What is the cost of the US Visa photo service?
Our service is affordable and even cheaper than any drugstore or photo booth. Apart from that, we have experts checking that your photo is 100% correct. Pay as little as USD 5.95 for the digital photo service. We will send your photos soon after you finish the process from the comfort of your home.
If you decide to go for the printed version, pay USD 9.45 for two printed visa photos, including free shipping. We are ready to help you with your perfect shot. Let us help you with 5 Easy tips to get a perfect passport photo.
What makes the iVisa.com Photo Service better than a physical photo booth?
We work around three pillars that assure your photo will have the right characteristics for your process. First of all, you don't need to leave your home to acquire your photo. You only need to connect to the Internet and send us your pictures. An expert team will check your picture and confirm it's good enough for the passport guidelines. We are super cheap! Pay as little as USD 0.99 per photo.
We can support you with 5 easy tips to get a perfect passport photo.
iVisa.com Recommends
We are so excited to recommend the best places in the United States. Explore the Jackson Hole valley and check the most beautiful natural landscapes in the US. Take in art performances and massive ski resorts. Although Jackson Hole doesn't have the luxury you will find in Aspen or Lake Tahoe, we know it has the right charm for you.
Continue with Big Sur in California and check the fabulous beaches and natural reserves that the coast area provides. Travel from Monterey Bay and San Simeon. The calm atmosphere is contagious, and famous travelers and photographers have taken long trips to Big Sur to discover themselves. We know you will find it fascinating.
Continue exploring other cities like New Orleans, San Francisco, Orlando, and New York. Famous landmarks like the Statue of Liberty or the Golden Gate Bridge are waiting for you. Each city has a perfect charm that invites you to stay forever. We know you want to travel. It's time to get your passport photo and fly away.