When you want to get ready for the application process for an Afghan passport, one of your concerns is the photograph. After all, it is one of the requirements. However, you should also know that you cannot submit just any type of photo. The picture itself must meet a few conditions. iVisa Photos has plenty of experience to help you obtain precisely the images you need for your Afghan passport.
Furthermore, if you are interested in traveling abroad once you get your passport, you may want to take a look at iVisa.com. It is a visa service that facilitates visa applications, and it can help you determine whether or not you can acquire an electronic visa for the country you wish to travel to.
Photo specs
Size: 2 inches in height and 2 inches in width
Color: the photo should be in color to show your real skin tone
Head size and position: between 31 and 36 mm. The applicant must look straight ahead.
Recency: preferably as recent as possible but not older than 6 months
Background: light background
Smile: no
Eyes: right into the camera
Ears should be visible
Make sure the picture is not blurry
Glasses: prescription glasses only
Headgear: you cannot wear anything on your head unless you are bound by religious practices
Dimensions and size (pixels): None specified.
Attire, clothing, dress code: your clothes have to be different in color than the background
Beard: not specified
Quantity needed in application: 3
Afghanistan Passport Photo Size Requirements Guide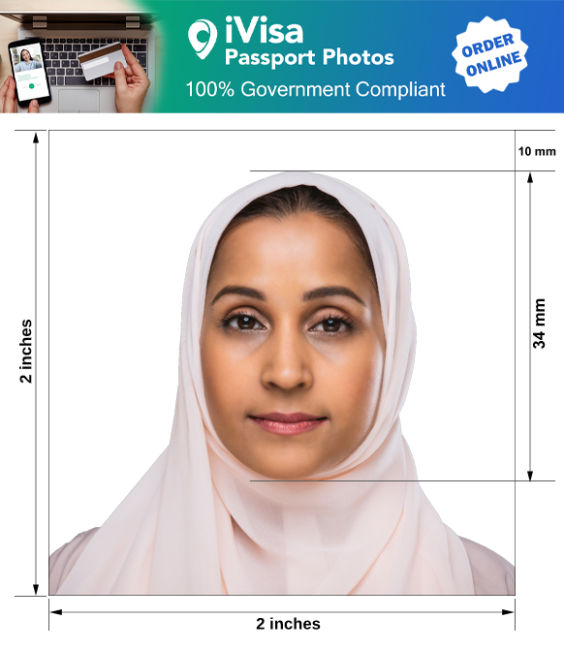 Afghanistan Passport Photos and Visa Photo Requirements – Rules, Guidelines, and Specifications
While we have already provided you with the specifications, we would like to explain some of them more fully so that there is no confusion on what exactly it is that you need to be careful about. Our purpose is to describe as many details as possible so that your passport is not rejected due to inadequate photos. The guidelines below should be of help.
The whole point of a light background is to provide a clear contrast with your skin tone and your clothing. However, that differs from skin tone to skin tone. If you have a very light complexion, the background may need to be light blue. A darker skin tone works best on a white background.
When you have your photo taken, make sure to look straight ahead. Portrait photos or side shots will be rejected.
You are not allowed to smile in your passport photo or make any facial expressions that may modify your look. The appearance of your face should always be neutral.
While you are allowed to wear prescription glasses in your passport photo, sunglasses are not permitted. However, if your prescription glasses are tinted, you must take them off while you have your picture taken.
Headwear is forbidden unless your religion does not allow you to keep your head uncovered. However, even if you do wear something on your head, your face has to be visible from the top of your forehead to the bottom of your chin.
As far as the beard is concerned, if your everyday look includes a beard, you can have it in the passport photo as well. Just make sure that the passport photo reflects the way you usually look. Having a beard in the picture and then shaving it off before you use the passport may raise some brows.
The lighting in the photo should be adequate as well. It should come from right in front of you so that there are no shadows on your face that may modify your look.
Rules and Requirements for Babies, Infants, and Newborn Passport and Visa Photos
As you may very well know, children of all ages need their own passport and visa as well, which is why their passport applications need to have their individual photos. There is no significant difference between an adult photo and a child photo. However, there are a few specifications you should keep in mind. Taking a picture of an infant is a bit more complicated than capturing a photo of an adult, which is why you must be careful. Here are some tips that will help you:
The child has to be alone in the picture. Even if the baby is under 12 months old, the parent holding them cannot appear in the photo. Not even the hands holding the child can be visible.
Many parents use a car seat when their child has their photo taken. If you use that approach, remember to cover the backrest with a white or light blue sheet.
While we know it can be difficult, make sure that the child's eyes are open when the photo is taken.
Pricing
Getting passport photos should not be an expensive ordeal, but we all know how that works. However, iVisa Photos takes pride in the fact that we can provide a quality service at a very low price. An Afghan passport requires 3 photographs, meaning that you have to order a set of 4 for the low price of only 693 AFN. You will not find photos cheaper than that.
How to get Afghanistan Passport Photos or Afghanistan Visa Photos Online
With the help of the mighty internet, you can take your Afghan passport photos at home. You do not have to go anywhere. What you have to do is pretty simple. Using a smartphone or a tablet, you must snap your picture, making sure to follow the guidelines we mentioned above. The beauty of using iVisa Photos is that you can take as many photos as you want and choose the one that you like best.
Once you are done, you can download the images, or you can have them delivered. It is as simple as that. If you have more questions regarding the process, do not hesitate to contact us. We will happily answer any questions and concerns you may have.
References