All French passports mandate that certain types of photos, meeting specific standards be used. The best way to make sure you get a photo that complies with these rules is by using iVisa Photos since we know the passport photo requirements for many different countries and have helped thousands of people across the world take photos that work. Look up the specs for the photos you need by using our Quick Facts guide, then take the perfect passport photo today.
Another valuable resource for international travelers can be found in iVisa.com, which will tell you if you need a visa for the country you plan to travel to. Since you can process many visas online, a service like this is the ideal way to make sure you're well-prepared for your trip.
What are the passport photo dimensions and requirements for France?
Photo Specs
Size: 45mm x 35mm
Color: Color only. No black and white.
Head size and position: Centered and forward-facing. The face must be between 30mm-36mm.
Recency: Taken in the last 6 months.
Background: Light gray or light blue. No patterns.
Smile: None. Neutral expression.
Eyes: Open and visible.
Glasses: Remove before photo.
Headgear: Religious reasons only. Face cannot be blocked.
Dimensions and size (pixels): None specified.
Attire, clothing, dress code: None specified.
Beard: Optional.
Quantity needed in application: 2.
France Passport Photo Size Requirements Guide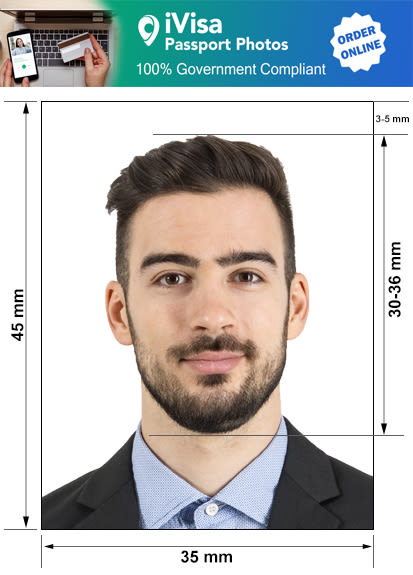 France Passport Photo and Visa Photo Requirements, Rules, Guidelines, and specifications
As you have probably figured out, there are a lot of details revolving around passport and visa photos. The above quick facts offer a very broad outline of what you need to do. Believe it or not, there are even more rules to follow. Continue below for a much more in-depth idea of the government requirements for your photos:
Every application must have two photos printed on high-quality, glossy paper. For visas, the photo must be glued to the application.
Clothing specifications are not listed, however, a good rule of thumb is to keep the color of your top in contrast with the background. In other words, don't wear white or a light color. Also, avoid any military or law enforcement uniforms for security sakes.
Your head needs to take up 70-80% of the entire photo. Be sure it measures 30mm-36mm from the bottom of your chin to the top of your forehead.
Smiling is almost never acceptable, especially for passport or visa photos. Keep face relaxed, mouth closed, and an overall neutral expression.
Eyes need to be seen clearly. Prescription and reading glasses are advised to be removed before the photo is taken.
Headgear such as hats, hairpieces, and other items are not permitted. The only exception is for religious or medical headwear. Either one must show the entire face without disruption.
Keep lighting even. Shadows don't allow for a full view of the face. Overexposed and underexposed photos are almost always rejected.
Focus is key. Any blur to a photo is unacceptable.
Wearing a beard is allowed if you wear one normally. Don't grow one out for your close-up.
Ears should be visible. Tuck hair behind the ears and off the face.
Make sure your eyes have no red in them. If it does, the image must be retaken as digital alterations of any sort or never permitted.
Rules and requirements for babies, infants, and newborns Passport and Visa photos
Requirements regarding children and infants vary slightly but technical rules such as lighting and sizing, remain the same. Each child receiving a passport or visa must have their own photo taken without any family members. Below you will find a few guidelines and tips to photographing youngsters:
As stated above, each child leaving France must have a valid passport regardless of age. This means a separate photo of the child is mandatory.
From the bottom of the chin to the top of his or her head must measure 29mm to 34mm.
Eyes need to be open and facing the camera.
Mouth should be closed and not smiling.
No toys, pacifiers, or other objects can be in the picture. This includes hands if you are holding an infant.
For newborns or children under 12 months, take the picture laying down with a white or light-colored cloth behind them. If you chose to use a car seat, drape the cloth first in order to hide the seat.
Double check focus and lighting.
Price/Cost
Figuring out where to have these photos taken can be frustrating and more expensive than in other places. If you are looking for a traditional route such as a drug store or post office, be prepared for extra wait time and traffic. With people becoming busier and busier these days, using a post office can be a burden when time is precious. Not to mention it can be costlier. Should you chose this route, a set of two photos average €11. Now for more convenience and money saved, try iVisa Photos. Receiving two photos for your passport or visa will cost €5.67. If you are looking for ways to save more spending money, seems as though you have discovered it!
How to get France Passport Photos or France Visa Photos Online
Convenience is the name of the game and at iVisa Photos you get more bang for the buck. Instead of wasting time traveling around the city, take your photos using your own tablet or smartphone from the comfort of home or work. Our knowledgeable staff will work its magic on your photos and make sure they are ready for submission. We give a 100% government compliance guarantee or you can retake the photos as many times as needed free of charge. The easy-to-use website allows users the freedom to complete the process within a few minutes. Choose from in-store pickup or immediate download. Should a question arise, our representatives are standing by 24/7. Vacation should be enjoyed and it begins with a painless passport or visa application journey. Give us a try.
References