Your Ghana passport is only a legal form of ID if it includes a proper passport photo. To get a photo that meets all the requirements for a Ghana passport, use iVisa Photos. Our Quick Facts section will tell you all about the specs your photo will need, and then you can use our convenient service to get it quickly.
If you plan on visiting another country once your passport is in order, click here to see whether or not you'll need a visa for your destination. Since many visas can be processed via the internet, this is an easy way to make sure you have everything you need well ahead of time.
Photo Specs
Size of visa photo: 2 inches x 2 inches
Color: Must be in color, no black and white images are allowed
Head position: Face camera directly (straight)
Background: White plain background
Smile: Neutral smile, please try to avoid frowning or smiling too much
Eyes: Open and clearly visible
Glasses: No sunglasses allowed, only daily wearable glasses
Headgear: None, except for religious purposes
Quantity: Two (2) photographs
Ghana Passport Photo Size Requirements Guide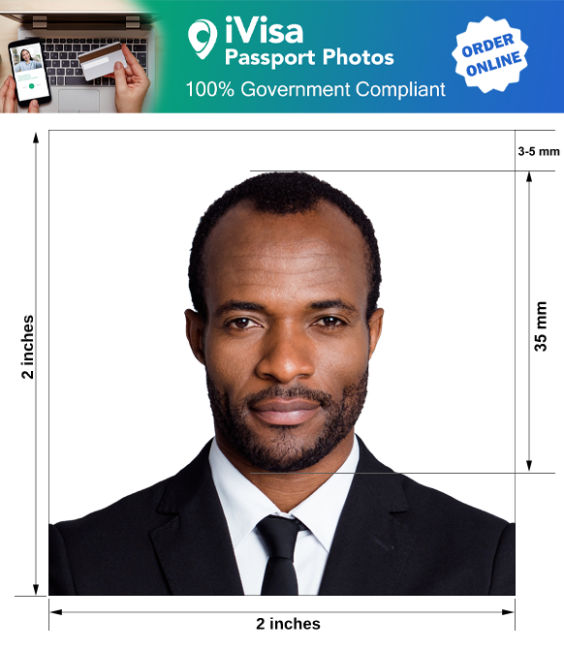 The Ghana Passport Photo and Visa Photo Requirements, Rules, Guidelines, and specifications
iVisa Photos will send you a 100% compliant photo. Here are a ew notes regarding your photo:
Your photo should be taken against a white background. This can include a wall, door etc
Your face should be aligned in the middle of the photograph
Size: 35mm x 45mm
Must be a recent photo, taken within the past 6 months.
Do not wear headgear, scarves or anything else that can cover your face. You are however allowed to use headgear for religious purposes, but please make sure the image is always good quality and clear
Take extra care to avoid glares on your glass lenses
Two (2) photos
Rules and requirements for babies, infants, and newborns Passport and Visa photos
The Ghana visa application is pretty easy and their photo requirements are the same no matter who applies. So if you need to take pics of a baby then check the following tips: One, your baby's eyes should be open and clearly visible. Two, the background needs to be white. Use a white blanket or bed sheet to lay your baby on.
Three, if you baby is too young to be put flat on the floor and lay in a straight, then you can take your baby and lay him or her on a white background in their car seat. Finally, take multiple photo so that you will have a lot of photos to choose from.
Price/Cost
iVisa Photos prices start from as little as $3.99 for 1 photo. And the best is that we offer various different ways to collect your visa or passport sized photos. One, download immediately after, two home delivery or three, pickup in store at a CVS, Walgreens or a Walmart in the USA.
How to get your Ghana Visa Photographs Online with iVisa Photos?
Use the iVisa Photos app with a smartphone or tablet, iOS here and Android here. Tips:
Use a door, fridge, wall as a background. You can also ask someone to keep a white sheet in the air behind you so that y9ou can take a photo
Face the camera directly in a straight angle, avoiding shadows in the background Maintain a neutral facial expression
Don't wear sunglasses or hats. If you will use your everyday reading glasses then you should avoid glares on the lenses if you use a flash in conjunction with your camera flash
What you need to know before getting started:
It will only take a few minutes to get a visa photo. 5 Minutes maximum, and you can easily download the app from either an android or iOs capable phone.
Select the country where you will use your visa picture
Use your smartphone (Android and iOS), tablet with the apo
We suggest you use the "photo editor" option to make sure your photo is 100% compliant. When you do not have a white background or when you are struggling with your photo size then we can fix it for you with additional fees
You can download your image up on completion. You can also select home delivery via mail or you can even select a Wal-Mart, CVS or Walgreens for next day pickup near you.
Guarantee: If your photo is not accepted at the Ghana Embassy, we will retake your photo for free.
You can also take passport photos. Just select passport under "Photo Type", and if you need help then contact our 24 hour customer team via chat. Get your photo with iVisa Photos and start planning your trip to beautiful Ghana.
References