When applying for a green card, it's important to know and understand all of the green card and DV lottery photo requirements. This process can be long and tedious, so knowing everything you need to take care of can help you navigate through this complicated process. Understanding what the government requires to be compliant is also helpful. One of the simplest tasks, securing a picture for your photo ID, green card or visa can be one of the most difficult tasks, if you don't know which service to use.
Finding a photo service that knows the green card and DV lottery photos requirements inside out is imperative to ensuring your application goes through smoothly. You don't want to do your part, only to find out that your application is on hold due to an issue with your ID photo. Rather than learning all of the green card and DV lottery photos requirements yourself, why not partner with a trusted, affordable, and quick photo service who handles government photo compliance day in and day out?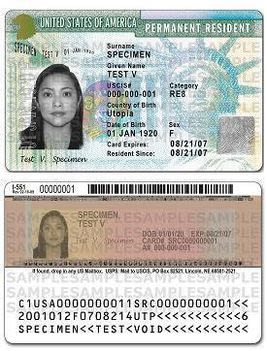 Green Card and DV Lottery Photo Size
Did you know that green card and DV lottery photos have to be certain sizes? There are also many rules dictating what makes a photo permissible. For instance, photos must be printed on only thin, photo quality paper, sized at exactly 2 by 2 inches, printed in color, and the image you use has to be under six months old.
These are just a few of the requirements surrounding green card and visa ID photos. Unless you're ready to read through all of the fine print, why not use the help of a service fully qualified to ensure your photo is compliant?
Let iVisa PhotosHandle Green Card and DV Lottery Photos Requirements for You
iVisa Photos is an online photo ID service that has years of experience in providing people like you with compliant photo ID pictures. Our company knows all the regulations regarding these types of photos and works hard to ensure your photos are compliant, so you don't have to worry about a thing. We're the top pick for online passport, green card, and DV lottery photo services.
We also offer one of the easiest to use and affordable photo service systems. We'll present you with a quick checklist of requirements to read; then you can take a new picture with your webcam or smartphone, or upload a current one. We'll then check and edit your photo to ensure compliance and let you know if we need another upload or if you're all set to print your image. Best of all, prices start at just under a dollar a photo!
Once ready to print, you can select a drugstore or department store near you that offers photo printing and collect your ID photo.
Sound easy? That's because it is. Sign up for our service today to ensure receiving your green card or visa ID photo is as straightforward and affordable as possible.
Green Card Articles