No Indonesian passport is complete without an accompanying passport photo, and the requirements are quite specific. When you need a photo for your Indonesian passport, trust iVisa Photos to help you take one that is compliant. Our knowledge and experience will help you learn precisely what you need for a photo that does the job, and our easy to use service practically guarantees that you'll be able to get it in time.
Another important tool to use (especially for those planning a trip in or out of the country) is our iVisa.com visa checker, which will tell you if the country you're landing in or departing from will require you to have a visa. Finding out ahead of time is important, and if you do require a visa, you can often have it processed online.
Photo Specs
Size of visa photo: 2" x 2"
Color: Full color
Head position: Straight and centered
Background: White
Smile: Neutral
Eyes: Open
Glasses: No, except if you wear glasses for medical reasons
Headgear: None allowed, only head coverings worn for religious purposes are allowed.
Quantity needed: One (1) photograph - digital image for online uploading
Indonesia Passport Photo Size Requirements Guide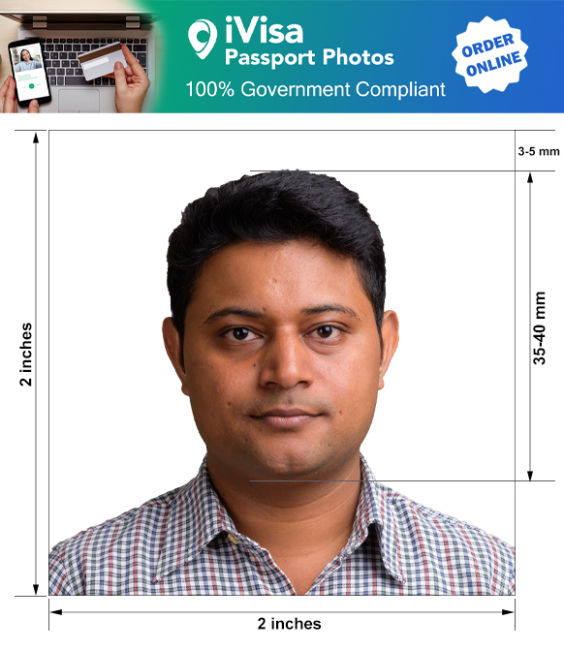 The Indonesian Passport Photo and Visa Photo Requirements, Rules, Guidelines, and specifications
If you are wondering how to get a 100% compliant visa photo, then look no further. Have your photo taken with the iVisa Photos app. See below the visa photo specifications:
White background is a must, you can stand with your back against a wall or door or even a white fridge
Look straight into your camera, face has to be centered
Size: 2" x 2"
Do not wear hats, scarves or anything that can cover parts of your face. Only religious headwear is allowed in the photo.
Avoid glares on your lenses when wearing everyday glasses, sunglasses forbidden
You need one (1) digital photograph for your visa application
Rules and requirements for babies, infants, and newborns Passport and Visa photos
The Indonesian visa application process is pretty standard. Both adults kids need to submit a digital photo. Now if you have to take a visa photo of a baby then check the following tips below.
One, your baby's eyes must be open. A lot of mothers say that if you take your baby's pictures after their nap that it's easier since the baby will be in a happier mood.
Two, a white background is a must so use a white blanket or a white bed sheet flat on the ground. If you do not have these then use white paper to lay your baby on.
Three, Also if your baby is too young to lay by itself on the floor, then you can put the baby in their car seat on the chosen white background.
Final tip, take a lot of photos of your baby so that you can pick one that looks the best.
Price and Cost
iVisa Photos offer customers competitive prices starting at $3.99. There is a variety of delivery options available. One, download your photo - perfect for the Indonesian Visa Application that is completely online, Two, home delivery, Three, Pickup at the following store; CVS, Walgreens or a Walmart when in the United States.
How to get your Indonesian Visa Photographs Online with iVisa Photos?
Take a photo with the iVisa Photos app by using a smartphone or tablet. The iVisa Photos app is available for iOS here and Android here phones.
Tips to take good photo at home that will be 100% compliant:
Your photo should have a white background
Keep a face straight and ensure your eyes are open
Maintain a neutral facial expression
Stand in front of a window for maximum light and to help reduce the possibility of shadows
Don't wear sunglasses. You can use everyday reading glasses but avoid glares on the lenses if you use a flash.
What you need to know before getting started:
It will take less than 5 minutes to take a photo, with our app. Select the country where you will use the visa photo at the beginning
You can use both a smartphone as well as a tablet
iVisa Photos has an option to use a "photo editor" who will review your photo and edit the picture so that it complies with all the specifications
You can download your image after following all the steps in the app. This will be perfect for the Indonesian Online Visa application platform as your photo needs to be uploaded electronically.
Guarantee: If your photo is not accepted online then we will retake your photo at no extra cost.
You can also take a passport photos with us. So if you need to apply for a passport or renew your current passport then take that passport photo with our app. Just select passport under "Photo Type". If you need help while using the app then feel free to contact our 24 hour customer service online. Get your photo with iVisa Photos today and start planning your trip to Indonesia.
References